Need for Speed Carbon - VerbleHack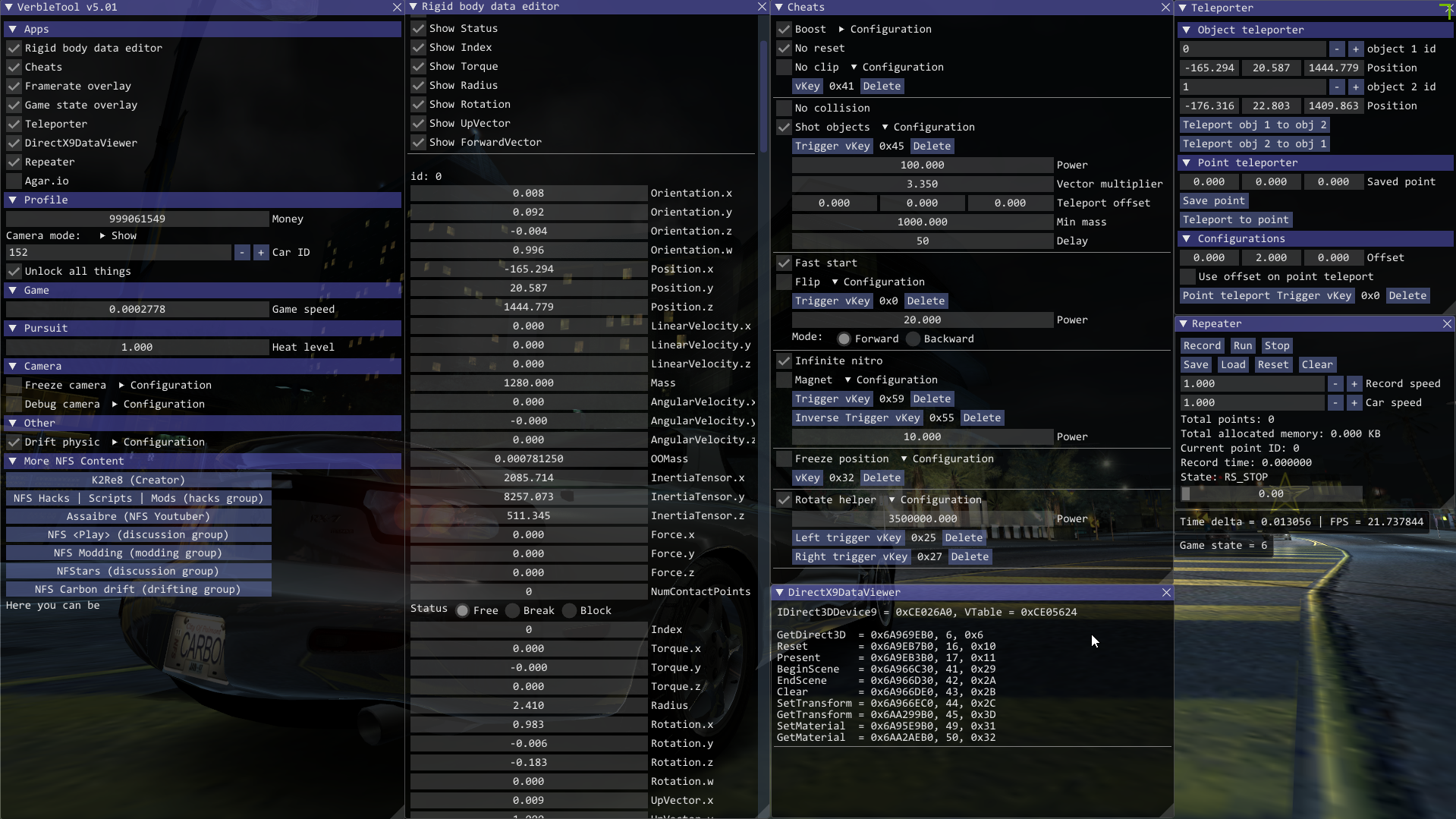 ---
VerbleHack v5.0 -
What functions do can be understood by name, but I will describe some of them.

Cheats-> Disable reset - when respawn (which is activated with the letter R and also during a coup) your location does not change.

Game state overlay - shows the state of the game (I do not think that you will need it).

You can see the vKey and TriggerVKey buttons - these buttons are keys, when you press them you will have the green inscription "press key ..." then the game will remember the button and the function will work from that button.

Some features are visible ONLY in drive mode.
Some features retain their values ​​and configurations when they leave the game.

Now, unlike previous versions, the game does not crash when minimizing and changing graphics settings. And also works with TexMod `and similar things to it.

VerbleHack v5.1 Adds -

Repeater->:
Allows you to record and play game moments (only the state of your vehicle is currently being recorded).
- Record: Start recording.
- Run: Play a recording.
- Stop: Stop Recording / Playback.
- Save: Save an entry in the file.
- Load: Load an entry from file.
- Reset: Reset recording playback.
- Clear: Clear the record.
- Record speed: Playback speed. (%)
- Car speed: The speed of the car during playback. (%)
- Lower slider: Status of recording time.

Cheats->:
- Rotate helper: helps to rotate more, you need to set the control keys (left / right), by default there are arrows.

Also added is the Agario mini under-game in the Apps section.

As for fonts:
- Added configuration file on the path verblehack \ font.ini.
You can manually change the font and font size.
---
Comments
---
Uploaded at: April 13, 2019 @ 14:18
---
YouTube Video
---
Youtube videos are disabled.