2005 Ford Mustang GT (S197) [Replace]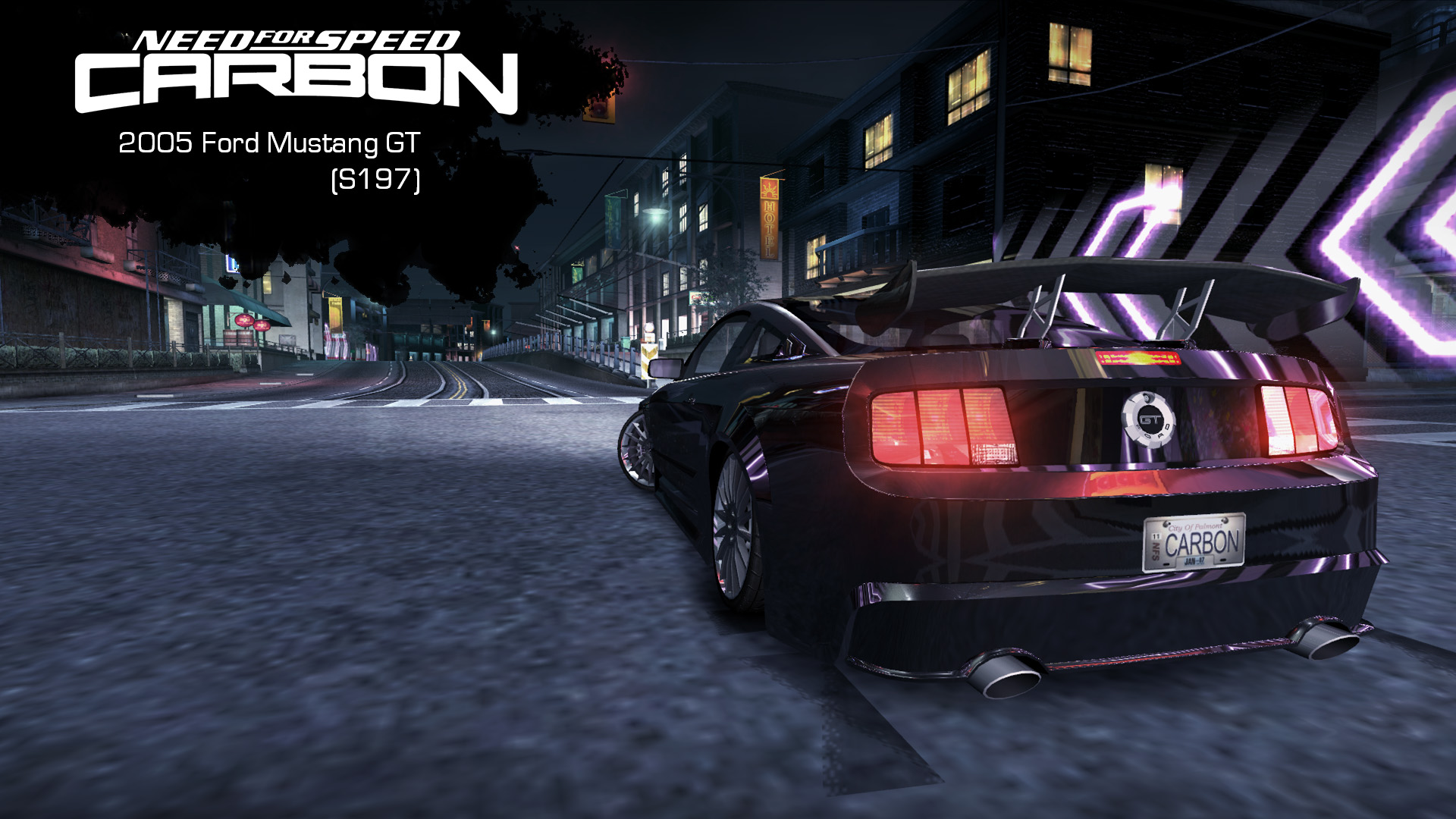 ---
NFS Carbon
2005 Ford Mustang GT (S197)
--------------------------------------------------------------------------------

Technical Information:

Converted by: nlgzrgn
Converted from: NFS Most Wanted, Carbon, World.
Replaces: MUSTANGGT
Car folder name (XName): MUSTANGGT

--------------------------------------------------------------------------------

Customization:

Autosculpt Parts:
- All vanilla autosculpt parts.

Aftermarket Parts:
- Body Kits: Stock + 5 (Added Body Kit 1 from NFS Most Wanted)
- Spoilers
- Rims
- Hoods
- Roof Scoops
+ Carbonfiber Roof (Can be installed using Debug Car Customize)

Performance:
- Engine: Pro, Race
- Transmission: Pro, Race
- Suspension: Pro, Race
- Nitrous: Street, Pro, Race
- Tires: Pro, Race
- Brakes: Pro, Race
- Turbo / Supercharger: Pro, Race

Visual:
- Paint
- Vinyls
- Rim Paint
- Window Tint
- Ride Height

--------------------------------------------------------------------------------

Features:



- Custom performance data which upgrades the car to Tier 3. (Optional)
- Vanilla "Paul" driver model from NFS Carbon.
- LOD parts
- Working brakelights on/off textures.
- Damage (Scratches)
- Source files for NFS-CarToolkit v2.5 (Modding Resource)

--------------------------------------------------------------------------------

Known Issues:

- None so far.
- Please report if you see any other issues.

--------------------------------------------------------------------------------

Installation:

1) Create backups of these files:
- Cars: MUSTANGGT
- Global: Attributes.bin, FE_Attrib.bin, Gameplay.bin

2) Install the "_MUSTANGGT-Setup.nfsms" using NFS-VltEd:
1) Download NFS-VltEd and install it:
https://nfs-tools.blogspot.com/p/downloads.html
2) Open NFS-VltEd. When the main window appears, select File > Open from the menu bar.
3) A new dialog will appear. Choose your game installation directory.
4) Select File > Import > ModScript from menu bar, or press "Ctrl+I".
5) Select the "_MUSTANGGT-Setup.nfsms" from the dialog and click OK.
6) Mod script installation dialog will appear. Click Install to install the mod.
7) Save the files by selecting File > Save from menu bar, or pressing "Ctrl+S".
8) Quit the tool.
- Note: It's recommended to reinstall the car with every new update. But when you do that, VltEd may show some errors. You can safely ignore them.

3) Run your game and select "Ford Mustang GT".

4) Enjoy your new car!

--------------------------------------------------------------------------------

Changelog: (+ Addition, * Change, ! Attention, - Deletion)

2019/06/06:
* Fixed license plate and exhaust mount points for Wide Body 1.
* Detached brake calipers and rotors.
* Fixed another small issue.

2019/06/05:
! Initial release.

--------------------------------------------------------------------------------

Credits:

- 379Felipe for letting me know about the small mistakes I made.
- nfsu360 for NFS-CarToolkit and NFS-VltEd, which make modding the game just easier.
- Oleg Melashenko for ZModeler v2.2.5, where most of the conversion work is done.
- nlgzrgn for converting the car.

--------------------------------------------------------------------------------

© 2019 nlgzrgn @ ExOpts Team. No rights reserved.



Show More
---
Comments
---
LuckyLuke (June 06, 2019 @ 16:56)
Nice! It's possible to import the carbon spoiler Banshee from NFSMW along with the hood Speed as a replacement for Tandem CF and Overdial or Speed hood for Carbon, only for this car? This would be perfect to make the perfect Razor car!
nlgzrgn (June 06, 2019 @ 08:53)
@Aceinvader3755, you can uncheck the optional performance data while installing the car.
Its possible the model without the new performances?
Uploaded at: June 05, 2019 @ 16:47