Endurance Prototypes v1.0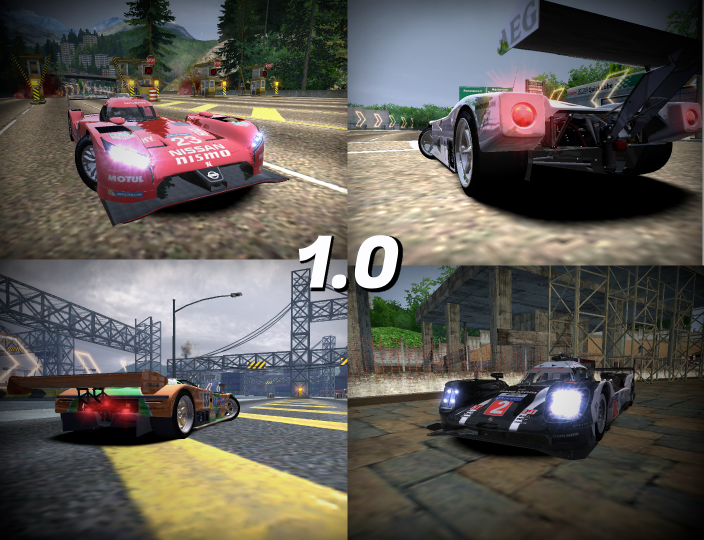 ---
Need for Speed: Most Wanted - Endurance Prototype Pack v1.0
Aceofsquares3

This pack contains multiple Endurance Prototypes across different classes like LMP, Group C, and IMSA and adds them to NFSMW. Quite a few of those were mods that were already published by me as a replacement mod. I modified them to polish them up and then added them to the game. Performance data is also ported with modifications added to them (Attempted to nerf and balance).

You are required to use Ed - The Car Dealer!, VltEd, and NFSMW Unlimiter to install this like other addon mods.

NFSMW Unlimiter: https://github.com/nlgzrgn/NFSMWUnlimiter/releases (Press on "NFSMW.Unlimiter.v1.1.0.1337.zip")

Ed - The Car Dealer!: https://github.com/nlgzrgn/Ed/releases/ (Follow the MEGA link)

VLTEd 4.6: https://nfs-tools.blogspot.com/2019/02/nfs-vlted-v46-released.html (Press download text above the comments)

Copy the Config and Resources folder inside the Ed folder from THIS DOWNLOAD and paste/replace the files inside the Ed folder containing .exe of Ed (If you are confused with this step, you probably didnt download Ed.)
Run Ed and direct find your game folder then patch the game
Import install.nfsms with vlted version 4.6 or higher
Save
Run NFSMW
Create a new save

Current Car List (4):

Mazda 787B

Mercedes-benz Sauber C-9

Nissan LM Nismo

Porsche 919 Hybrid 2017



Yes there might possibly be more cars coming if I am motivated enough.

Credits:
C0mmunityMindedMiner: His script and sound mod for the 787B. I also used this script for my sound mod too.
nfsu360: Tools to make compiling textures/models easy and also for vlted
nlgzrgn: Making Ed to make addon cars a less a pain to install
Kunos: Models/textures for the 787B,919,C9
EA/Firemonkeys: Model/textures for the LMNismo
DMN: Ripping the models
id-daemon: Creating tools to extract and compile sounds

---
Comments
---
Excellent work. My thanks for Porshe 919 Hybrid 2017 love this car.
2 days played this mod before writing this message. All cars are good but Porsche is the best for me
ThatDiamond (June 19, 2019 @ 14:53)
Include the Mercedes-Benz CLR-GT1 and give it flipping physics lul
Uploaded at: June 17, 2019 @ 18:16