NFS Performance Calculator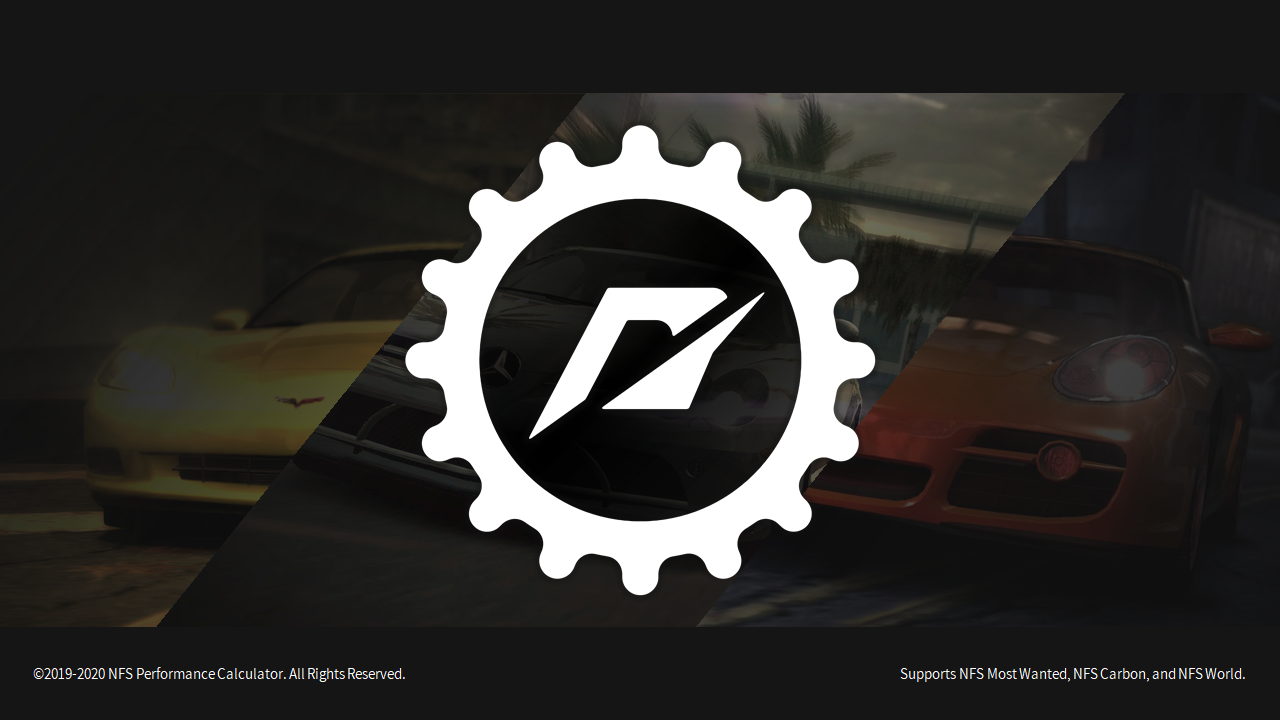 ---

Need For Speed Performance Calculator
UPDATED May 1, 2020 - Verson 0.9.04 / build 25
by TerraSphere_385


Changes in build 25:
Fixed an issue where selecting other tire types apart from "Vintage Tires" will give exporting errors.


Performance Modding. Made Simple.


Recreate your favorite car's performance accurately,
Export your performance file within just 15 minutes.


Primarily built as a challenge, this new calculator was constructed for all those interested in creating more content for your favorite NFS Games. It will save you a lot of time so you can focus on modelling the car and finding the wheel positions. A tool to develop talent and inspire quality content.


FEATURES:
Simulated Graphs - Each part of your vehicle is simulated in graphs, giving you an easier time understanding how each of them perform.

Ergonomic UI - The calculator has been designed around your experience as the owner and user of the calculator. Each button is designed so you know which button is next on pure intuition. You'll never feel lost while you're at work.

Flexible Compatibility - Got the same mod for two games at the same time? You can export your current tune to two games, like Most Wanted and Carbon, with just a click of a button. You won't ever feel hassled to convert performance files ever again.


CURRENTLY SUPPORTS:
NFS: Most Wanted

NFS: Carbon

NFS: World



The entire project started as a little curiousity back in 2014. During that time period, the modding community was on its golden age. The community boomed despite how hard encoding performances were back then.

Nowadays, the need for a calculator still stands even if modding has slowed down with age. Previous iterations of the calculator were released back then but it only supported NFS Most Wanted.

The old calculator was clunky. Instead of making mods easier for content creators like Ti-Sonic, it made performance modding more of a hassle. Not many used it due to its complexity, despite its potential. I want to do better.

So you can focus on what truly matters.



BUGS:
Error 400 on first open
> I still haven't found how to resolve this.
> Don't worry, this won't break the calculator.
> Just click OK.

Further bugs should be reported here.
> https://discord.gg/vEUMwbk



WHAT YOU NEED:
Microsoft Excel 2016 or later



INSTALLATION:
Extract the .xlsm file.

Install the fonts included in the archive.

Run the Calculator.



TOOLS USED:
Excel 2019

Pichon

Photoshop

Powerpoint 2019 - for UI design

Google Drive - for file hosting

Discord



CREDITS:
Arushan

Erick_F50

Greger

nfsu360

Robin'7t4

Ti-Sonic

Boo

Leo

nlgzrgn

Seele

APEX team

WOPL team

Aceinvader3755

Adelinda Oliveira

Akil

ArturoPlayerOne

Azrael

AztecaEh

Boo

BoraSAHINTR

Black Rose

DropDeadGore

Ganesh Chakrabarty

geonfsmw

Giovane

Jamal Homer

(FRSS) lamemedia

Leo

LRF WORKS

Miner

Monoracer

MrAdam

Mustafa Khan Ali Amer

nlgzrgn

Pumpkin Spice Latte

R≣ͶↁO⌊Pʰ

Renato 746

rita_vrataski

SaekwanB

Seele

TONY_AH_NFS

V12-POWER

Xeohype

zipper!



©2019-2020 NFS Performance Calculator by TerraSphere_385. All rights reserved.
https://nfsperformancecalculator.wordpress.com



---
Comments
---