NFSC Extra Bonus/Custom Preset Cars in Quick Race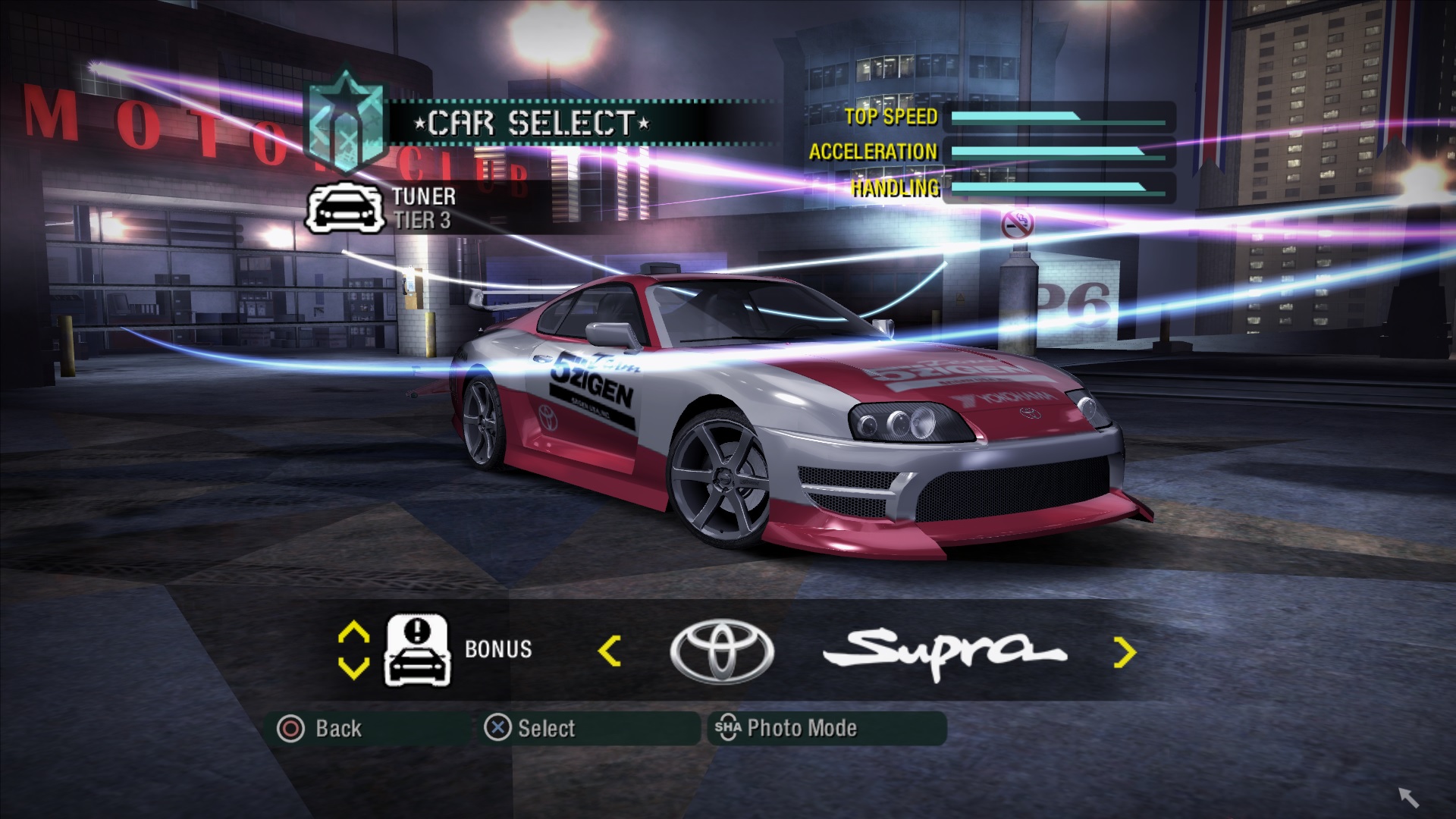 ---
This mod aims to improve the Custom and Bonus Quick race sections by using VLT-ed modscripts.
These modscripts change the Quick Race car list, for example, removing the stock cars from Custom Cars, which will also add them to the Car Lot.
The following modscripts exist for the mod:
For all installations (Base, Improvement, CBR, Ultimate)
Main Script (has the following choices)
- Max out Cross Corvette, Bonus Challenger, Kenji, Angie and Wolf's Tier 2 cars
- Add Kenji, Angie and Wolf's Tier 3 cars to Quick Race (also maxes them out)
- Enable the unfinished Porsche Carrera GT preset (CARRERA_GRNP7)
- Make Quick Race-only Cars available in Car Lot (deletes the stock cars from Custom Category)
- Add the BMW M3 GTR (Race) presets (M3GTRCAREERSTART and BMWM3GTRE46_CROSSCHASE)
- Enable the test RX-8, Brera and Camaro presets in Quick Race (listed in Bonus cars)
- Remove the Pink Slip Lock from Kenji, Angie and Wolf's Tier 2 Cars (can drive them even if pink slip was not won, just have to unlock the base car)
Crew Script: Enables crew cars in Quick Race (Each tier adds that tier's version of Yumi, Samson, Colin, Nikki, Sal (Tuner) and Neville (Tuner) presets with Max level).
- Also has alternate options to enable Neville and Sal's muscle/exotic presets from each tier.
- This will also max the preset cars' performance. You can also move them between Custom and Bonus section.
- You can also enable Nikki to use her Chrysler 300C SRT-8 (when using a Tier 1 car) and Dodge Charger SRT-8 (when using a Tier 2 Car)
Challenge Series Cars: Adds Challenge Series cars to Quick Race (also has option to max out, and can choose between Custom and Bonus filter)
And also, includes scripts that will be exclusive to the Improvement and Ultimate Mods.

---
Comments
---
Uploaded at: November 16, 2019 @ 14:36