Need For Speed Most Wanted - Unlockable Police Cars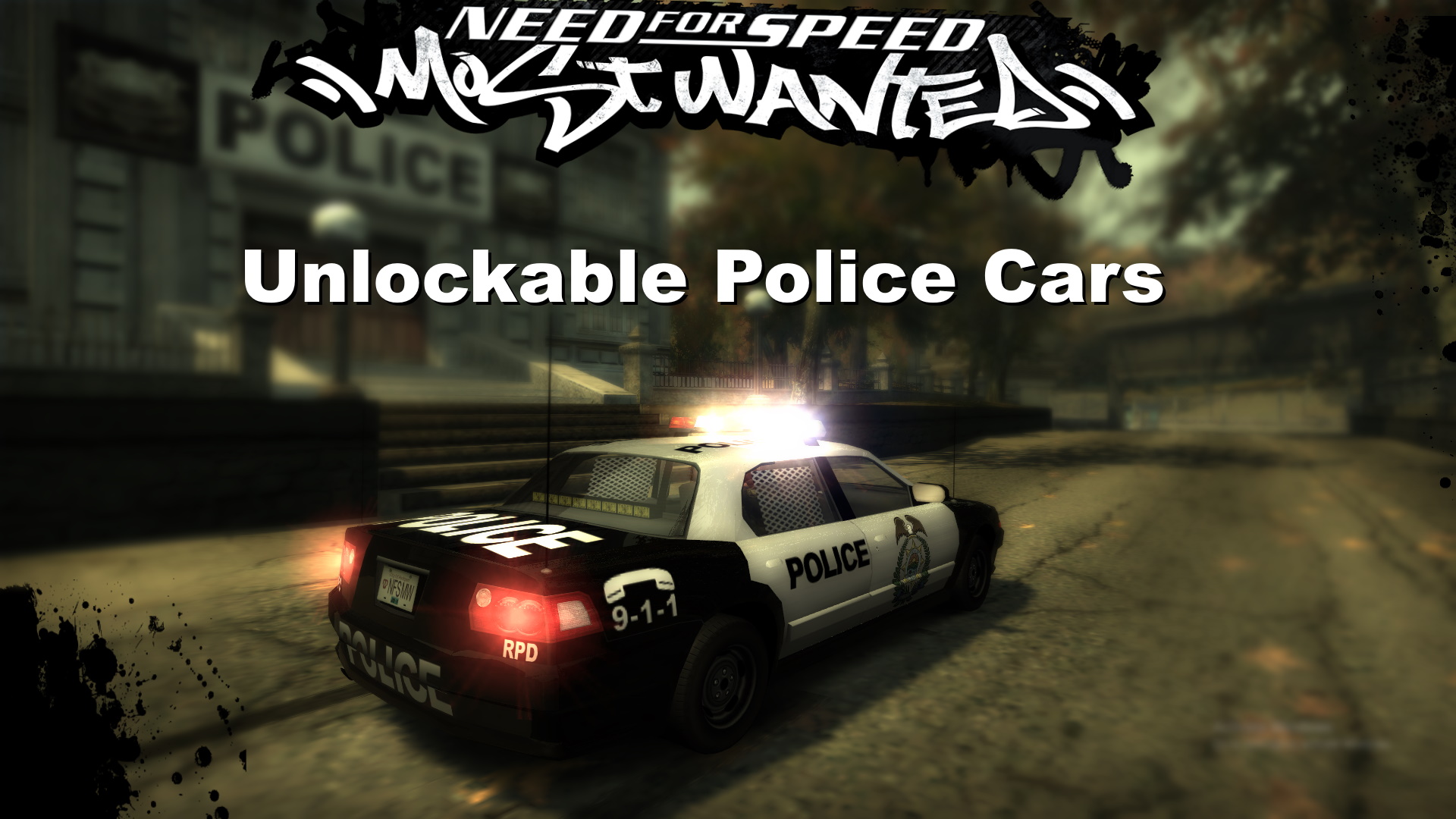 ---
This mod adds all nine Rockport PD vehicles to the game as unlockable cars, with new performance stats, custom attributes, and several bug fixes. Support for Miner's Beta Cops is included!


Features
---
Adds all nine vanilla police cars to the car lot, my cars, and quick race menus.

Civic Cruisers, State Cruisers, and SUVs are all upgradable and tunable.

Custom performance and physics for each vehicle.

Lightbar is toggled with "O" key with NFSMW Extra Options.

Custom menu logos and language strings, added with Ed The Car Dealer.

Fixes a few bugs encountered when attempting to use the Challenge Series police vehicles outside of their events.

Compatible with most major mods.

OPTIONAL: Includes support for Miner's Beta Police Cruisers, found here: https://nfsmods.xyz/mod/1519

OPTIONAL: Police are available as random race opponents.

Installation
---
Download and extract the .zip file on this page.

Open VLT-Edit (by nfsu360).

Click on "File -> Open" and navigate to your game's root folder. The game's database will load onto the screen.

Click on "File -> Import -> ModScript" and navigate to the extracted mod folder.

Import the ModScript (.nfsms file).

Be sure to read all information provided at the installation menu.

Check bonus boxes if you want extra features.

Once the script loads, click "File -> Save".

Close VLT-Edit.

Back in the extracted mod folder, copy the folders under "Ed", named "Resources" and "Config" ([MOD FOLDER] -> Ed -> Resources/Config).

Paste them into Ed's root folder.

Open Ed.

Click on "File -> Open" and navigate to your game's root folder. Ed's interface will load.

Click "Apply", a message will appear confirming successful installation.

Ed will ask to run the game. If you followed the above instructions correctly, click "Yes" and enjoy!

Known Issues
---
Challenge Series missions that use police vehicles may have buggy tachometers and performance. This is due to the way Challenge Series events are structured. Unfortunately, I do not know how to fix this.

The COPSPORT, COPSPORTHENCH, and COPSPORTGHOST are not upgradable. This is because they are based on the already-overpowered C6.R, which sees minimal returns from using corvette_top upgrades.

Nothing else. Please report bugs, flaws, or improvements in the comments or contact me on Discord (@Avalanche#1103)!

Changelog
---
11/28/20 @ 19:20 - v1.0.0, initial release.

5/24/20 @ 20:36 - v2.0.0, added Ed configs, updated performance stats, revised modscipt/modpage, and added optional randomopponent feature.

5/31/20 @ 12:49 - v2.0.1, fixed an error in multiple Ed configs that incorrectly used racer data.

6/5/20 @ 12:40 - v2.1.0, added support for Miner's Beta Cops, fixed COPSUV chassis bug, refined modscript, and removed NOS toggle for simplicity.

Credits
---
nfsu360 - VLTEdit

nlgzgrn - Ed The Car Dealer

CommunityMindedMiner - Beta Police models and configs

You - Supporting me and my work

Screenshots
---
---
Comments
---