[NFSH] Camera Toolkit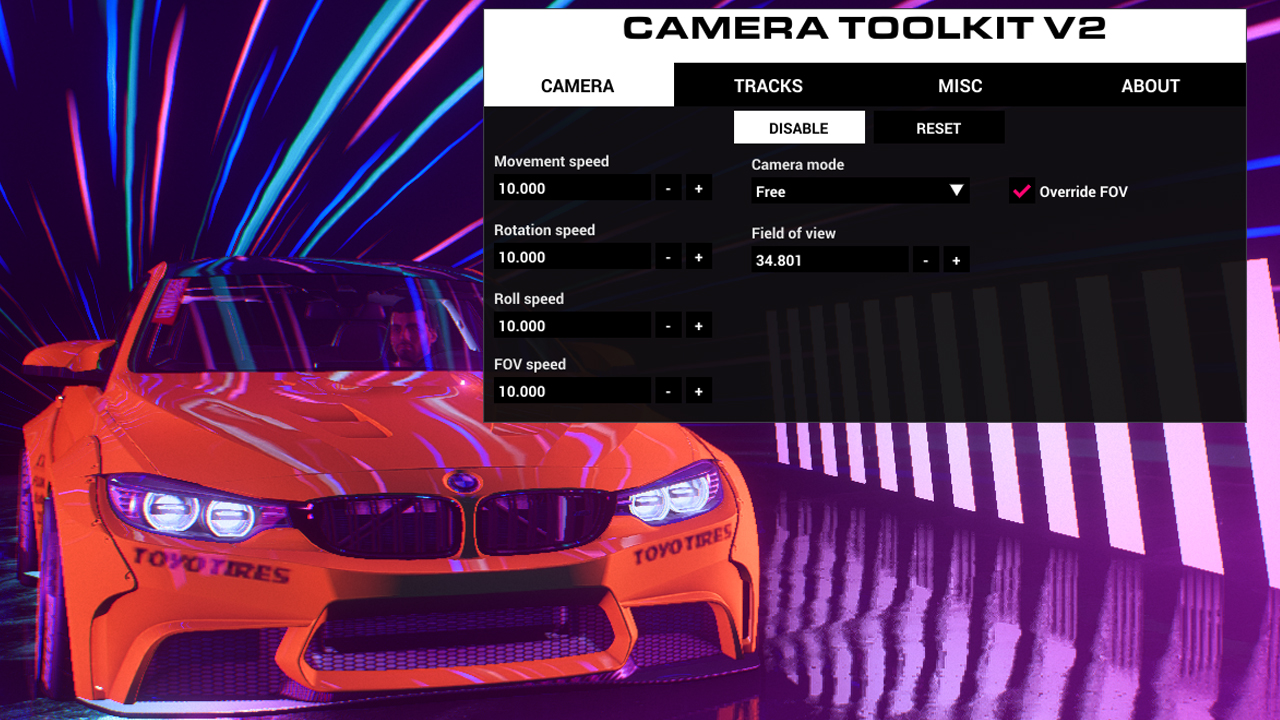 ---
Need for Speed: Heat - Camera Toolkit V2

The tool to control in-game camera and its various features.
Tested only on LICENSED version of game with the latest updates installed. No support for cracked versions to be expected.

Showcase:
- How to make cockpit view
- General overview of the tool

Features:
- Free mode.
- Attach to car.
- Look at car.
- LOD distance fix.
- Game speed, allows changing game's speed or pause it entirely, don't need to wait for photomode to start.
You can get creative with it, like pause the game while the day/night switch is happening.
- Create camera nodes and play tracks in each mode.
- Hide in-game HUD to make clean shots.
- All parts optional, meaning you can remove all of them from your car (or your character).
- No vinyl restrictions, makes all vinyls paintable and mirrorable.
- No part restrictions, removes all restrictions from visual car parts, meaning you can now, for example,
combine bumpers and fenders that are not meant to be installed together.

How to use:
- Drop "CamToolKitV2" folder anywhere on your PC.
- Edit hotkeys in the "CamToolKitV2.ini" to your liking.
- Launch the game and alt-tab.
- Launch "CamToolKitV2.exe"
- Go back to the game window.

Default Hotkeys:
Toggle UI - F1
Toggle camera - F2
Toggle HUD - Caps Lock
Pause game - F5

Add camera node - 1
PlayTrack - 2
StopTrack - 3

Move camera up - Y
Move camera down - H
Move camera left - J
Move camera right - L
Move camera forward - I
Move camera backward - K

Roll camera left - U
Roll camera right - O

Increase FOV - -
Decrease FOV - =

Distribution:
You are

NOT allowed

to distribute or reupload this mod.

For any questions or details on how to use - join my

Discord server

.

Credits:
- Dear ImGui by Omar Cornut
- MinHook by Tsuda Kageyu
- Cinematic Tools by Matti Hietanen

Thanks to Konix and IgI24PL for testing.

Made by ARCHIE
Enjoy)

Update 2.1.2:
- Added track save/load feature.
- Changed default hotkeys.

Update 2.1.1:
- Hotkey comments moved from ini to readme.

Update 2.1.0:
- Camera settings are now saved.
- LOD distance changed to force LOD.
- New Visuals tab.
- DOF settings.
- Weather controll.
- Color correction.
- Resolution scale.

Update 2.0.1:
- Added default node time.
- Added option to disable camera rotations by mouse.
- New tracks will now be created without certain camera mode, only when first node is created camera mode will be setup.
- Most of they hotkeys will not work when UI is visbile.
- Fixed node indexing, now it is properly incremented.
---
Comments
---