NFS Carbon: M3 GTR from MW Perfromance Port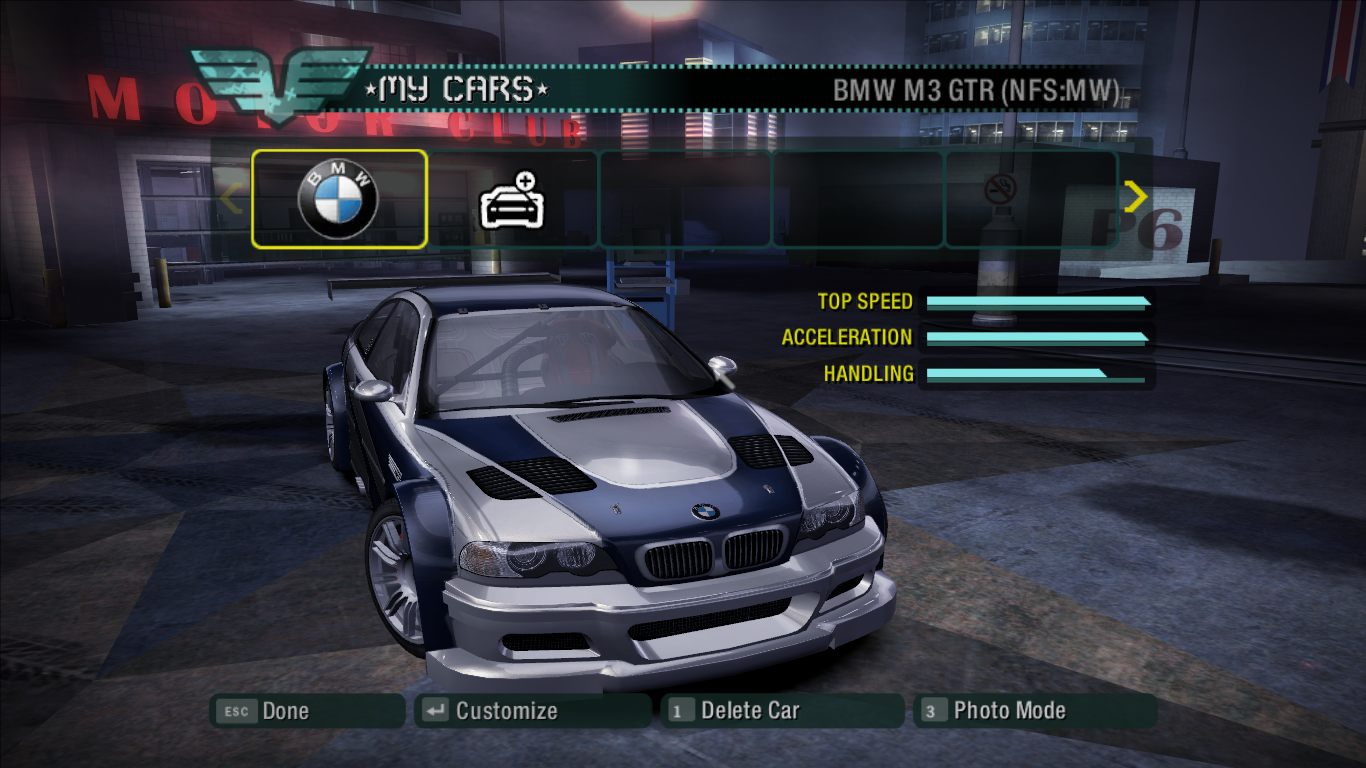 ---
Hello! I'm back with another mod!
This time, the file will only contain 4 scripts which, if you have VltEd 4.6, can be installed. Also, it contains an extra folder so you can get the price of the original M3 GTR from MW.
The "M3_GTR_(MW).nfsms" script is the main one.
The "Upgrades.nfsms" script is for optional upgrades in vanilla game.
The "Upgrades_ImprovementMod_And_UltimateMod.nfsms" script has the same functions as the one said above, but has compatibility with the said mods.
The "Optional_No_Tranny_Sound.nfsms" script is an optional script if you want to remove the tranny.
The "Frontend" folder contains a Labrune text which you can import with Labrune (LOL), another script for VltEd 4.6 and a secondary logo you can add with TexEd (or with Ed - The Car Dealer).
This mod is compatible with Improvement Mod and Ultimate Mod.
If you want to install this mod with Improvement Mod then, install the script(s) provided after importing Part 01 of Imp. Mod and reloading.
If you want to install this mod with Ultimate Mod then, install the script(s) provided BEFORE installing Ultimate Mod.
The not tranny sound script can be installed whenever you want.
And this mod is NOT compatible with Battle Royale Mod nor Endgame Mod, because they already have a Most Wanted M3 GTR.
First, install the "M3_GTR_MW.nfsms". Then you can install any of the three optional scripts depending on your game.
That's it. Bye!
Special thanks to:
nfsu360: VltEd 4.6
Update 1: Changed name of the mod, fixed a small issue in the ShiftSND for Imp. mod and Ult. mod. and added a brand new mini-script.
Update 2: Added a folder so the car can have it's own frontend.
Update 3: Fixed an issue where the audio couldn't be heard with the upgrades script installed.
Update 4: Changed the stock parts in both upgrades scripts so you can have the original m3gtre46careerstart nodes as stock parts.









---
Comments
---
Valen1991 (December 25, 2019 @ 17:39)
*Cars, sorry
Valen1991 (December 25, 2019 @ 17:37)
Sorry, but I don't want to steal those kids from the Improvement mod, however with practice you can do it by yourself, I would normally do them if there wasn't any trouble, but I don't want to get in trouble. I'm sorry, but I can't do that mod.
domk001 (December 20, 2019 @ 20:37)
This Mod is so cool, great Job, well done !
Can you make a Mod for the BMW M3 GTR Street and the BMW M3 CSL from Improvement Mod?