NFSMW Leftover Mod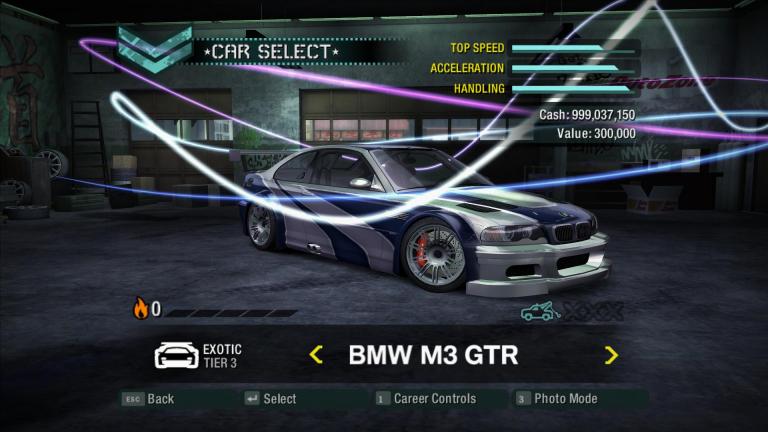 ---
This will add leftovers from NFS9:MW to Carbon. This is just a thing we started working on for our personal use, but we thought it'd be a good idea to share it after all. Keep in mind that it's still in an earlier stage, so not all leftovers are added yet and some stuff still needs fixing.
Everything you need to know is in the readme file.
Also, make sure you don't have a car mod or anything that replaces a car that is modified here.
Don't forget to make backup for your original files!
Still much, much more to come.

CHANGELOG:
v1.0:
- SpeedT RX8 leftovers added (private, not released).

v1.1 (Public release):
- M3 Speedtest
- M3 Careerstart
- Fixed RX8 SpeedT gear ratios 2 - 6
- Added RX8 SpeedT interior
- Audi A3 Leftovers (applied to mazda 3 temporarily) both stock and upgraded.
Keep in mind that the RX8 speedt doesnt come as preset, so you'll have to make it manually exterior-wise.

v1.2:
- MW05 M3 GTR sound added to both M3 GTR
- for_mus_b sound to Camaro SS (classic), Mustang GT S197, GTO and Monaro
- aud_s4 applied to stock CLK500
- bmw_m5_applied to monaro_top and clk500_top
- Reduced clutch slip on m3 careerstart and speedtest
- inf_g35 applied to is300 and and g35 (needs some fixing still)
- added lancerevo8 leftovers to lancerevo9
- m3 careerstart and speedtest now have a 50/50 weight distribution

v1.3:
- Bonus/Challenge series cars can now appear as AI opponents -- Fixed ztest_trigger_fast nos and applied it to bonus/challenge series vehicles,
- Improved rx8 speedt 1st gear a bit (still not perfect, but better than before)
- Fixed inf_g35 redline sound
- Added maz_rx8 exhaust sound to rx8 (needs fixing)
- Added wrx_demo chassis leftovers to the impreza wrx
- Added sub_wrx_a and sub_wrx_c sounds to the impreza wrx --
- Beta Cross COPSPORT textures
- M3 GTR yellow headlights, scrapped early-development MW concept (two versions with both featuring mipmaps and correct compression, details in readme file).

v1.3.1
- Fixed small possible crash, sorry for the inconvenience!
---
Comments
---
dark (February 03, 2018 @ 10:51)
Applied the mod, now it crashes every time i enter my cars section :/
please help
Uploaded at: October 12, 2017 @ 14:48
---
YouTube Video
---