Lotus Elise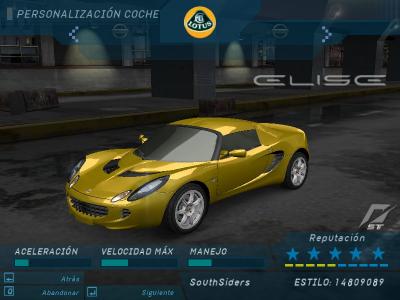 ---
Converted from NFSMW/Replaces S2000

Can be customized with:
• Bumpers (Bodykit 1)
• Widebody kits
• Rims
• Paint
• Spoilers
• Vinyls
• Roof scoops (convertible and roof variants)
• Exhaust tips
• Window tints
• Headlights and tailights

Installation: (make backups first!)
• Put the S2000 folder into your NFSU CARS folder.
• Run NFSCfgInstaller and look for your NFSU folder, then pick Lotus Elise.u1car when asked.
• With NFS TexEd, open FRONTEND/frontb.lzc and look for ID 366 and 278 to replace it with the primaty and secondary logo (respectively) provided.
• With NFS LangEd, open your language file in LANGAUAGES folder, look for ID 1587 and 2949 and change it to Elise, then look for ID 1234 and change it to Lotus Elise. Hit Apply and save.

*There's a skimmed folder with a non-tuning version; if you wanna use it, move the geometry.bin in the skimmed folder to the S2000 folder. Then pick the Lotus Elise -Skimmed-.u1car file in the skimmed folder when asked.

Uninstallation:
• Restore all backups, run NFSCfgInstaller and look for your NFSU2 folder, then pick uninstall_ Lotus Elise.u1car when asked.

Copyrights/Permissions
If you would like to modify and/or distribute this add-on, please PUT MY F#CKIN NAME AS THE ORIGINAL AUTHOR OF THIS ADDON IN THE README OR THE SITE, OTHERWISE, I WILL HUNT YOUR ASS. Thanx.
---
Comments
---
One of your oldest mods... Seems to be this car has driver visible (if you remove roof).
"...look for your
NFSU2
folder, then pick..."
This mod is for NFSU1, not for NFSU2.
Uploaded at: October 26, 2017 @ 17:05