[+Addon Conversion] Ford F-150 SVT Raptor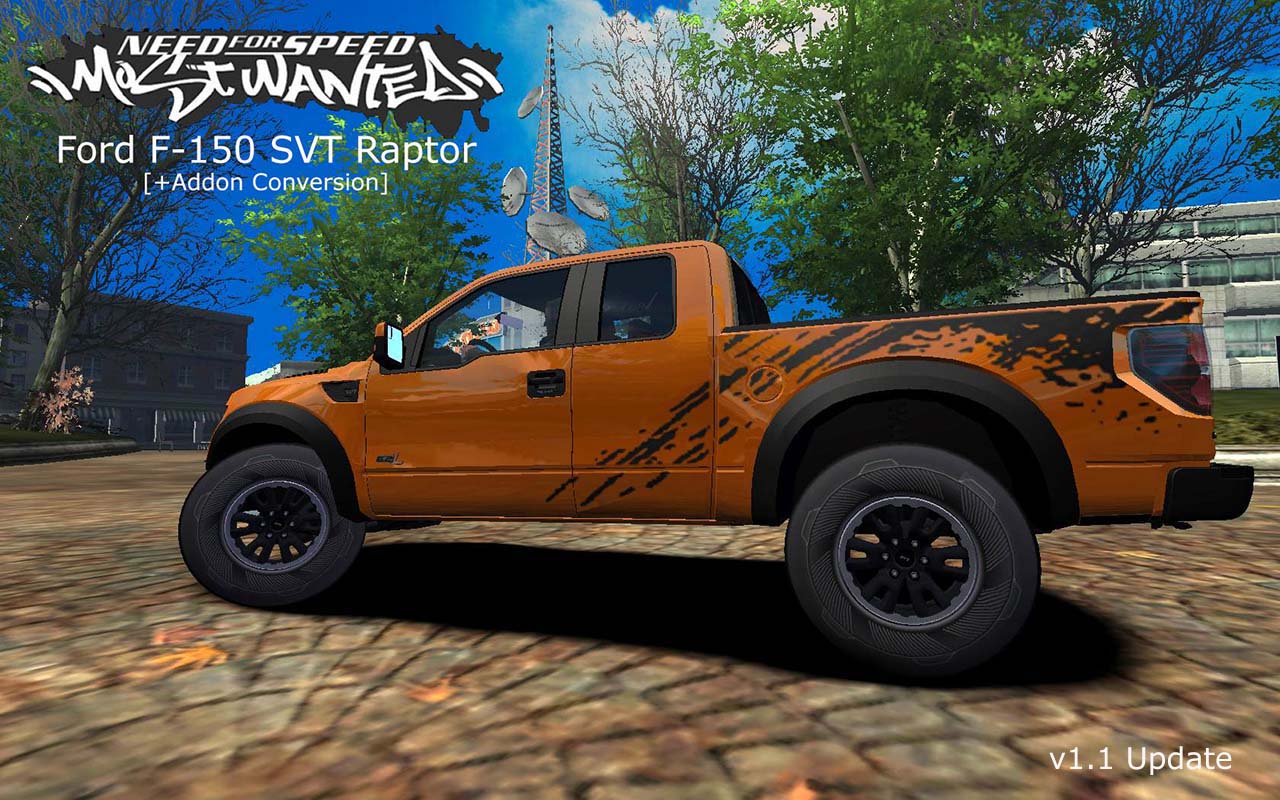 ---
Ford F-150 SVT Raptor [+Addon Conversion]

ORIGINAL MOD IS BY "Greger" I DO NOT TAKE ANY CREDIT FOR THE ORIGINAL MOD. I SIMPLY CONVERTED IT FROM MODLOADER TO ADDON.

I have full permission from Greger to upload this mod.

Converted from Forza 4 by Greger

You can download the original car here. keep in mind its a modloader car
https://www.nfscars.net/need-for-speed-most-wanted/7/files/view/12122/

Other people credited by Greger:

Turn 10 Studios
Porsche 4ever
jabba-SnypeRZz
FOX
SaekwanB
Starled

Modloader to Addon conversion done by LFQZ92 (me)

Notable changes made from the modloader version
- Adjusted close and far cameras for improved visibility
- Custom engine sound (Ford Bronco) from Avalanche's DB9 Fix + unused engine sounds mod. you can download the whole mod here.
(https://nfsmods.xyz/mod/1330)
- Added Carbon Fiber Vinyl. Its the only one which doesn't require UV Mapping, which I have no clue how to do.
- Added National Flag Vinyls. (not properly mapped)
- Vehicle now sways when cornering

Known Issues:
- Custom paint doesn't appear properly. I'm not sure how to fix this
- Tire skidmarks don't 100% line up with the tires. I'm not sure how to fix this

Please let me know of any other issues.

Customization:
- Body Kits
- Hoods (Various Skins)
- Rims
- Performance Upgrades
- Paint
- Window Tint
- 512/1024x Carbon Fiber Vinyl + National Flags

Changelog

v1.0
- Initial Release


v1.1
- Added Body Roll. The vehicle now sways when cornering

- Cops no longer refer to it as "Cadillac"

- Increased TireSkidWidth to more closely match the actual tire width.

- Added national flag vinyls. They appear on the roof instead of the
doors and aren't 100% lined up but its better than nothing

- Fixed Hood camera. I'm not sure how to move the hood camera forward or backwards, so I increased the height of the camera. it's now mounted on the roof.

- Slightly improved handling

- Is now unlocked at Blacklist Level 11 instead of 10

Tools Used.
NFS-TexEd by nfsu360
NFS-VltEd by nfsu360
Ed the Car Dealer by nlgzrgn
MW Texture Compiler by MWinside


Installation:

1. Copy the "RAPTOR" Folder and paste it in the "CARS" folder in the NFSMW Directory

2. Copy and Paste 'VINYLS.bin' into the 'RAPTOR' folder. If the game is using the default vinyls, use 512x. If the game is using the HD vinyls, use 1024x.

3. Open NFS-VltEd. File>Import>ModScript and import raptor_install. Save Changes and Exit

4. Copy "RAPTOR.ini" to "EDTheCarDealer\Config\NFSMW

5. Copy "SECONDARY_LOGO_RAPTOR" to "EDTheCarDealer\Resources\NFSMW\FrontEnd\FrontEndTextures\729181AD"

6. Open Ed.exe. Find your NFSMW Game Directory. Click "Apply"

7. Enjoy

Yes, I'm using the original screenshots. I tried taking my own but it was capturing the desktop instead of the actual game. real potato PC hours.

Screenshots
---
---
Comments
---
Uploaded at: April 28, 2020 @ 08:47