Brake Caliper Mod - More Colour Choices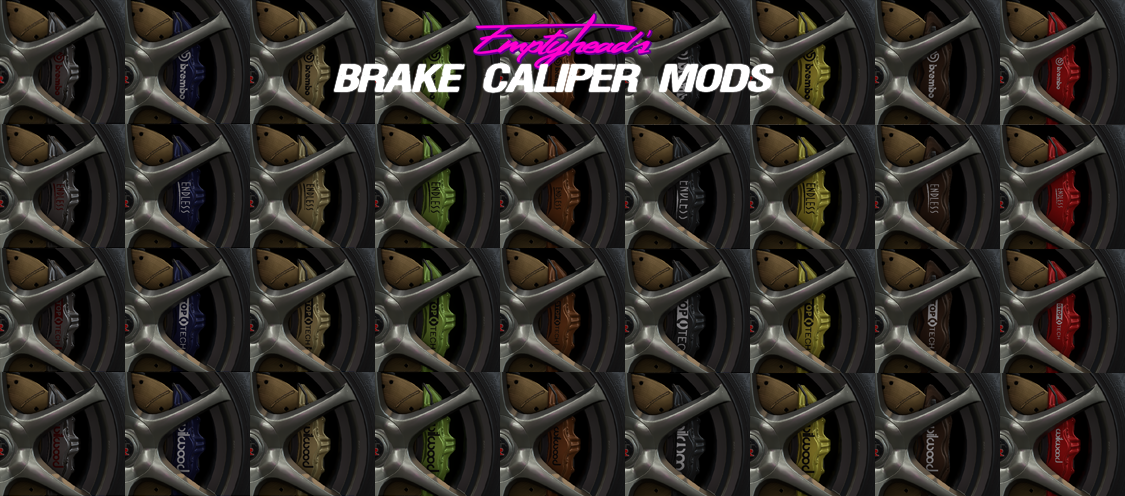 ---
This Mod took way longer than it should of -_- anyway, this mod adds extra colours for you to chose from to match your cars look better. Each Brand is in a separate mod, so just pick your preferred brand!

Brembo Caliper Pack:

Brembo - Grey
Brembo - Blue
Brembo - Gold
Brembo - Green
Brembo - Orange
Brembo - Black
Brembo - Yellow
Brembo - Brown
Brembo - Red

Endless Caliper Pack:

Endless - Grey
Endless - Blue
Endless - Gold
Endless - Green
Endless - Orange
Endless - Black
Endless - Yellow
Endless - Brown
Endless - Red

Stoptech Caliper Pack:

Stoptech - Grey
Stoptech - Blue
Stoptech - Gold
Stoptech - Green
Stoptech - Orange
Stoptech - Black
Stoptech - Yellow
Stoptech - Brown
Stoptech - Red

Wilwood Caliper Pack:

Wilwood - Grey
Wilwood - Blue
Wilwood - Gold
Wilwood - Green
Wilwood - Orange
Wilwood - Black
Wilwood - Yellow
Wilwood - Brown
Wilwood - Red

All Packs:

Emptyhead Custom Brake Caliper (In all packs)

Enjoy!
---
Comments
---
lucasjuhas (July 25, 2021 @ 23:05)
Hey, since you haven't updated any of your mods for Heat I'm assuming you gave up on modding? Assuming that's the case could you tell me how did you change the color of the caliper, the model, the texture and such? Even just telling me which files I should look for would be of extreme help, thank you.
EMPTYHEAD (May 05, 2020 @ 09:25)
Indeed, this is for Payback. Getting some practice modding in ready for the Frosty update so i can transfer it all over to Heat.
Johnlong (May 05, 2020 @ 03:46)
That's Is For NFS20(Payback) Mod?
Uploaded at: May 04, 2020 @ 13:51