NFS Carbon FXX [addon]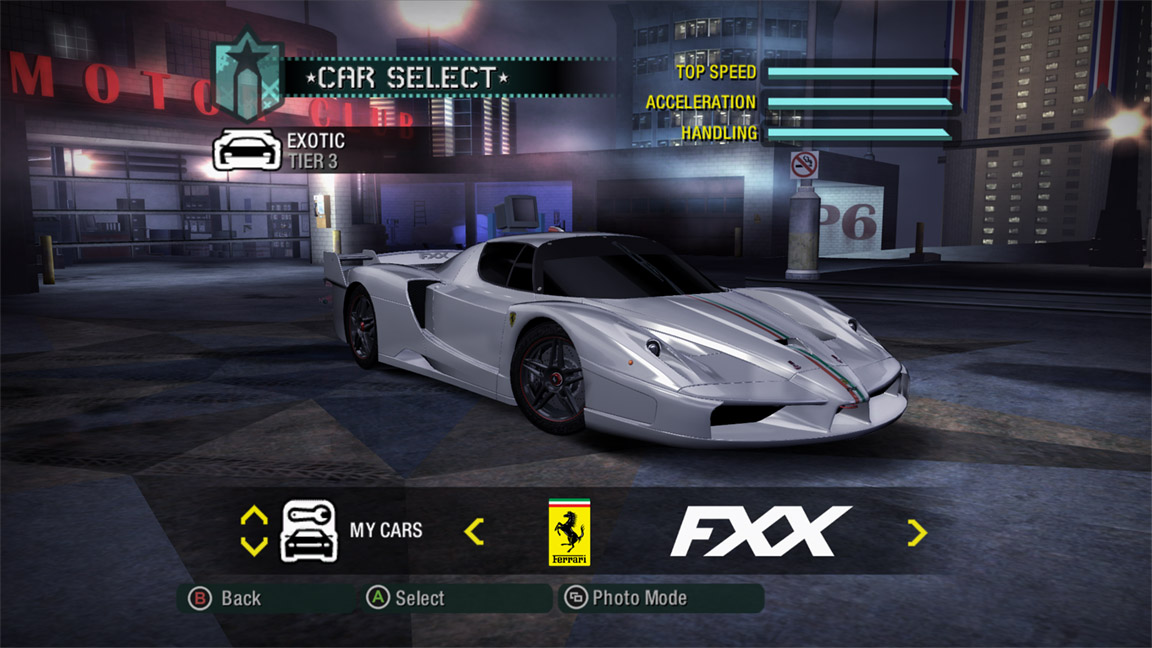 ---
2005 Ferrari FXX

Base car by Slightly Mad Studios from X360 DLC for NFS Shift; misc parts and textures from TDF, Shift 2 Unleashed and Forza 3. Uses default NFS Carbon driver.
Replaces nothing, XNAME is S1FXX.

"Features":
- 6 paintable placeholder kits with moderately accurate vinyl support
- no parts besides rims can be installed, sorry about that
- 3 NOS upgrades and 1 brakes/chassis/engine/turbo/tyres/transmission upgrade
- Tier 3 exotic; available as soon as you create a new savegame, costs 350,000; stock performance based on Enzo's specs, upgraded performance based on FXX's specs

Known issues:
- due to the shape of the car's body, vinyl mapping isn't as close to vanilla convention as I'd like, but if you're patient enough, you can pull something off

As this is an addon rather than a replacement, you'll need a couple tools:
- Carbon Unlimiter by nlg or Car Array Patch by sparx; don't use both at the same time as that can cause serious issues
- Ed The Car Dealer
- NFS VLTEd

Once you have those, download the archive, unpack it anywhere and follow the instructions to a T.
- in "FXX05_ADDON" folder, go to "ed", copy both "Config" and "Resources" directories and paste them inside your Ed The Car Dealer folder [where Ed.exe is located], merge folders when prompted
- next, launch Ed.exe, "Main" -> "Open" -> browse to your NFS Carbon installation folder; you should see my mod listed there, but it's not installed just yet; click on "Apply" to have Ed modify the FRONTEND/GLOBAL/LANGUAGE databases; once done, Ed will display a "new cars added successfully" confirmation dialog
- close Ed, launch VLTEd -> "File" -> "Open" -> nagivate to where Carbon is installed; afterwards "File" -> "Import" -> "Modscript", browse to "FXX05_ADDON" -> "main" and select "_install.nfsms", click Install, and VLTEd will do the rest, including folder creation and file copying. Once VLTEd finishes installation, press Ctrl+S to save the changes.

After that's all done, you can either create a new savegame or use maxhwoy's NFSC Save Patcher located here.

The car was tested on an NFSC 1.4 CE installation with the latest version of Improvement Mod, but it should also work fine on either vanilla or with other mods.

Big thanks to MrAdam, Avalanche and AcetheInvader for their help with this mod.
---
Comments
---
Sexy Spaceship
Also i bet you got PTSD from this car
Uploaded at: May 09, 2020 @ 16:41