Aero_'s ProStreet Camera Mod [2.5]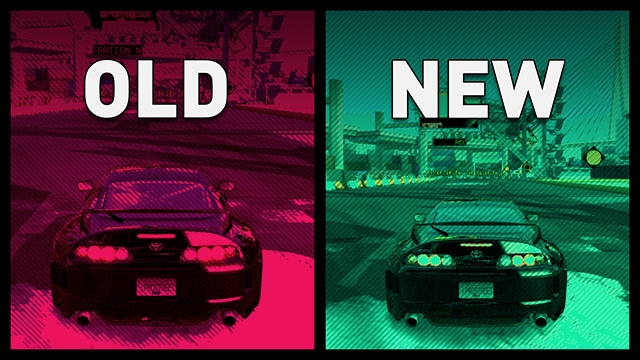 ---
This camera mod was made for myself because I couldn't stand the original camera system. Inspired by Gran Turismo, my mod has a more accurate sense of speed, less disorienting movement, and better viewing angles. Don't believe me? Try it for yourself!

Video Comparison
Video Demonstration
Video Demonstration (CamDodgeDisabler.asi)




HOW TO INSTALL
1. Download NFS-VltEd v4.6 or newer.
2. Launch NFS-VltEd.
3. File -> Import -> ModScript -> INSTALL.nfsms
4. Follow the instructions.
5. File -> Save.
6. Enjoy!

CHANGELOG
v2.5

Installation is now done entirely through NFS-VltEd.

Added an option for "Dynamic" camera settings, as seen in the original V2 demonstration video.

Far Cam has been moved further back.


v2.3

Revised camera direction lock. The camera should be less stiff while resting and less loose while driving.

Disabled "cameraimpact" system as the effect was disorienting and unnecessary.

Reduced FOV increase when driving at higher speeds.

Added a basic description to the ModScript.


v2.2

"Far" cam has been readjusted based on feedback.

Disabled "Hood" cam auto-rotation.


v2.1

Fixed camera rotation snap while braking.

Fixed camera position snap while braking.

Fixed camera FOV snap while shifting.

FOV has been slightly reduced.

FOV dynamics are now smoother than before.

"Far" cam now uses the same FOV as "Close" cam; the position has been altered instead. This change is due to how ProStreet's camera system works.

Improved consistency in values being used.


v2.0

The entire mod has been remade from the ground up.

Fixed a random crash when switching between cameras.

FOV now gradually changes based on speed.

Camera now shakes based on speed.

Camera height and position have been adjusted for better visibility.

Hardcoded camera dodging effect has been disabled.


v1.2

Adjusted DirectionLock.

Added readme to archive.


v1.1


CREDITS
Aero_: Creator of ProStreet Camera Mod.
ThirteenAG: Creator of Ultimate-ASI-Loader.
nfsu360: Creator of NFS-VltEd.



---
Comments
---