Chevrolet Monte Carlo 1979 (Add-on)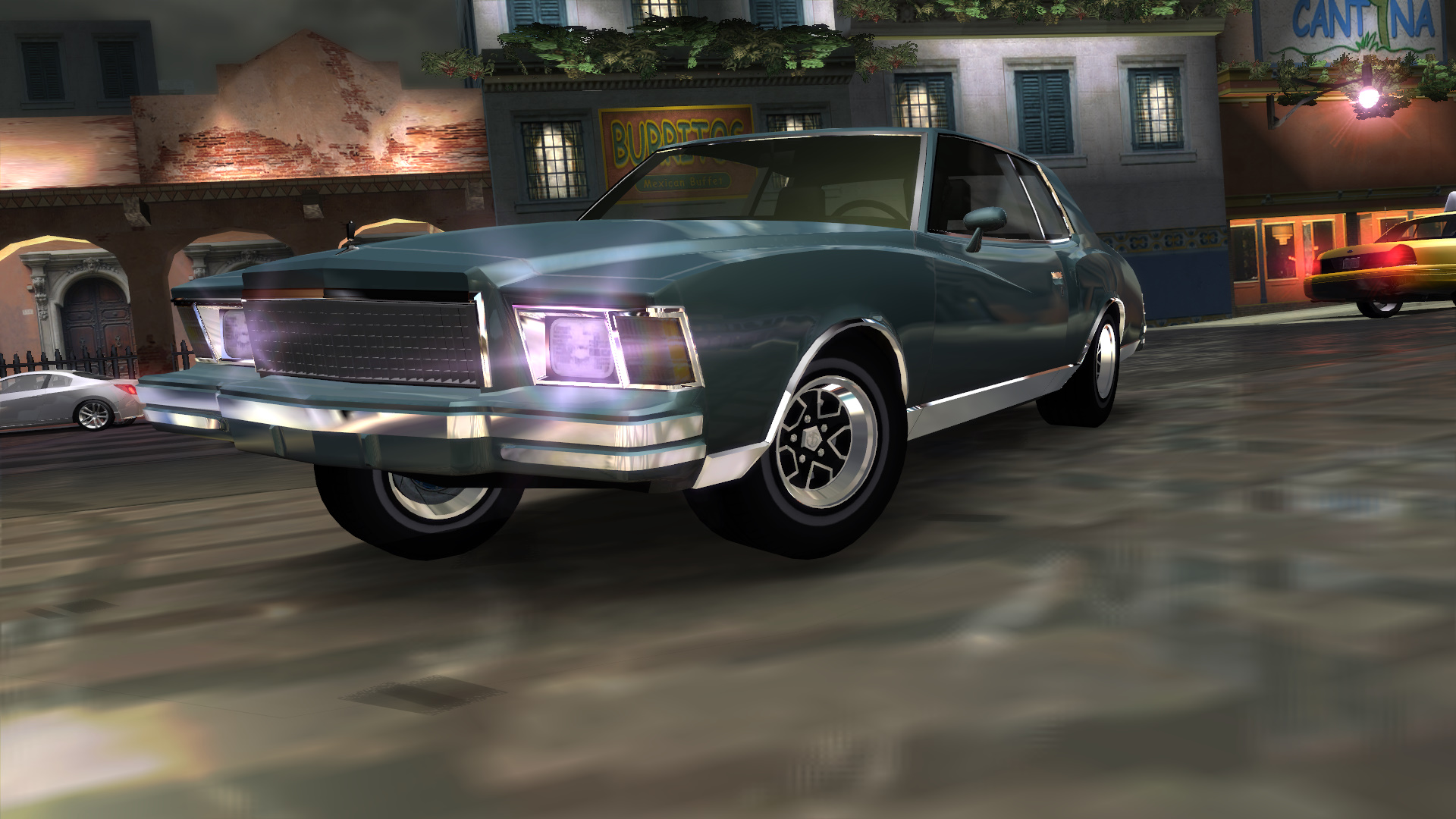 ---
*DON'T UPLOAD THIS CAR IN ANOTHER SITE WITHOUT MY PERMISSION*

BEFORE YOU DOWNLOAD THIS OR ANOTHER UG2 ADD-ONS MODS, IF IT'S YOUR FIRST TIME DOWNLOADING THIS TYPE OF MODS PLEASE LOOK AT THIS VIDEO: https://youtu.be/dTDdqolr4K8

1979 Chevrolet Monte Carlo

Special Thanks to:

-3D Model, textures: Cyrax (gamemodels.ru) for ripping the 3D model from LowRider Extreme (Red Rot Games, PC)
-NFSU2 ModTools, NFS-TexEd 1.7 and NFS-CfgEd-1.0: nfsu360
-ZModeler 2.2.5, ZModeler 2.2.1 and ZModeler 1.07b: Oleg
-Labrune v1.0.0.402: nlgzrgn
-Binary v1.0.4: MaxHwoy

Tools used:

-ZModeler 2.2.5
-ZModeler 2.2.1
-ZModeler 1.07b
-NFSU2 ModTools v1.2
-NFS-CfgEd 1.0
-NFS-TexEd 1.7
-Binary v1.0.4
-Labrune x1.0.0.402
-Adobe Photoshop CS6

Features:

-Modified performance (it's an american car from the late 70's, don't expect a fast car)
-V8 Sound

Can be customized:

-Windows tint
-Color
-Rims

Replaces: Nothing! It's an addon

All the instructions to install this mod in the "INSTALLATION README!!!.txt"

NOTE: If you're going to download and install this mod be sure you have installed the latest versions of NFS Underground 2 Unlimiter, NFSU2 Extra Options, NFSU2 Car Sound Tuner and Global Memory File Fixed for a better experience.

Follow my colleagues and me in our blog and Facebook page:

https://nfsprolatammods.blogspot.com/
https://www.facebook.com/NFSU2ProLatAm/

Enjoy!

---
Comments
---
No comments, be the first one to leave a comment!
Uploaded at: June 11, 2020 @ 01:05