[NFS MW/C] Custom HUD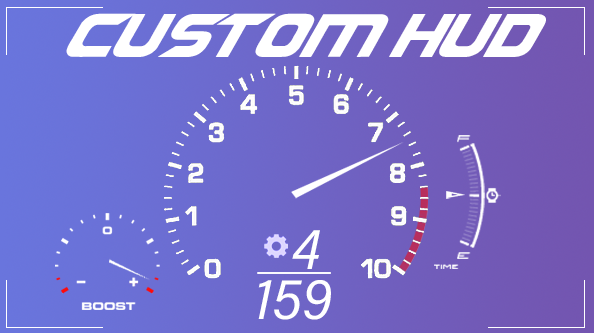 ---

Need for Speed - Custom HUD



GitHub link



Replaces original in game tachometer, speedometer and some other HUD elements.

Installation:
- Copy files from "Install" folder to your game directory.
- Use CustomHud.ini to change HUD style(note available stlyles in "scripts\CustomHUD" folder or try creating your own).

Original idea goes to SpeedyHeart.
Thanks to SpeedyHeart, berkayylmao, rx, Red_Fire and MrAdam for help.
Made by Archie

Do NOT reupload to any site without my permission
For any questions - join my Discord server.

If you have Error 126 try installing Microsoft DirectX® End-User Runtime

Enjoy)

Update 1.1:
- Added Most Wanted support

Update 1.2:
- Added new HUD styles
- Added HotReloadKey - allows to change the hud without reloading the game
- Added ShowDebugInfo option
- Fixed compatibility issue with MWFixes script

Update 1.3:
- Added custom hud per car feature
you can find example in CARS\LANCEREVO9(for MW rename it to LANCEREVO8)
- Added analog speedometer element

Update 1.4:
- Added shift up icon(check U1 and U2 huds)
- Changed rendering order
- Added ArrowScale and ArrowCenterOffset to Gauge elements
- Added new mode for CustomCarHUDs that allows to show vanilla hud for cars that don't have specific one for them.









---
Comments
---
Uploaded at: June 29, 2020 @ 20:59