Hard Drivers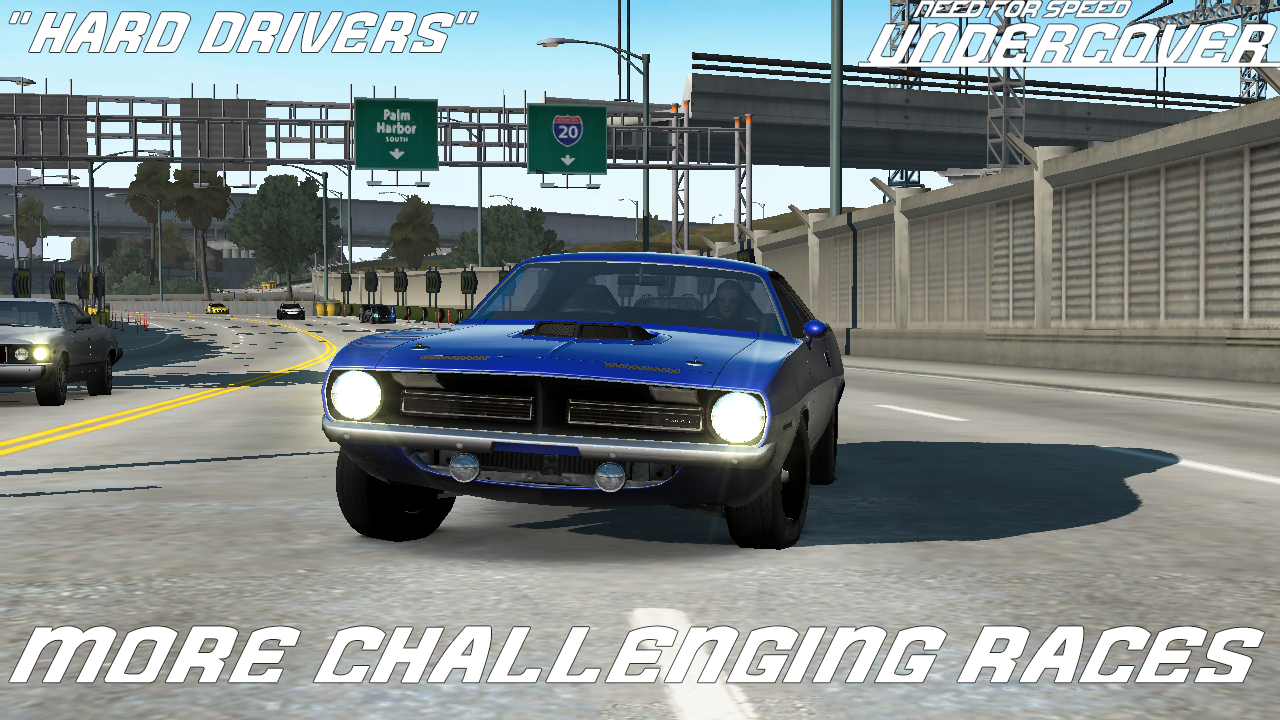 ---
Feel the rush, feel the adrenaline...

BACK UP YOUR GLOBAL FOLDER BEFORE INSTALLING

Didn't you think that the races in Undercover are too easy? They're so simple that sometimes they are just boring, so I decided to create this mod.
This mod adds more "Catching-Up" so they won't be that easy to beat.

FEATURES:

* Opponents have more skill
* Increased max speed of other racers
* Balanced for all gamemodes
* More rubberbanding ( i tried not to overdo this, so it's still fun to play)
* Two difficulty levels!

CHANGELOG:

* 1.2
- Added two difficulty levels:
Normal
AI is slightly more harder than 1.1 . They never overtake if you flawless.
*More catch-up
* Acceleration Multiplier increased to 2.85
* Top Speed Multiplier increased to 1.6
Hard
Ai will always be on your tail and at every opportunity will try to overtake.
* Even more catch-up
* Acceleration Multiplier increased to 3.8
* Top Speed Multiplier increased to 2.4
- Now in Outrun you facing higher tier cars (Because the AI in the previous version ​​constantly crash and stayed behind )
- Mod thumbnail has been updated
- Screenshots have been added

* 1.1
- Top Speed Multiplier and Acceleration Multiplier is decreased to 1.5
- Maximum speed of opponents increased to 400
- Decreased amount of rubberbanding
- Increased AI skills
- Speed and rubberband are balanced for Outrun and Highway battle

* 1.0
Initial release


Vlted 4.6 is required!

INSTALLATION:

1). Download NFS-VltED
2). Click "File" then "Import"
3). Install "Normal.nfsms" or "Hard.nfsms"
4). Have fun!

Screenshot:

---
Comments
---
Wurf (August 10, 2020 @ 15:31)
I've never played these versions, but I've seen them. I think in this mod ai is easier.
If you don't mind me asking, how does this compare to the AI in 1.0.1.18 and 1.1.2.1? These two are the patched versions with Challenge Series included, 1.0.1.17 is without that.
Uploaded at: July 04, 2020 @ 11:41