NFS Undercover Sound Overhaul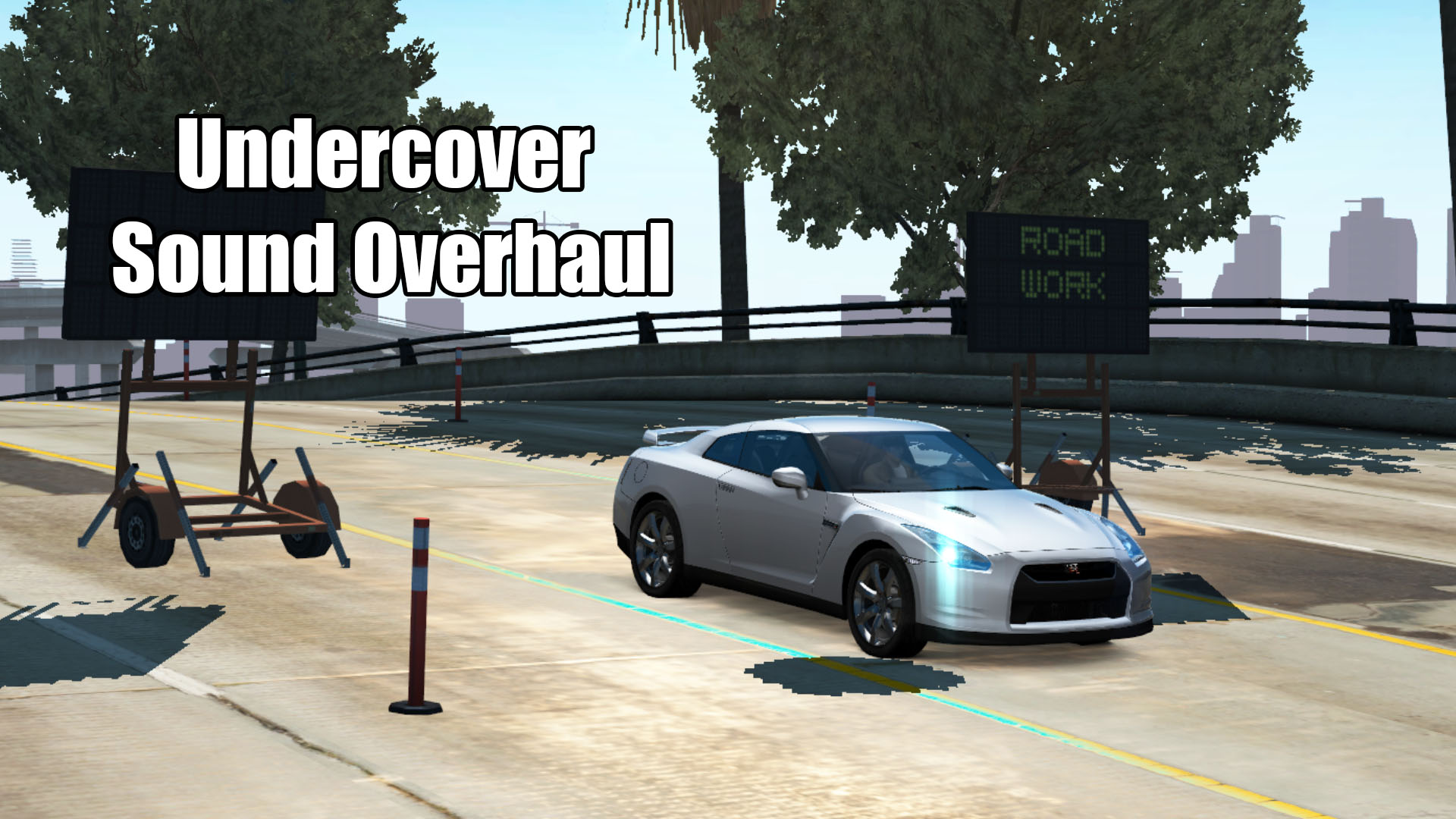 ---
May or may not be the biggest sound mod this game has ever seen. Jokes aside this mod improves all car sounds in the game for a way more immersive experience!

Fixes: Exotics (the best in the mod imo), Muscles (imo the worst :[) and Tuners (somewhere in the middle imo)

Intructions:
1. Extract the "SOUNDS" folder into your Undercover directory
2. Open VLTed, Click File -> Import -> modscript
3. Open the 'UC Sound Overhaul.nfsms" file and then press install
4. Once it's done, click File -> Save

You're done! Now enjoy an undercover with some amazing sounds!

Update 1.0.3.1 Changelog
-New Stock Sound For The Challenger R/T And New Upgraded EngineAudioNG Sound

Update 1.0.3.0 Changelog
-New Upgraded Sound For The Challenger R/T and Charger R/T (ply_cuda_a_eng_mod)

1.0.2.5 Hotfix:
-Added The Soundfile For mer_sl65_a, Because For Some Reason I Hadn't Omegalul

1.0.2.4 Hotfix:
-Added The aud_r8_d Soundfiles That I Apparently Forgot Lmao

Update 1.0.2.3 Changelog:
-New Stock Sound For The RX-7
-Volume Changes For a Bunch Of Cars

1.0.2.2 Hotfix:
-Added the sound files for alfa_romeo_a + alfa_romeo_a_eng and aud_r8_d (Now they won't be silent)
-New Sounds For The IS F

Update 1.0.2.1 Changelog
-New Upgraded Sound For The SL65
-New Sounds For The S15 (Now it doesn't sound like the S13)
-New Engine Sound For The Upgraded Skyline R34
-New Engine Sound For The Upgraded Megane Coupe
-New Upgraded Sound For The 911 Turbo (Now it sounds like the GT2)
-Returned The Old Stock Sound For The Chevelle (chevelle_a was proving to be too unstable lmao)
-New Engine Sound For The Stock F1 (Now it sounds more M3-ish)

Update 1.0.2 Changelog:
-New Sounds For The Gallardo LP560-4
-New Sounds For The E92 M3
-New Sounds For The R8, S5 And RS4
-New Upgraded Sound For The SL65
-New Sounds For The Escort RS Cosworth
-New Stock Sound Again For The GT3 RS
-Disabled ginsu_max_shuffle and ginsu_min_shuffle On All caraudio Nodes

Update 1.0.1 Changelog:
-Volume Tweaks For The Veyron
-New Upgraded Sound For The Zonda F
-New Stock Sound For The GT3 RS (Same as ProStreet)
-New Upgraded Sound For The Challenger and Charger R/T (Now they sound like other oldie muscles)
-New Mclaren F1 EngineaudioNG Sound (For stock and upgraded)
-New Upgraded Sound For The GT2
-New Sounds For The E46 M3 And The Z4 M (Same as ProStreet)
-New Sound For The Civic Cruiser (Now uses the for_crwn_a sounds)

Remember to extract the "SOUND" folder again, since there's 4 new tmx files (por_997_a)


Credits:
Black Box: TMX Files
nfsu360: VLTed
Me: For Having An Amazing Ear For Sound Apparently

---
Comments
---
therazorkille (September 25, 2020 @ 15:56)
@X6zmeisteR Given that the AI samples work, it makes me wonder if the game just doesn't like the player samples or just can't handle them. Some of them require absolutely no funny business (like the LP640_B sound, used by the Murci SV in NFS World). I feel your pain, man. Being able to get these to work would elevate this already good experience to a whole new level, but it may require some modification at a lower level...
X6zmeisteR (September 24, 2020 @ 19:42)
@therazorkille He told me that he would just use por_carrgt_a_eng to fix the issue, though some just wouldn't work. I hope there's a soultion, because i'm getting a little frustrated at this point
therazorkille (September 24, 2020 @ 18:31)
Looking through the modscript, it looks like you ran into the same issue I did when trying to use the player samples for some of the sounds (no sound unless you use the AI sample instead, which is lower quality). I've tried to get them working, but still to no avail. Have you been able to contact Kai M (the guy who showed us all how to do this) to see what's going on with this, if he has insight into the issue? I haven't been able to reach him. There must be a solution...