Ultimate Patch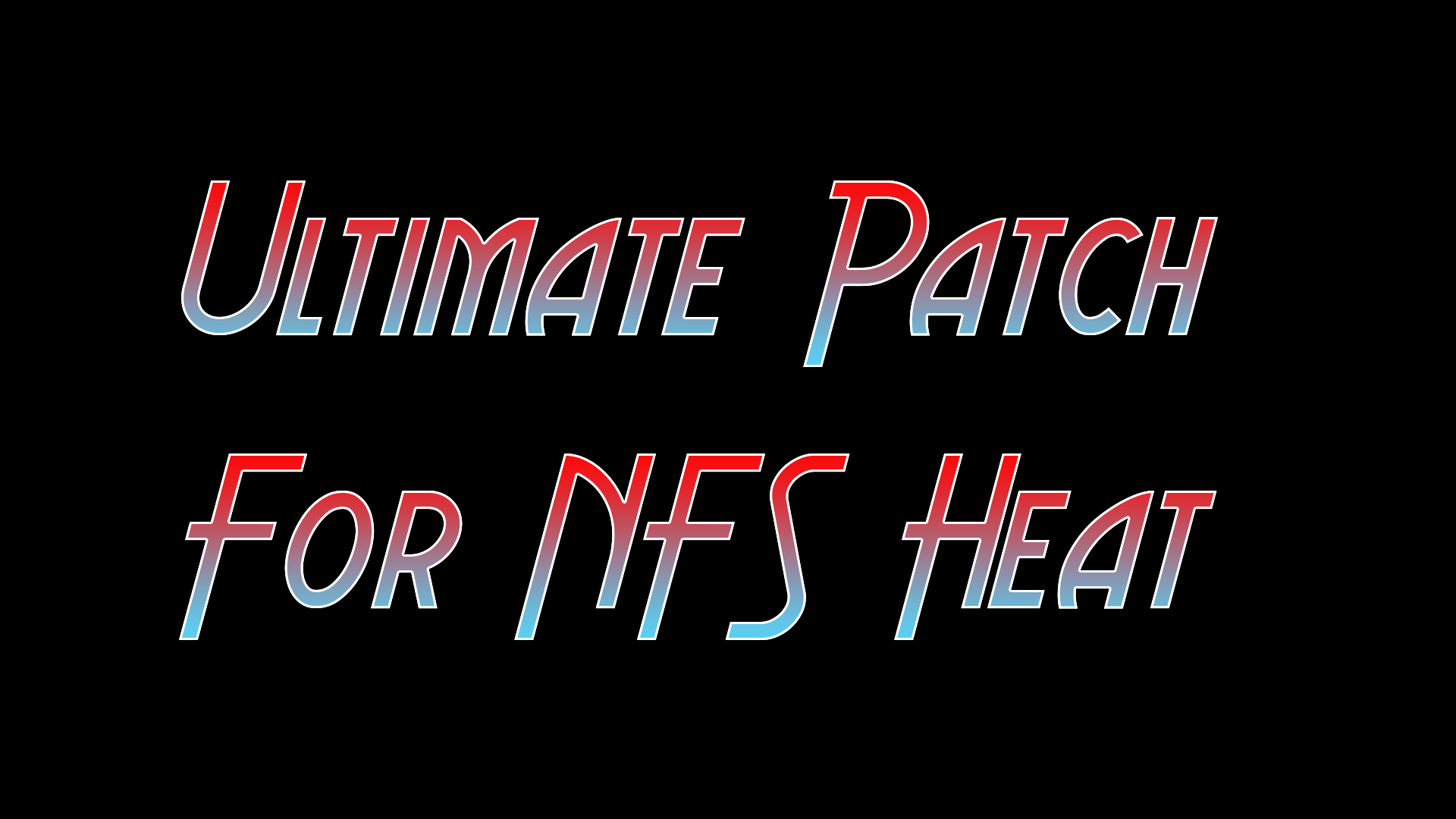 ---
Hidden Parts

Nissan 350Z: Rachael's Mantis Kit and Ana Rivera's Kit
Corvette GS: KS Kit, Cop Kit
Polestar: KS Kit
Nissan 370Z: Nismo Kit
Nissan GTR: Nismo Kit
Aston Martin DB11: Volante Black Market Kit
BMW i8: KS Kit
Mercedes C63 AMG: KS Kit
Mazda RX7: Hidden Hood
Mitsubishi EvoX : KS Kit
Ferrari 488 GTB: Pista Parts
BMW M4: M4 GTS Parts
Honda NSX: Kakimoto Parts
Mercedes AMG GT: GTR parts
Huracan: Performante Parts including visual engine part
Huracan Spyder: Performante Spyder Parts
LaFerrari: FXXK-Evo Parts including visual engine part (looks identical, might be different i don't know, but there was two so i put it in)
Porsche 718 Cayman GTS: Cayman GT4 Parts
McLaren 570S: 600LT Parts
Various Ferrari's: Hidden Canards, spoilers, and diffusers
License Plates: NFSMW, Underground, Underground 2, Police
Character: Hidden clothes

Gameplay

Drifting enhanced (cars drift easier and maintain speed better)
All cars unlocked (excluding DLC cars and Deluxe)
Car Dealer Alphabetized for easier finding

Customization

No Part Restrictions
Labeled parts
Labeled Engine (tells you which car it came from)
Hidden Parts have unique icon
Icon car parts have unique icons
Cop parts have unique icon
Deluxe Parts available to everyone

Stance

No forced camber when lowering car
Some Calipers will adjust track width (If you don't care for track width, search calipers and revert all modified calipers in the items folder)
Track Width options include -5mm, 5mm, 10mm, 15mm, 20mm, 25mm, 30mm, 35mm, 40mm, 45mm, 150mm, 200mm
There is a version without caliper/track width for those that don't want it

Engine Swaps

All Cars with All engines (WIP)
Sorted by Potential Horsepower (Lowest to Highest)

Special Thanks to Dimitri on discord for collaboration with adding engine swaps. It is tedious to add 100 engine swaps to every car. Engine swaps on my mod and Project United mod will be the same. Project Unite's Discord https://discord.gg/3G8Aph

Current Cars with 100+ Engines

Acura NSX
Acura RSXS
Alfa Romeo
DB5
DB11
DB11 Volante
Vulcan
Audi R8
Audi S5
Ferrari 458 Italia
458 Spider
488 GTB
488 Pista
F40
FXXK Evo
LaFerrari
BMW M3 E46
Mustang GT
All 4 Aventadors
RX7
350Z
Nissan GTR
Nissan GTR Nismo
Pagani Huayra
Porsche GT3 RS
Porsche GT 2 RS
BRZ
Impreza WRX STi
Honda Civic 2000
Honda Civic 2015
Honda NSX

Performance

More Gear options for all cars (WIP)
Regera Turbo for all cars (WIP)

Hidden Cars

Red Bull 370Z (Will appear in garage automatically)

Graphics

Removed film grain
Reduced sun intensity
Reduced Lens Flares
Virtual Warehouse effects

Please comment if you feel this needs tweaked more. Graphics assets were imported from Project United Mod, I take no credit for that portion of the mod.

Directions

Open Frosty Editor
Open UltimatePatch.fbproject
Press Launch
Enjoy Mod

Notes:

Cracked Version is not supported and will not run with Frosty Editor
Do not try to obtain Ivory Nos with my Vanity PDF, it may corrupt your save. Back up save before attempting!
As this is my project file, you will be able to change settings yourself as well.
This is still an alpha so some things may not work perfectly, I wanted to put more into the mod but it was unsupported.




---
Comments
---