ATTENTION:
If you're experiencing issues with the mod then check the included read me file for instructions otherwise join
the official mod's Discord server
for support.
NFS Most Wanted: Pepega Edition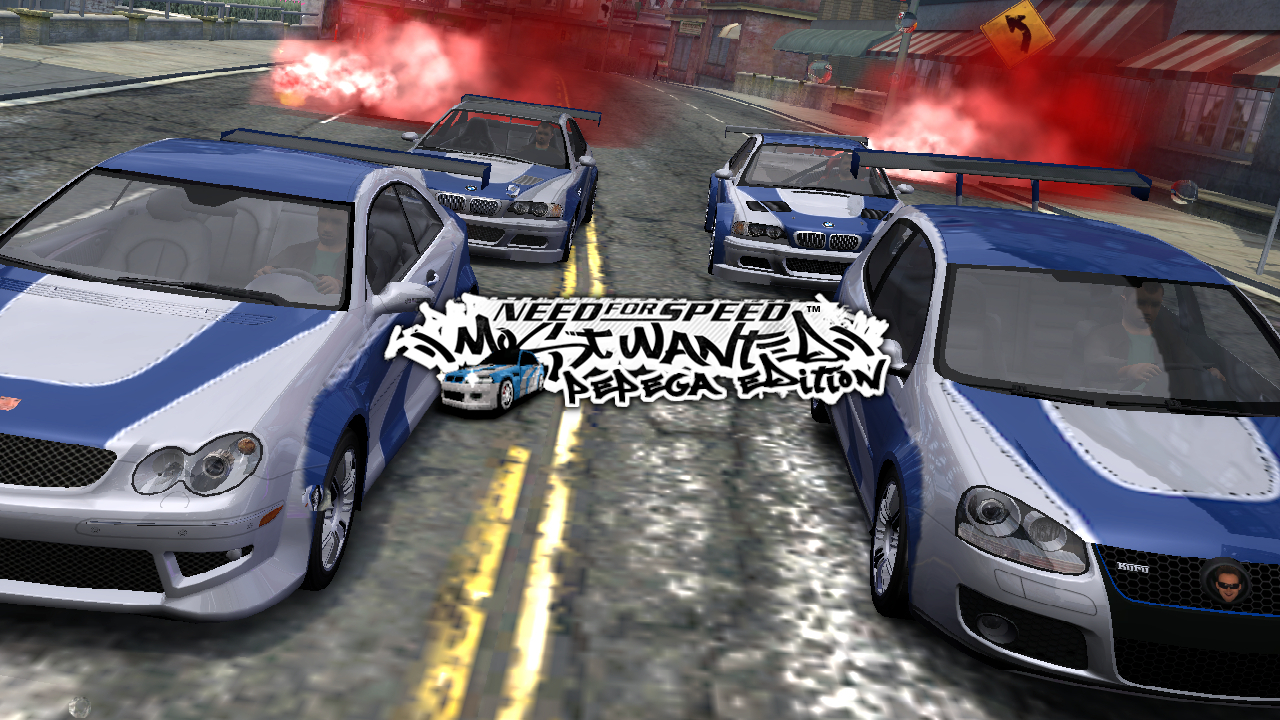 ---
The Pepega Edition is a mod for Need for Speed Most Wanted that adds a bunch of memes and funny elements into the game.
It changes everything including cars, textures, text, music, sounds, cutscenes and many other things. You will be able to play through a completely different career and challenge series as well as find a lot of changes within the game world along with completely new content!

Features:

Overhauled Story mode

Custom Story and Challenge Series Cutscenes

15 new Bosses with custom Cars, Cutscenes and Flavor Text

50 Cars are available for purchase and customization

Additional Vinyls and Decals available in the customization options

Exclusive and Special Cars in the Bonus Cars for Quick Race

Entirely new Challenge Series with 75 new Challenges to beat

New Police Colors, Cars and Heat Levels

Memes and little Details on almost every corner of the Map

Updated Game Lighting and Colors



Installation:
Installation instructions are provided in the included read me, please read it. You will have an automatic installer and a manual one along with an FAQ for any questions you may have.





Credits:

3di mod boosta - Corsa VXR
77x5ghost - Cunto Textures
AJ_Lethal - 240SX, Skyline and smol fix
AJM3899 - Takumi AE86 and Alpine
AlekGT99 - Traffic Fix
Cba - Intro music
CommunityMindedMiner - Copstack
Corvettez06 - Dom's Charger, FXXK and HSV Maloo
djoverlay - ForTwo
DumplingTanuki - Various vinyls and decals
Emosen - FAK500 and various textures
Gamer boy - Furai
Giovane - Sonic Speed Star
Goodboygamer - Astra OPC X-treme
GrimMaple - MWFixes
LittleBitGachi - Billy Intro
Michael Werd - NFS The Run Traffic
Minorikawa_Fuso - Type-59 Tank
Modder900 - M3 GTR Pursuit Vehicle
nlgzrgn - Licensed Traffic and NFSMW Unlimited
PorscheDudeGT3 - Customizable M3
r1tavratask1 - Police Lights from Silvia S15
Red_Fire - Rimac
sbcars11 - MpV
The_Unpun1shed - New Gauges and some cutscenes
ThirteenAG - Widescreen Fix
trackmaniamatt - E3 Demo Race
Wojach - Maluch and Yugo
YochiThMaster333 - Lada Samara

And everyone else that contributed ideas through the Google form!

Tools used

Binary by MaxHwoy
Labrune by nlgzrgn
LangEd by nfsu360
MW Race Planning GUI by MaxHwoy
MW ReCompiler by MWInside
MW Music Importer by BadHairDay
TexEd by nfsu360
VltEd by nfsu360

Special Thanks

BlackPanthaa
RioluTM
TakaiDesu
KuruHS







---
Comments
---
Uploaded at: October 23, 2020 @ 11:47