NFS Carbon - Porsche 911 Turbo (997) Enhanced/Remastered Textures v1.1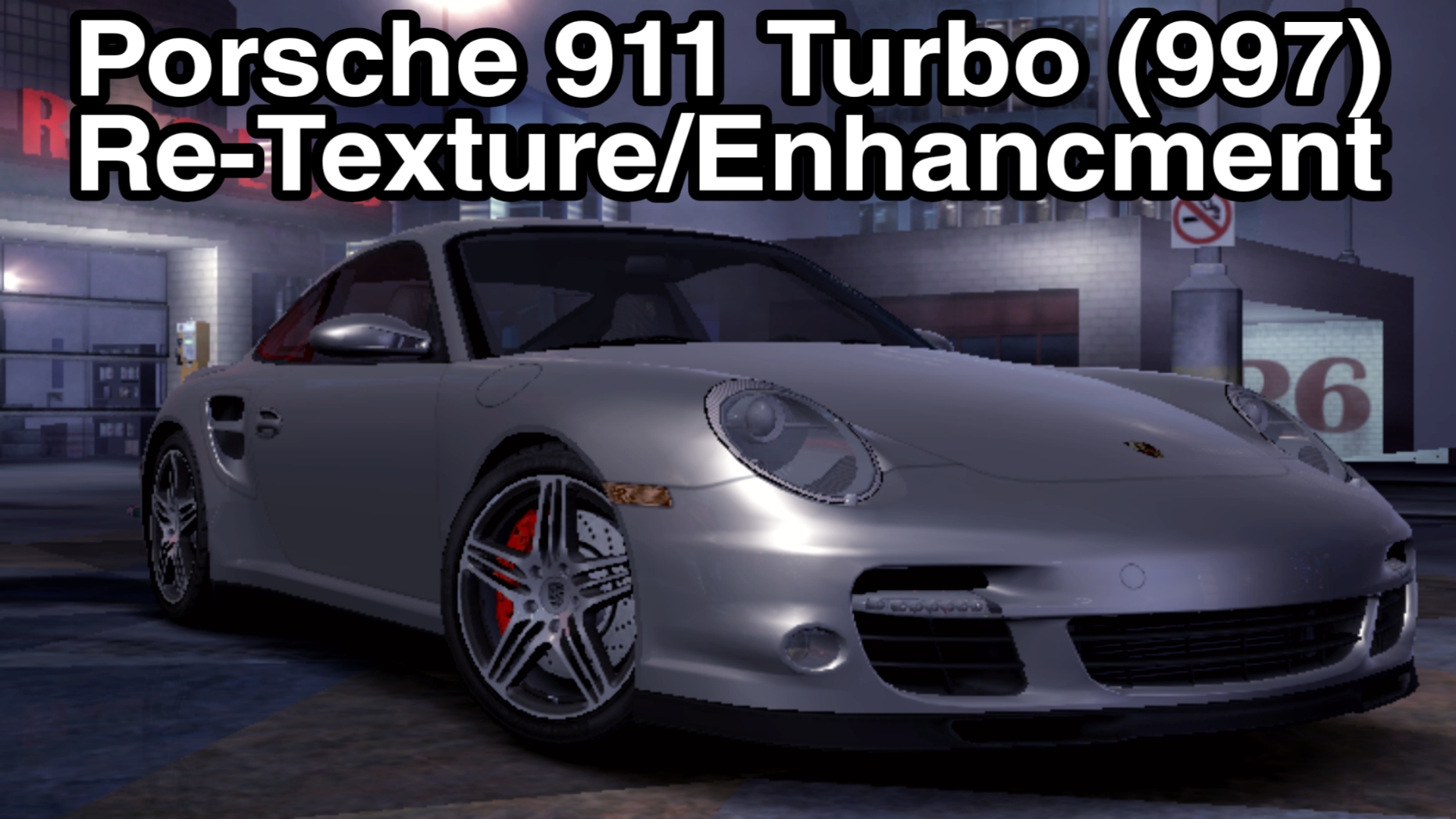 ---
Hello guys, new learner here. I recently started using the NFSTexED created by the one and only nfsu360. Link down below. So yes, I started using it and discovered the textures file of Porsche 911 Turbo (997) or simply called as "997TT" in carbon "CARS" dictionary. So yes, I used AI Upscaling and custom photoshoping method to create this mod. The mod's goal is to give the game 512x and above texture. making it compaitable to today's design standards. I basiclally brightened them up, added materials like Carbon Fibre, Leather and custom chrome texture. This mod is still going through development, will receive updates (I'll try my best). Please leave suggestions in the comment section or on my discord dm's (Viicus #1905).


TUTORIAL ON HOW TO INSTALL THE MOD:
---


There are 2 ways:

1. This is very basic. Inside the archive there will a "CARS" folder. Open it and you'll find the "997TT" folder. This folder pattern goes the same for the game dictionary. So, Go to CARS > 997TT in your game folder (PLEASE MAKE SURE TO CREATE BACKUPS OF THE CAR FILES FIRST). Now, inside the folder there are 2 files, "TEXTURES.BIN" and "TEXTURES.BIN.bak". The one with ".bak" behind it is a Backup file, containing all original textures. You wanted to focus on the "TEXTURES.BIN" file. Now, Move the "TEXTURES.BIN" into your "CARS" > "997TT" folder and replace it with the original one. And boom, you are ready to go. Start the game, enjoy the HQ Textures. (PLEASE NOTE : The mod preview images are brightened up to show you the differences clearly, the game might have less Light resulting in less Visibility)

2. The 2nd way is hard, but it is for the people who already have custom textures that they don't want to replace

Firstly, Download NFSTexED by nfsu360 : https://nfs-tools.blogspot.com/2019/08/nfs-texed-v17-released.html
Now, Open it and look at the top left corner, there is an option called "File". Click on it and then press "open". Now, go to your game folder, Locate "CARS" then go to "997TT" folder and double click on "TEXTURES.BIN". Now, what the tool does is show you all the textures that are present in the edited/default file. You can then double click on edited texture and replace it with your own (The texture must be a .dds file).


MOD IMAGES
---


Brake disc texture
[i


Hood/Bonnet Badge



Interior image 1 (Dashboard, Speedometers, Steering wheel, Radio column)



Interior image 2 (Front Seats, back seats, Rear Inner Quarter Panel)



Interior Image 3 (Side view, clear pic of Rear Quarter Panel)



Front Fender Reflectors



Custom Taillights (Brake lights off)



Custom Taillights 2 (Brake lights on)



Door handel (Shadow vertex mod and Key inserting column re-texture)



Hope I helped you and I hope you liked the mod :)

This mod took me a lot of time as I am new to this, please do not upload or make changed to this without my permission. Your suggestions are openly welcome. Please DM me on my Discord (VIicus #1905) If there are any additional problems, bugs or suggestions. My twitter is @GT1Stan. Have a good day

............................................................................................................................................................


Version 1.1 Released
---


First of all, The credit goes to one friend that gave me the texture. I won't disclose his name but big thanks to him for provding with the HQ ones.

The Update Features:

-Added new Door Panel textures and added more Carbon Fibre on door panels
-Fixed the steering wheel carbon a little




Stay Tuned for more


---
Comments
---
Vicius (November 25, 2020 @ 13:31)
Umm this is just kind of a small project. I am really new to this. But thank you fridge, will do more cars for sure :)
fridge (November 25, 2020 @ 13:09)
looks very nice hopefully you do this for more cars
Vicius (November 24, 2020 @ 19:23)
Guys, please right click on the image logo to see the images, then press "open image in new tab"
There has been an error in embedding but you will be able to see it in the "Open image in new tab" option
Uploaded at: November 24, 2020 @ 19:21