2003 Mitsubishi Lancer ES (addon car)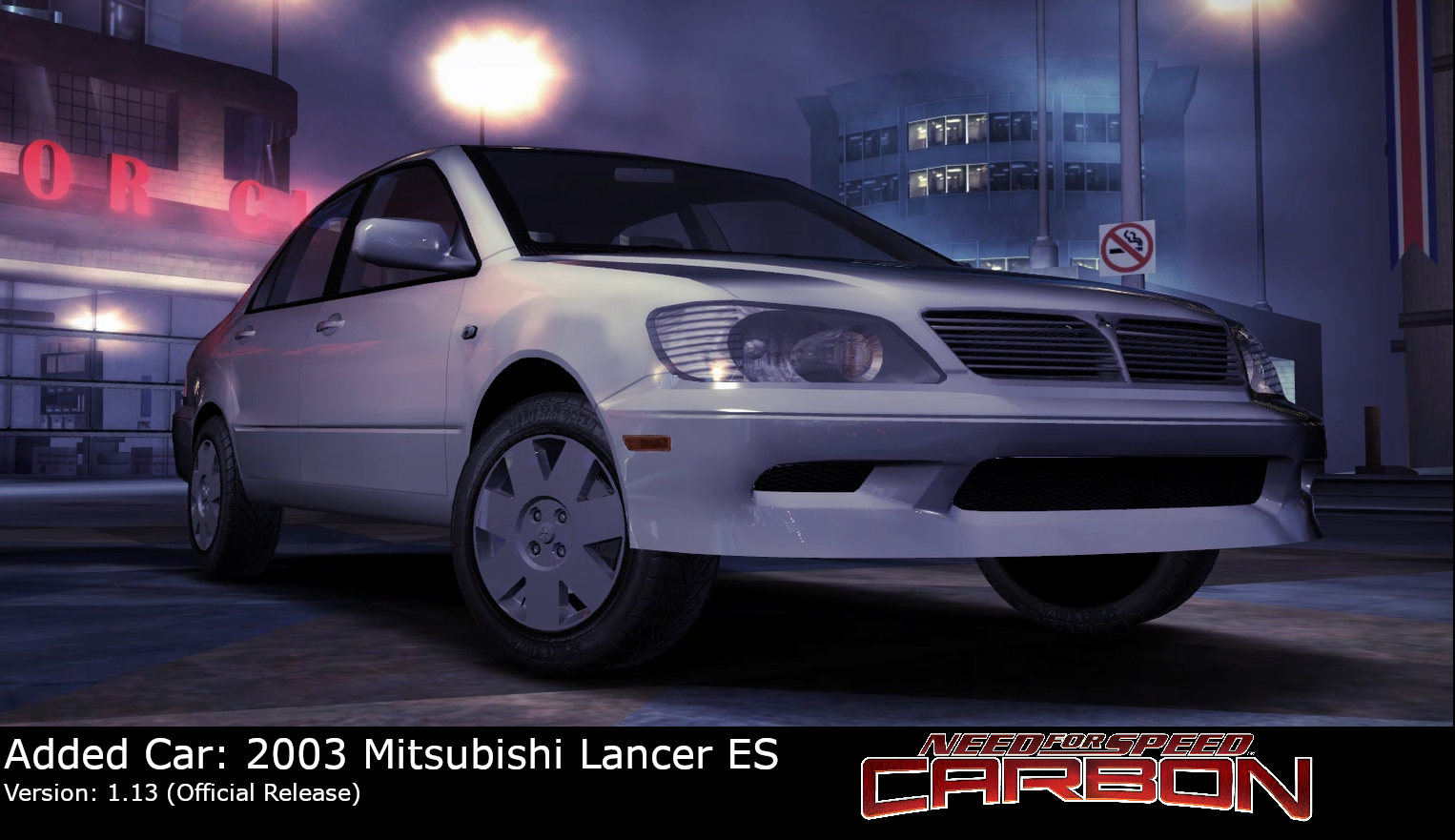 ---
The 2003 Mitsubishi Lancer ES, now available in Need for Speed: Carbon through Ed.

Features
*Working brakelight textures and markers
*Three body kits, spoilers, roof scoops and a carbon, stock hood
*Custom performance data
*Proper interior and textures
*Custom secondary logo
* Scratches
* Dispatcher refers this car as a Mitsubishi

Future updates
*Add a forth body kit

Changelog
version 2.0
*Fixed surfaces
*Added new body kit
*Fixed textures

Installation
Notice: Before installation, make sure you have a working copy of Need for Speed: Carbon,
VLTed v4.6, Ed v1.0.0.800. Be sure to have Car Array Patch or NFS Unlimited installed,
or else this mod will not work.

1)Extract contents out of this zip file
2)Drag the folder "CARS" to your game installation folder. Do the same with folder "Resources" to Ed's installation folder.
2)Run VLTed 4.6 as administrator and import (Crtl+I) Lancer.nfsms
3)Save VLTed and run Ed as adminstrator
4)Press Crtl+O to open your game installation folder in Ed
5)Press Alt + U to unlock your game's files for modding.
6)Click on "Apply" on the lower right.
You are done. Enjoy the mod.

Programs Used
* Blender 2.8.
* GIMP 2.10.
* NFS VLTed 4.6.
* Ed v1.0.0.800.
* NFS CarToolkit v3.1
* NFS TexED v1.7

Credits
*Blender Foundation
*GIMP
*Wheelsage.com for reference photos and texture sourcing
*Google images for reference photos and texture sourcing
*Goodboygamer for allowing permission and converting the car
*EA Blackbox for original model from Need for Speed: Underground
*NFS360 for CarToolkit, VLTed and TexEd
*nlgrzgn for Ed
*CommunityMindedMiner for tips on how to use Blender.



---
Comments
---
@apprentice1914 I don't know Binary enough to do that. Maybe in the near future.
can you create a Binary installation instead of Ed method?
R4BBITG4MING (November 30, 2020 @ 03:56)
Could you convert this to prostreet?
Uploaded at: November 27, 2020 @ 20:14