Project Unite: NFS 2015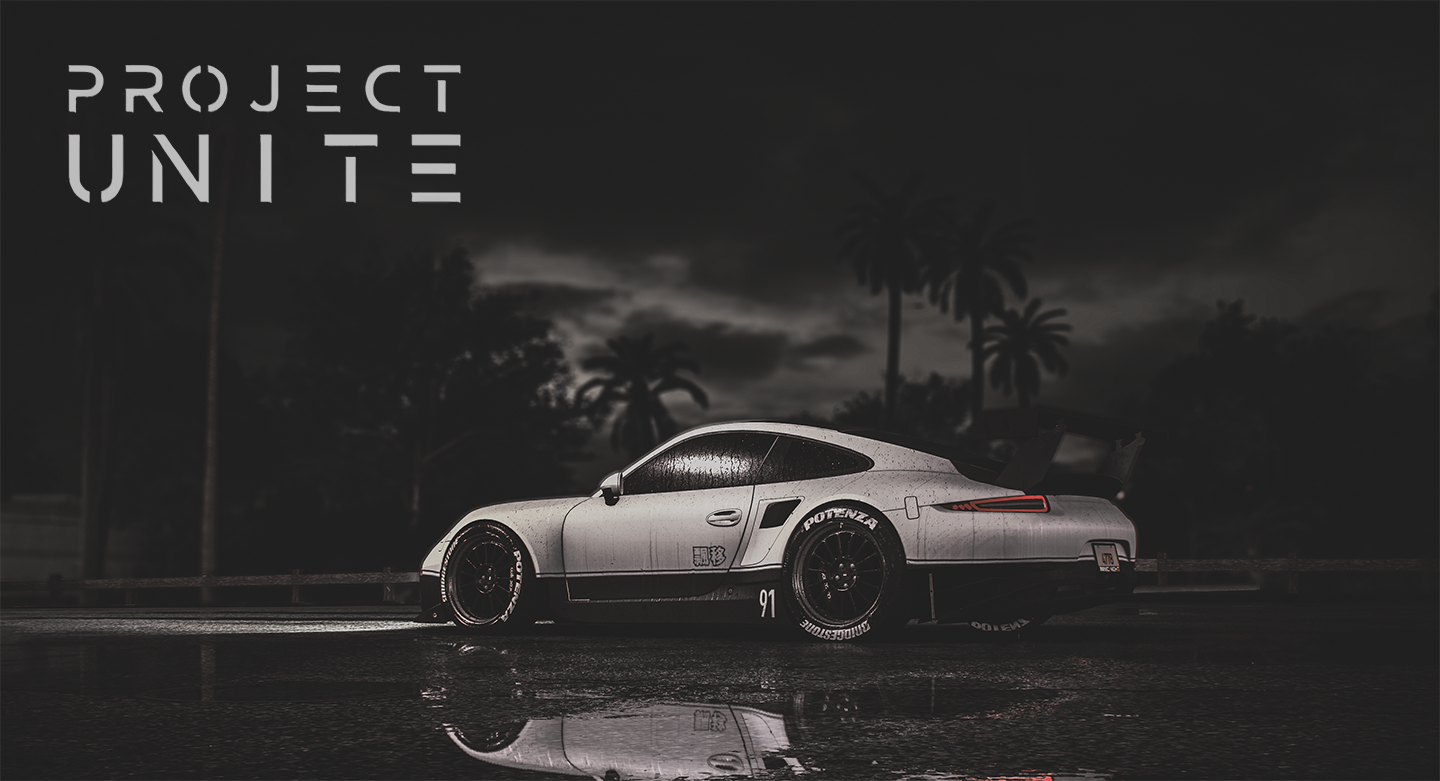 ---
Project Unite for NFS 2015 brings various modders together to create an overall improvement to the game.


//Project Unite 2015 1.2:

Project Unite 2015 Update 1.2 features a collaboration between Project Unite and NIGHTRIDERZ

WHAT IS NIGHTRIDERZ?
An open-source Need for Speed: World project started in May 2018, it aims to restore the game in its original state, in addition to bringing more features and cars to the game. The project is affiliated with Soapbox Race World, an overall project that aims Need for Speed: World back to life after its closure in 2015. Here is their discord link and website make sure to check them out!
https://nightriderz.world/
https://discord.gg/Mg35n4kKEr

The server welcomes players all around the world with an extremely diverse community, with weekly community events, giveaways, and periodic updates!

PROJECT UNITE X NIGHTRIDERZ
This update introduces NIGHTRIDERZ decals, license plate, license plate frame and billboards around Ventura Bay. The same way our license plates and billboards have been added to NFS World NR server. The upcoming 3.0 Need For Speed Heat update will receive a similar treatment with an addition of custom AI racers with their own wraps and names of NR devs.

Other 1.2 Update Contents:

- Added a Project Unite decal.
- New road textures.
- New license plates replaced: New York, Michigan and Illinois.
- Pursuit tweaks:
Chargers have been buffed a bit.
Improved cornering on both cop cars.
Changed cop minimap icons.

---------------------------------------------------------------------------------------------

//Handling Overhaul V1.0.07 fixes:

- Fixed the Aventador.
- Upgrades are more powerful on Lamborghinis.
- Added an optional cop nerf mod.

//Music Pack by SRK 1.2 update:

- Added Flex Up by Lil Yachty ft. Future and Playboi Carti to races and freeroam.
- Added Sky by Playboi Carti to garage and freeroam.


//SOUND
- 17 cars have received new engine sounds. And a few of them have received new idle sounds. The cars that have sound altered are listed accordingly:

- Chevrolet Camaro Z28 (MW12)
- Chevrolet Corvette Z06 (MW12)
- Dodge Challenger SRT8 (GRID 2)
- Dodge Viper SRT (Carbon)
- Ferrari F40 (Heat)
- Lamborghini Aventador (MW12)
- Lamborghini Huracan (MW12)
- Lamborghini Murcielago (Carbon)
- Mazda RX7 (GRID Autosport & Prostreet + Real Idle Sound)
- Mitsubishi Lancer Evo 8 (Carbon)
- Nissan 180SX (ProStreet + Real Idle Sound)
- Nissan GT-R (MW12)
- Nissan GT-R 2017 (MW12)
- Nissan Skyline R32 (Real Idle Sound)
- Nissan Skyline R34 (UG2 + Real Idle Sound)
- Toyota Supra (Real Idle Sound)

The BMW M3 GTR Heat sound + Carbon Transmission whine follows in an optional .fbmod
ProStreet BOV sound can also be applied with an optional .fbmod
Pops and exhaust bangs are now louder.

// STANCE
- An in-built stance mod that lets you adjust the car's suspension to suit your style. The car can be lowered further down and more negative camber.




//PURSUIT
- The pursuit module has been improved. Cops now have better handling and will keep up with you a lot easier. The cops their skins also have received some tweaks to them.




//VISUAL
- Annoying filters such as filmgrain has been removed. Minor lighting and reflection improvements
- New posters in the garage, as well as a new road texture and billboards around the map.
- Cars have now rain drops on them in the garage, just like in the E3 trailer.
- New floor in the garage.




//CUSTOMIZATION
- Bumpers, skirts, hoods, spoilers etc. can be removed on all cars. Additional license plate and plate frames options have been added. NOTE: Parts cannot be removed when a bodykit is applied. That is due to server restrictions. Some cars have improved custom taillights. Replaced the old boring tirebombs with branded ones.





//HANDLING:
Changes the way how handling works in the game drastically. The grip is working how it's supposed to and drifting feels realistic. How you tune the car now matters.
- Better Grip and Drift handling.
- Tuning updated to match handling.
- Updated FFB for wheels.
- Injection Timing and Gear Ratio tuning is now a thing with this mod.
This mod is optional and can be enabled and disabled easily.




Handling Showcase:
https://www.youtube.com/watch?v=SIwveSF2D18

//MISC
- Intro video has been removed for faster boot.
- Traffic cars are lighter upon impact. Less annoying to crash.
- The annoying crash cam has been disabled.
- Changed menu button pics to ones provided by Spoolyy, twlve and SRK.
------------------------------------------------------------------------------------------------------------------
//OPTIONAL
These are the optional .fbmods that follow with the release of this modpack:

- BMW M3 GTR HEAT SOUND + CARBON TRANSMISSION WHINE by SRK
Changes the default inline 6 engine sound with Heat's M3 GTR V8 and adds the iconic transmission whine known to all from Most Wanted and Carbon

- PROSTREET BOV SOUND by SRK
Changes the sound of the default Elite turbo flutter sound with ProStreet's Stage 4 Turbo blow off valve sound.

- 4K & 8K LIVERIES by Spoolyy
No more blurry liveries. This mod upscales your liveries to 4K or 8K resolution.

- MUSIC PACK by SRK
This music pack replaces some of the default songs with more fitting/requested/my personal favorites as well as songs from earlier games such as ProStreet, MW, Carbon and Undercover and Underground. Some are available only in the garage, some only in races. I have added the songs to fitting to their playlists accordingly.

- DISABLE BRAKE TO DRIFT COMPLETELY PLUGIN by Brawltendo
Drag and drop the contents of the mod into game's directory to completely kill off B2D.

- MUSIC PACK by GSD0S
------------------------------------------------------------------------------------------------------------------
//CREDITS:

//SOUND:
SRK
pottis
7ndrew
Clxbsport
Rattler

//STANCE:
SRK
Konix

//PURSUIT:
Yorpie

//VISUAL
Konix
GSD0S
pottis

//CUSTOMIZATION:
GSD0S
Konix
aSwiftZ

//MISC:
SRK
Rattler
James

//HANDLING:
James
Rattler
Brawltendo








---
Comments
---