Project Unite: NFS 2015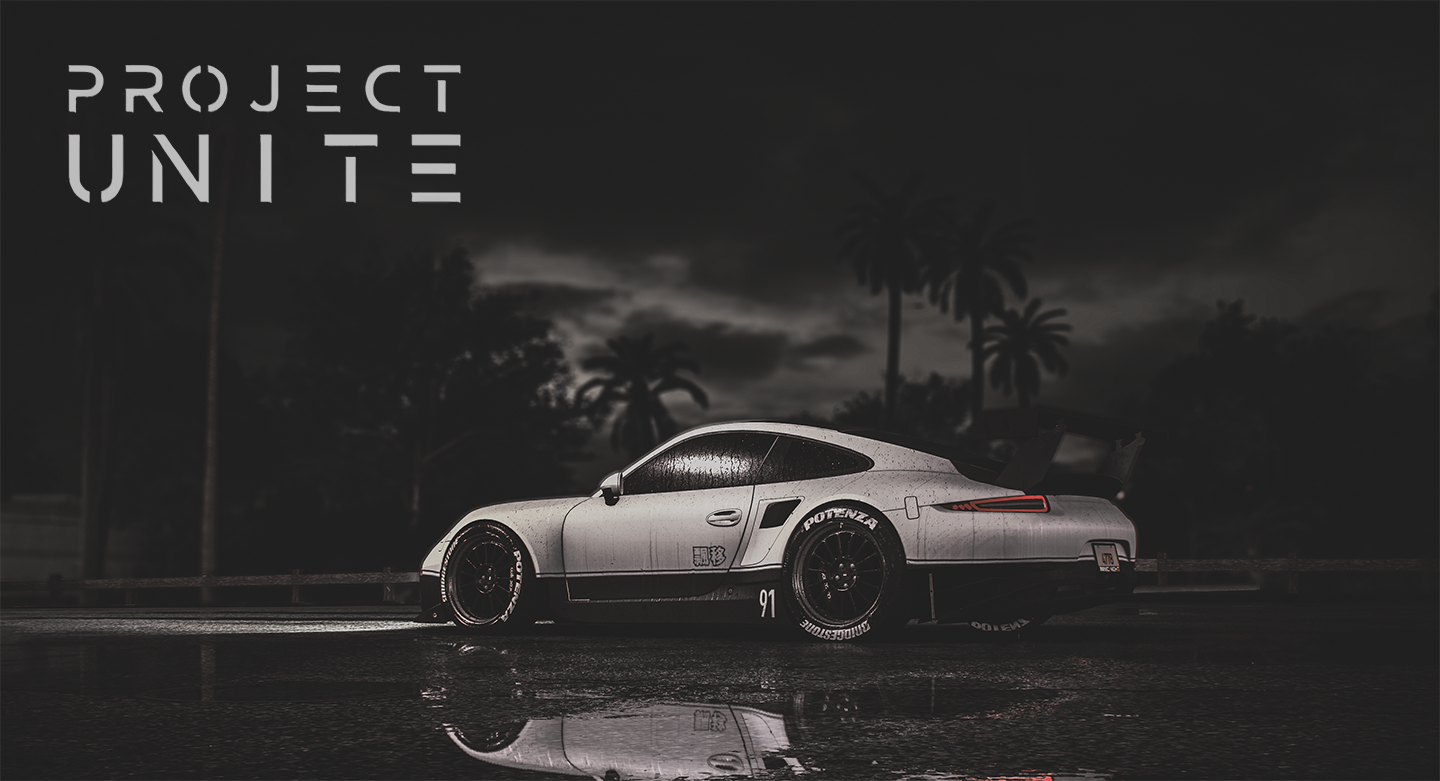 ---
Project Unite for NFS 2015 brings various modders together to create an overall improvement to the game.


//PROJECT UNITE 1.2.1 Fixes:
- Updated the NIGHTRIDERZ logos and billboards.
- Removed chromatic abbreviation filter, lens distortion and adjusted garage and outside visual environments.

//HANDLING OVERHAUL 1.1 Fixes:
- Improved drifting.
- Made grip driving more engaging.
- Fixed the Challenger.
- Fixed the 2015 MX5.
- F40 and RSR handle more accurately.

//NEW NO SSR MOD BY GSN0S//OPTIONAL
- Removes SSR reflections from the whole game for those having issues with it.

------------------------------------------------------------------------------------------------------------------------

//SOUND
- 17 cars have received new engine sounds. And a few of them have received new idle sounds. The cars that have sound altered are listed accordingly:

- Chevrolet Camaro Z28 (MW12)
- Chevrolet Corvette Z06 (MW12)
- Dodge Challenger SRT8 (GRID 2)
- Dodge Viper SRT (Carbon)
- Ferrari F40 (Heat)
- Lamborghini Aventador (MW12)
- Lamborghini Huracan (MW12)
- Lamborghini Murcielago (Carbon)
- Mazda RX7 (GRID Autosport & Prostreet + Real Idle Sound)
- Mitsubishi Lancer Evo 8 (Carbon)
- Nissan 180SX (ProStreet + Real Idle Sound)
- Nissan GT-R (MW12)
- Nissan GT-R 2017 (MW12)
- Nissan Skyline R32 (Real Idle Sound)
- Nissan Skyline R34 (UG2 + Real Idle Sound)
- Toyota Supra (Real Idle Sound)

The BMW M3 GTR Heat sound + Carbon Transmission whine follows in an optional .fbmod
ProStreet BOV sound can also be applied with an optional .fbmod
Pops and exhaust bangs are now louder.

// STANCE
- An in-built stance mod that lets you adjust the car's suspension to suit your style. The car can be lowered further down and more negative camber.




//PURSUIT
- The pursuit module has been improved. Cops now have better handling and will keep up with you a lot easier. The cops their skins also have received some tweaks to them.




//VISUAL
- Annoying filters such as filmgrain has been removed. Minor lighting and reflection improvements
- New posters in the garage, as well as a new road texture and billboards around the map.
- Cars have now rain drops on them in the garage, just like in the E3 trailer.
- New floor in the garage.




//CUSTOMIZATION
- Bumpers, skirts, hoods, spoilers etc. can be removed on all cars. Additional license plate and plate frames options have been added. NOTE: Parts cannot be removed when a bodykit is applied. That is due to server restrictions. Some cars have improved custom taillights. Replaced the old boring tirebombs with branded ones.





//HANDLING:
Changes the way how handling works in the game drastically. The grip is working how it's supposed to and drifting feels realistic. How you tune the car now matters.
- Better Grip and Drift handling.
- Tuning updated to match handling.
- Updated FFB for wheels.
- Injection Timing and Gear Ratio tuning is now a thing with this mod.
This mod is optional and can be enabled and disabled easily.




Handling Showcase:
https://www.youtube.com/watch?v=SIwveSF2D18

//MISC
- Intro video has been removed for faster boot.
- Traffic cars are lighter upon impact. Less annoying to crash.
- The annoying crash cam has been disabled.
- Changed menu button pics to ones provided by Spoolyy, twlve and SRK.
------------------------------------------------------------------------------------------------------------------
//OPTIONAL
These are the optional .fbmods that follow with the release of this modpack:

- BMW M3 GTR HEAT SOUND + CARBON TRANSMISSION WHINE by SRK
Changes the default inline 6 engine sound with Heat's M3 GTR V8 and adds the iconic transmission whine known to all from Most Wanted and Carbon

- PROSTREET BOV SOUND by SRK
Changes the sound of the default Elite turbo flutter sound with ProStreet's Stage 4 Turbo blow off valve sound.

- 4K & 8K LIVERIES by Spoolyy
No more blurry liveries. This mod upscales your liveries to 4K or 8K resolution.

- MUSIC PACK by SRK
This music pack replaces some of the default songs with more fitting/requested/my personal favorites as well as songs from earlier games such as ProStreet, MW, Carbon and Undercover and Underground. Some are available only in the garage, some only in races. I have added the songs to fitting to their playlists accordingly.

- DISABLE BRAKE TO DRIFT COMPLETELY PLUGIN by Brawltendo
Drag and drop the contents of the mod into game's directory to completely kill off B2D.

- MUSIC PACK by GSD0S
------------------------------------------------------------------------------------------------------------------
//CREDITS:

//SOUND:
SRK
pottis
7ndrew
Clxbsport
Rattler

//STANCE:
SRK
Konix

//PURSUIT:
Yorpie

//VISUAL
Konix
GSD0S
pottis

//CUSTOMIZATION:
GSD0S
Konix
aSwiftZ

//MISC:
SRK
Rattler
James

//HANDLING:
James
Rattler
Brawltendo









---
Comments
---