MW Police Rework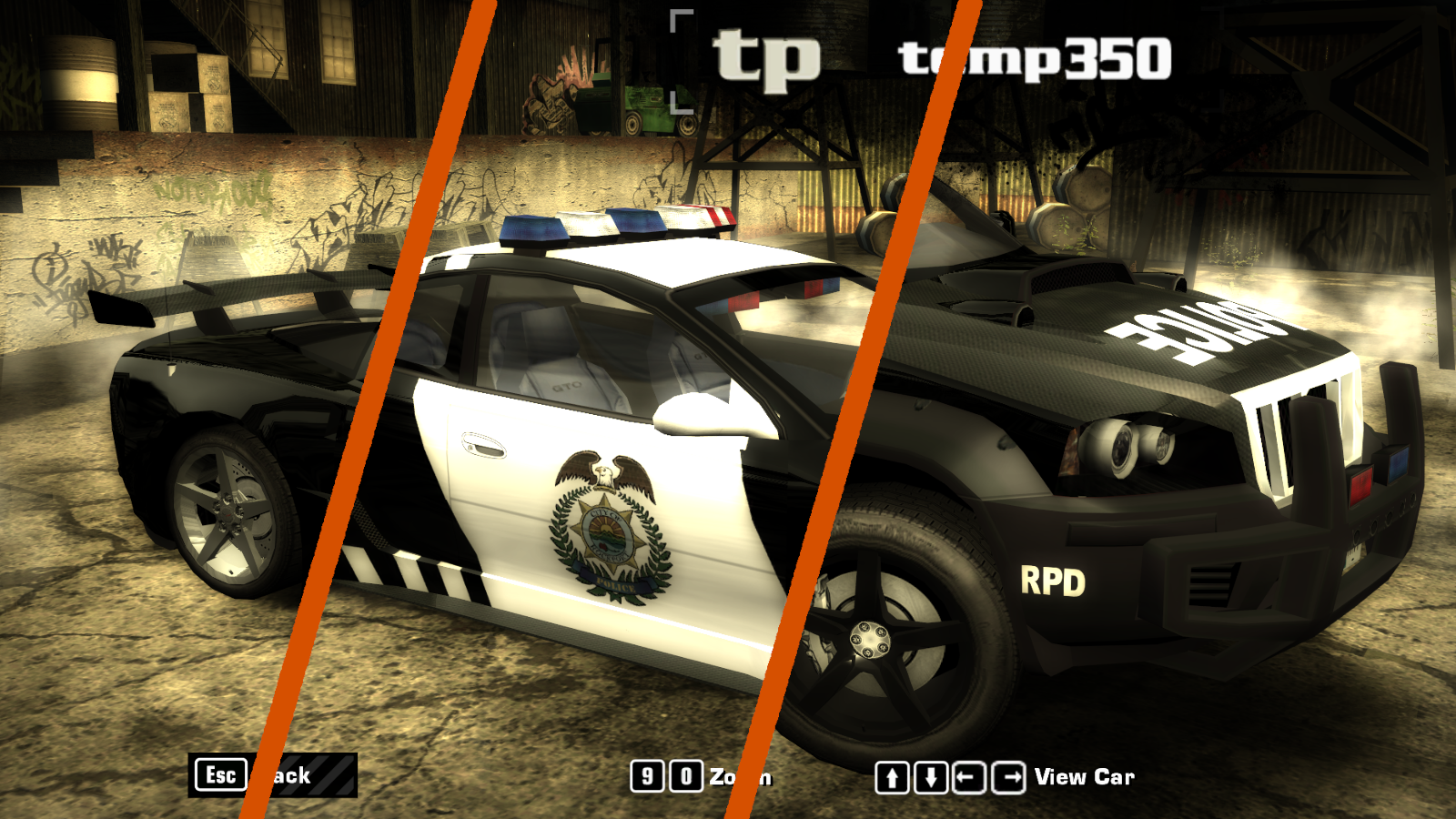 ---
NFS MW Police Texture Rework - By Ariso & Aven


SCREENSHOTS (external since there's a bunch):

- CRUISERS
- METALLIC PAINT
- POLICE LIGHTS
- SUVS
- TEXTURE LIVERIES


VERSION 2.1:

- Updated COPSPORTHENCH Livery
- Slightly reduced brightness of the COPSPORTHENCH metallic color
- Updated Beta Cross COPSPORT colors
- Fixed GTO Police sign that was upside down
- Fixed GTO hood livery
- Minor police decal fixes

VERSION 2.0:

- Minor police decal fixes to further match the original decals
- NFS Undercover COPSUV Headlights for COPSUV & COPSUVL
- Slightly brighter grille texture for COPSUV & COPSUVL
- NFS Undercover COPMIDSIZE Taillights for COPMIDSIZE, COPMIDSIZEINT & COPGHOST (including working brakelight texture)
- Fixed COPSUV & COPSUVL brakelight texture
- Metallic Paint for: COPGTO, COPGTOGHOST, COPSPORT, COPSPORTGHOST, COPSPORTHENCH, COPSUV, COPSUVL
- Pure black color instead of a blueish black for the COPGTOGHOST
- Visible brakes for COPSPORT, COPSPORTGHOST & COPSPORTHENCH
- BETA Content Support: Improved Beta Cross Livery for COPSPORT, Improved Beta Livery for COPGTO


INITIAL RELEASE VERSION 1.0:

- NFS MW Police Livery reworked from scratch
- NFS Undercover Grille Texture for COPGHOST, COPMIDSIZE & COPMIDSIZEINT
- Higher quality Textures taken from COPMIDSIZEINT and transferred to COPGHOST & COPMIDSIZE
- NFS Undercover Coplights reworked and fitted for all MW Cop Cars


KNOWN BUGS:

Corvettes:
- Squished "RPD" letters (seems like the model itself)

SUVs:
- Slight clipping of the headlights

These will be fixed in a future update (mostly), don't ask for ETAs.
If you do notice further bugs, please leave them in the comments.


FUTURE UPDATES:

- This mod is WIP, we will continuely try to improve the (texture & model) quality of some of the police cars since there aren't any mods that tried to keep the original look and for example approach the headlight and taillights of the Cruisers and Rhinos so far. I mean look at those headlights..


INSTALLATION:

- Make a backup of the COPGHOST / COPMIDSIZE / COPMIDSIZEINT etc. folders first of all.
- Copy the files from our folders and paste them in the 'CARS' folder in your NFS MW directory


PASSWORD FOR THE .ZIP FILE:

- ModbyAven&Ariso


CREDITS:

- Us for creating the mod obviously
- Black Box for the original textures from Most Wanted & Undercover
- nfsu360 for creating TexEd
- Lexal for helping with the metallic paint overhaul
- Neon for basically doing the headlight conversion for the SUVs
- GIMP Team for creating GIMP
- skirst for creating the DDS Plugin for GIMP
- Rick Brewster for creating Paint.NET
- C0mmunityMindedMiner for the mod compatibility with his Beta Cruiser
- Elaymm4 for the mod compatibility with his Beta Mod


DO NOT RE-UPLOAD OR RE-USE THIS MOD WITHOUT OUR PERMISSION !!

---
Comments
---