Adam's Underground Mod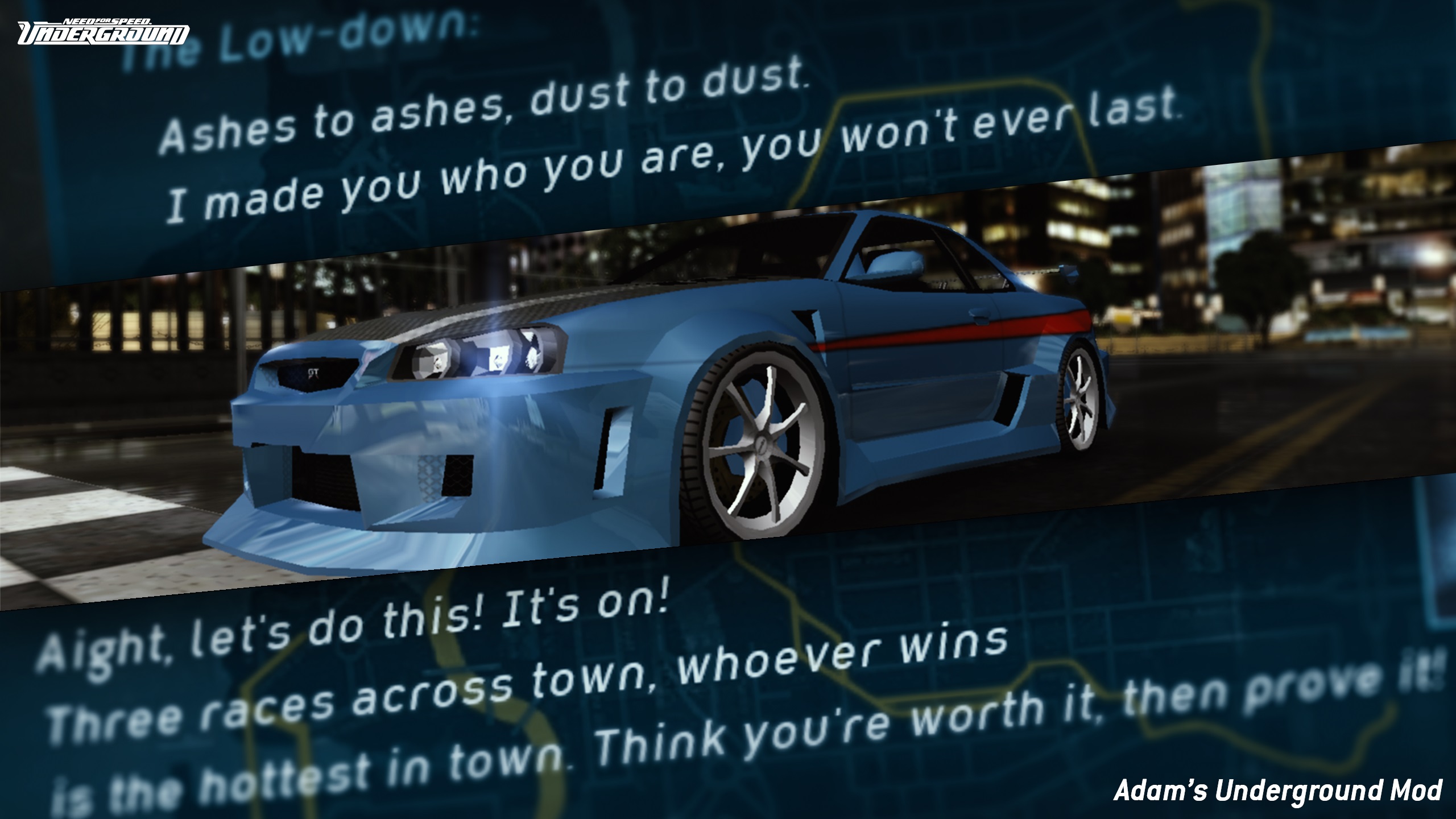 ---
This mod attempts to revamp the career by changing how car unlocks work, rebalancing cash rewards, changing difficulty and more!

Changelog:
- Difficulty has been revamped
- Laps were heavily reduced, now a race can only have up to 4 (3 in the case of a tournament)
- Cash was rebalanced
- Some boss races received changes
- Race 70 was reworked
- Added new TJ boss race
- Added new Lap Time races which have you do a lap around the Test Track to unlock most cars
- Rewrote some race descriptions
- Changed Time Trial time limits

Install:
1. Install "aum.end" with Binary 2.5.5 or higher
2. Choose your desired settings and save

Known issues:
- Melissa's race is nearly impossible due to your car's performance being stock, this will be fixed when preset performance is figured out
- You might get stuck at the 1st/2nd tournament due to lack of performance parts. I haven't tested if "In need of bank?" events work, if they don't then just restart and play on hard only until you beat the 1st/2nd tournament

Credits:
- Lexal: Testing
- Ketsueki: Thumbnail and some vinyls
- MaxHwoy: Binary and some help


---
Comments
---
Lardo (January 10, 2021 @ 18:43)
I'm pretty sure I installed the mod correctly (the game files are updated, according to "date modified"), started a new profile, but the game looks the same to me. The rewards are about as I remember and I already unlocked a few cars (Lancer, Tiburon) by normal progression. Where/when am I supposed to find new lap time races?
WF4123 (January 10, 2021 @ 16:19)
Look at the Install on Description.
It's easy. And don't forget to push User Mode to install.
ceyhantaha (January 10, 2021 @ 07:45)
Hi buddy, how can we activate this mode in the game?
Uploaded at: January 08, 2021 @ 14:13