Seat León Cupra (ADDON)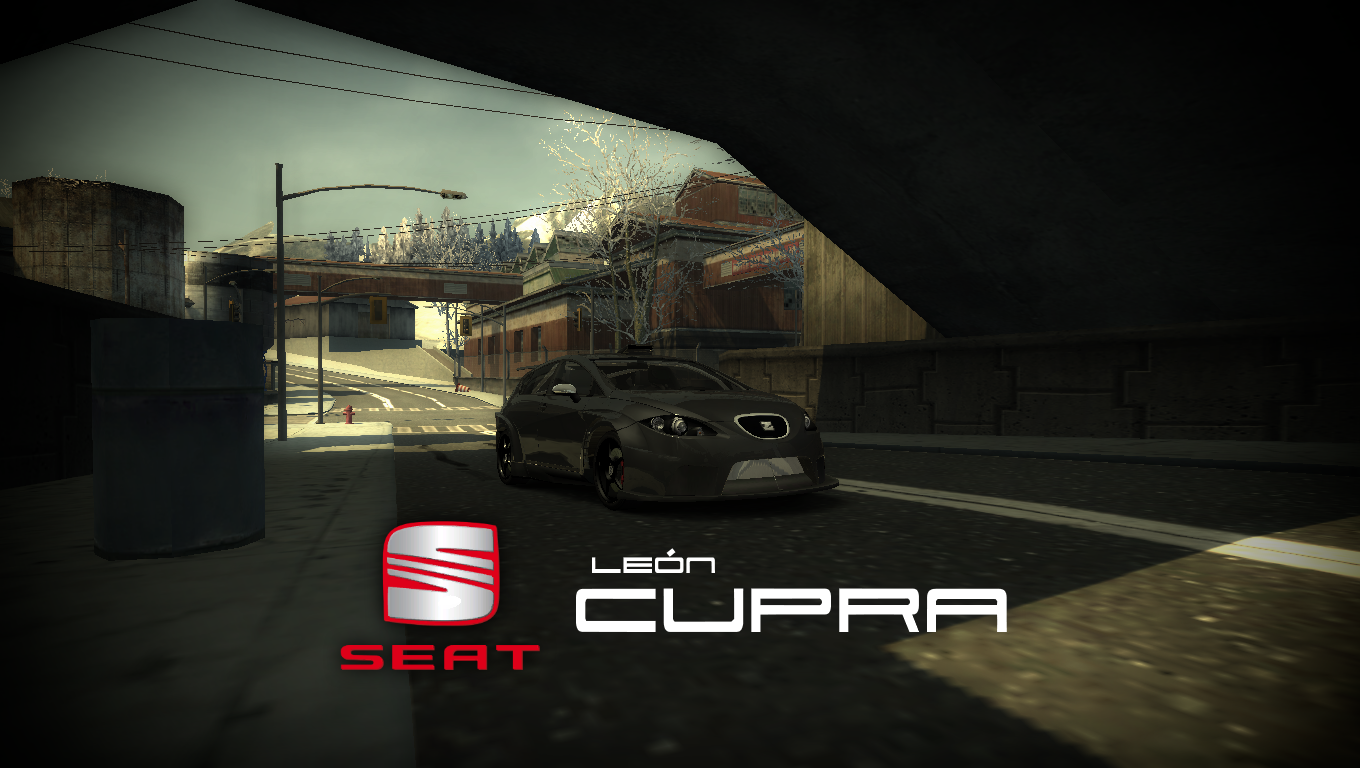 ---
Info
---

Seat León Cupra
by PVR19 , converted by WF4123 (Me).
Converted from Need for Speed: Pro Street
Version 1.0.0


Features
---

Can be customized with: Body kits, Hood (with roof combo), Wheels, Spoilers, Roofs.
Other Features: Custom Driver(Ryan Cooper, (must be coming soon with new drivers on next update (unlimiter v3 only)), Performances.
Stock Colors (White as Ed, Orange as Binary), HD Logos (Seat), No Licence Plates. (Just you wait till get updated with Shift 2 Parts and Fixed Vinyls.)


Installation
---

1. Run Vlt-Ed as Admin.
2. Click, File, and Import as modscript.
3. Find leoncuprainstall.nfsms in this mod directory.
4. Click Install button. (Note, if you choosed vinyl resolution.)
5. Close Vlt-Ed.

Binary Method:

1. Run Binary as Admin.
2. Click User Mode Button.
3. Find leoncuprainstall.end in Binary Install Folder.
4. And install it.
5. Done and close it.

Ed Method:

1. Copy of these folders from your Ed folder.
2. Run Ed as Admin.
3. Search NFSMW directory on your pc.
4. Install it.
5. Save and unlock memory files.
6. Close Ed.


Supported Mods
---

Unlimiter v2 if you installed mod with Ed or Binary
Unlimiter v3 if you installed mod with Binary (not supported with Ed


Not Supported Mods
---

Mod Loader (because you installed unlimiter)
If you like to replace PUNTO with Mod Loader and not using Unlimiter, Link: https://www.nfsaddons.com/downloads/nfsmw/cars/seat/1750/seat-2007-seat-leon-cupra.html


Issues
---

Vinyls. Yes, this might be happens when you brought vinyls, The vinyls are not correcting fitting. it has Front and rear Vinyls.
I'll make sure if modders fixing that vinyls issues with corrected fitting next update.


Tool Used
---

Binary 2.4.0 (by Maxhwoy)
NFSMW Unlimiter and Ed the Car Dealer (by nlgzrgn)
NFSMW Recompiler (by MWInside)
TexEd (by nfsu360)
VLT-Ed (by nfsu360)
Ant Renamer (by Antp.be)


Credits
---

MaxHwoy - Binary
PVR19 - That literally car for Mod Loader
nlgzrgn - 512 & 1024x Vinyls, Ed the Car Dealer and Unlimter (v2 and v3)
MWInside - That tool
WF4123 (Me) - Converting mod loader car to addon
---
Comments
---
No comments, be the first one to leave a comment!
Uploaded at: January 09, 2021 @ 10:08