PLUS License Plates for NFS Underground 2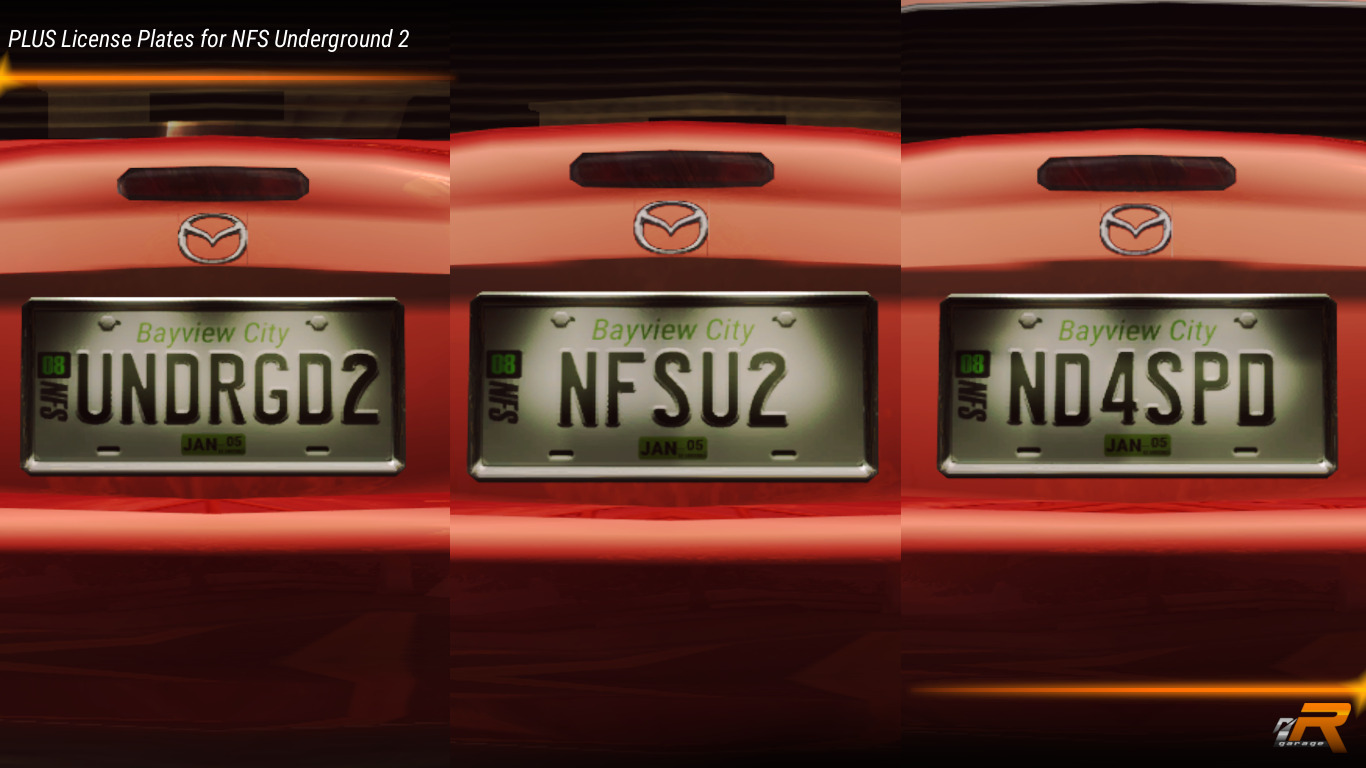 ---
v1.0 Rev.A: fixed TPKBlock of add-on plates that could have lead to a crash on startup

Features:

New, hi-res license textures
Can be applied either as a texture replacement or as add-on plates -you will need to have both NFSU2 Extra Options and NFSU2 Unlimiter installed to use them via debug car customize [LICENSE_PLATE slot]-
New license plate mesh (based on NFSU2's)
Template included (GIMP XCFBZ2 file, you'll need the License Plate font by Dave Hansen and the GIMP Layer Effects plug-in to apply the bevel effect -settings are included-)

Installation:

Unzip all the files of the archive into a folder
In Binary 2.2.0 or later, click on User Mode, look for the NFSU2 PLUS Plates [Installer].end file and follow the screen instructions. Save when prompted.

Used tools:
GIMP | Binary | Notepad
Copyrights/permissions:
If you would like to modify and/or distribute this mod, please:

keep this readme file without any alterations whatsoever (in case of just sharing this mod around)
give me proper credit (AJ_Lethal) for creating the mod
Seriously, respecting those conditions is not hard at all. Unless you're terminally dumb or a shameless, talentless hack.


---
Comments
---
AJLethal (April 28, 2022 @ 13:06)
@apprentice1914: no
@AJLethal do you have more license plates?
Fred (March 16, 2021 @ 18:40)
man the mod works is massive the other cards but when installing the card with the writing underground 2 does not work only the other 2 in the form of adding the cards, fix it there.