Most Wanted Style Guage V3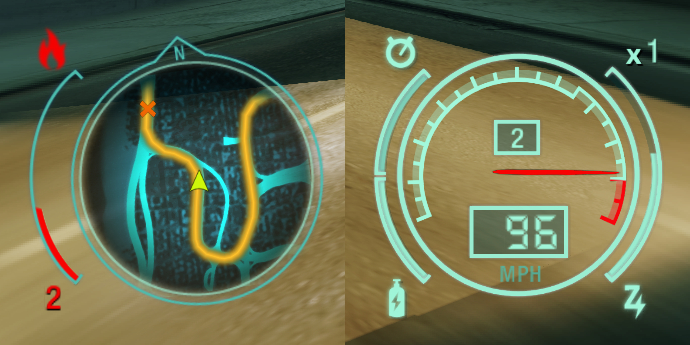 ---
Description
---

A cleaner tachometer design than the original. It stands out more and is sharper thanks to a couple higher resolution textures.
Tachometer design is based on Warp tachometer from Most wanted. It made the most sense since undercover doesn't use any numbering in the tachometer.
It also comes with the high-contrast mini-map backing as well.


Important Notes!
---

What files are necessary to modify in order to see changes depends on whether or not you are using
the thirteenag generic fix, and what ImproveGamepadSupport setting you are using.

*If you are using setting 1 or 2 then you would only need to modify the corresponding tpk files inside the scripts folder.

**To modify tpk files simply rename the file extention to .BIN and then modify the textures.
!!! WHEN SAVING CHANGES, MAKE SURE TO SAVE TWO TIMES !!! HAVE A WINDOW OPEN SHOWING THE FILES INSIDE SCRIPTS FOLDER TO VERIFY IT HAS SAVED PROPERLY. (THIS IS DUE TO TPK FILE EXTENSION)
*After saving, rename the file extension back to .tpk

*If you are using setting 0, 3, or do not use the generic fix then you only need to modify HUDTEXRACE.BIN

*Of course, modifying all 3 will not hurt anything.


Installation
---


Easy Install:
1. Drag and drop the folders into the game's directory.


Custom Install:
1. Import the modified textures into the appropiate files as mentioned above using NFS TexEd 1.7 or higher.
2. All of the modified textures have identical names to the texture archives, so just match them up.


Screenshots
---
---
Comments
---
senpaidarken (February 11, 2022 @ 19:10)
Lol you typed "guage"
Patasdepavo (March 13, 2021 @ 18:58)
Hey nice looking tach, but remember that you can add the numeration if you check the long sticks in the tach, that makes about 7000 or 8000 for faster cars i believe.
Change the color to orange and add a transparent black background for the best results.
Using bright colors or black colors without changing the FNG will render the tach outlines green-ish so keep that in mind.
Well, i make my tachs using only the speed outline texture, check them out in the reformed discord server.
Uploaded at: March 02, 2021 @ 02:06