Enable Pursuit for All Career Races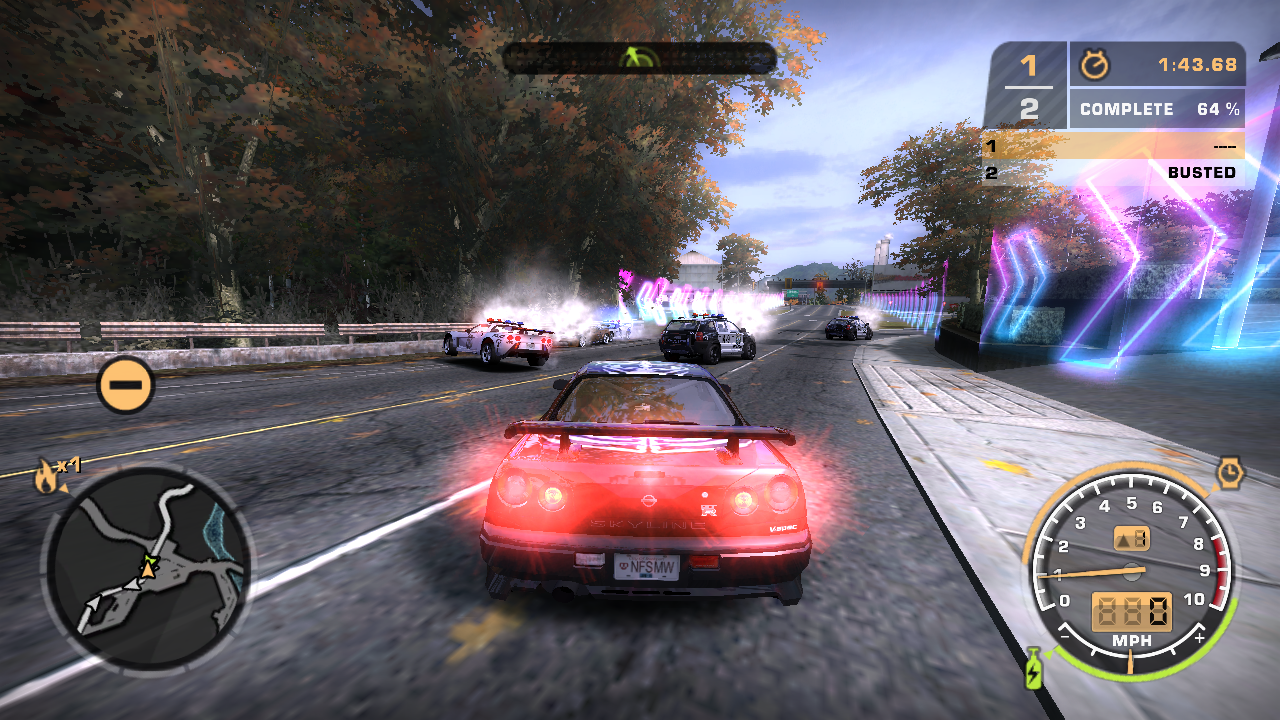 ---
This is a mod for Need for Speed: Most Wanted (2005)

#What this mod does:
- This mod will enable cop pursuit for all career races. This mod also increases the chances of roadblocks spawning. (Screenshot is from 1st race againts Webster)


#How to install:
- Extract all the files from the rar file.
- Download and open vltEd
- Click File > Open
- Select NFSMW directory, please make backups beforehand
- Select File > Import
- Choose the nfsms file from the mod rar you just extracted
- Click install, done!


#This mod is heavily recommended to use with:
- nlgzrgn's NFSMW Extraopts, to enable "PursuitActionMode" which will allow the game to spawn roadblocks, SUVs, and choppers during races.
link: https://nfsmods.xyz/mod/43

- My "More Opponents in Career Races"
link: https://nfsmods.xyz/mod/2607

- My "AI will Avoid Spikestrips" mod, this mod will force AI to avoid roadblock as much as they can (even though they won't be affected by the spikes if they get hit..). This will make the cops and opponents crash to the roadblock instead of going through the spikestrips.
link: https://nfsmods.xyz/mod/2608

- Speedyheart's "No Air Stabilizer" mod, it will disable ingame's default car stabilizer when racer's car goes airbone, making cars flip more. You can get the mod here https://nfsmods.xyz/mod/602

- "Revamped Pursuit System (MW)" by Splash45 & Frexellia. I've tested a lot of pursuit overhaul mods and by far this is my personal favourite. It modifies what cop cars will spawn on each heat, and completely changes how their AI works. By using this mod and the pursuit overhaul; you'll be able to let opponents suffer just as much as you do in every races, suitable for those who wants a bit more challenge in this game.
link: https://nfsmods.xyz/mod/1698


This mod is for vltEdit users. Credits to nfsu360 for the amazing tool!






---
Comments
---
Hier (October 28, 2021 @ 17:37)
@BetaTester Do you see the cop probability as "maximum" on the blacklist race menu? If you do then my mod is working, i've checked the script and it has the "race_bin_03/3_3_2_lap_ko" set as "true", the error notification seems to occur because you're missing one specific knockout race on blacklist 3 in your game files somehow? I'm not sure, but if you can confirm that every races on the blacklist menu have Cop Probability at Maximum, then my mod should be working
Hier (October 28, 2021 @ 17:29)
@BetaTester There's no cop during all knockout races? I gotta look on my script further
also thanks for the specific error message, i'm can pinpoint the issue more accurately
I'll try my best to fix it
BetaTester (October 24, 2021 @ 18:28)
hello friend, it throws me error when installing the mod. I open the "NFS VLtED" tool and import the file "Chase for all races.nfsmw" and the tool tells me:
the mod has been installed but the following errors occurred during installation.
then it says this message:
class "gameplay" does not contain node "race_bin_03 / 3_3_2_lap_ko"
I've run several long races and can't get the police.
I don't know if I did something wrong.
The mod looks very interesting.
Uploaded at: March 27, 2021 @ 07:18