NFSMW CDMX TAXI FOR AJ_LETHAL'S SENTRA B13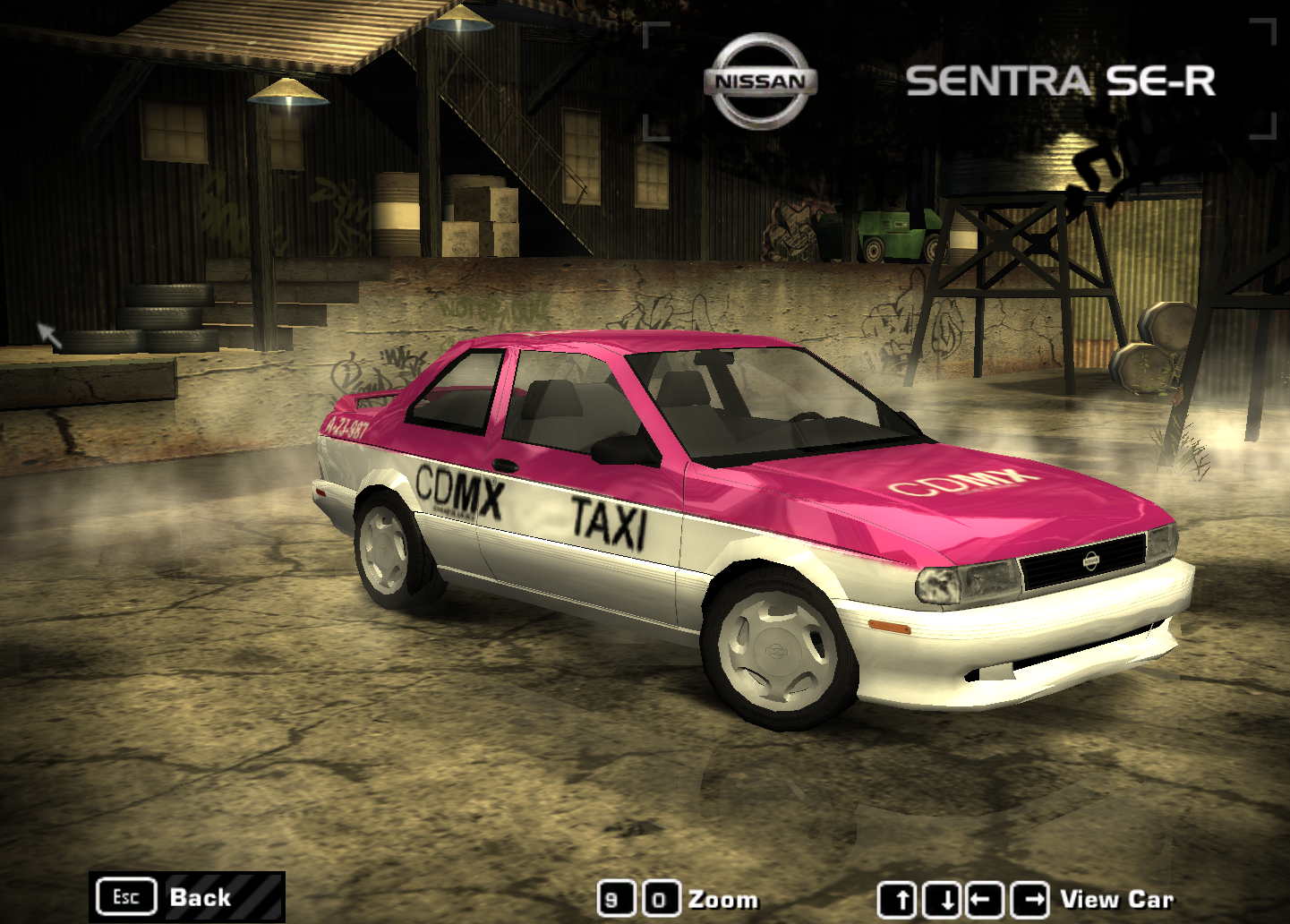 ---
Español (To read in English, go below)
Finalmente... ahora puedes vivir su sueño de toda la vida de manejar un taxi de CDMX en las calles de Rockport.

ESTE MOD SÓLO TIENE EL VINILO, EL COCHE NO ESTÁ INCLUIDO

DESCARGA B13 SENTRA MOD DE AJ LETHAL ANTES DE DESCARGAR: https://nfsmods.xyz/mod/1715

Este mod se inspiró en mis muchos viajes desde Houston a la Ciudad de México y los muchos canales de gaming en español que veo. Voy allí a menudo a visitar a la familia y me he enamorado de la ciudad y es por eso que decidí hacer este mod. También quería hacerlo por los memes XD. Yo sé que nadie lo pidió, pero yo sé que cada uno de ustedes les encantará. Ahora esta compatible con Need for Speed Most Wanted:)

Crédito a Yunker Mods por las texturas suyas de: Taxi Nissan Tsuru Rosa Mexicano Mod para GTA San Andreas, ya que este vinilo no habría sido posible sin él. El formato para las texturas de San Andreas y las texturas NFS son muy diferentes, así que obtener las medidas y convertirlo de un estilo a otro no era fácil, especialmente porque el modelo de AJ_Lethal del Sentra B13 es un poco diferente a otros carros, así que tuve que ajustarlo en Photoshop para adaptarlo perfectamente. Todavía necesito hacer ajustes y modificaciones para que se ajuste al Sentra de AJ_Lethal en otros juegos de NFS. Si usted está recargando o quieren hacer una modificación a este mod de cualquier manera, por favor, no seas un imbécil y por favor dame crédito. ¡Deja un comentario abajo! Voy a responder a los comentarios en inglés y español porque soy bilingüe y yo quiero hacer su vida un poco más fácil:)

VER. 2.0 - Color del aleron fijo (ahora rosa) y la parte trasera ahora tiene numeros y color.

––––––––––––––––––––––––––––––––––––––––––––––––––––––––––

English (para leer en español, ver arriba)
Finally... you can live your lifelong dream of driving a Mexico City taxi on the streets of Rockport.

THIS MOD ONLY INCLUDES THE VINYL, THE CAR IS NOT INCLUDED WITH THE MOD

DOWNLOAD AJ LETHAL'S B13 SENTRA MOD BEFORE DOWNLOADING: https://nfsmods.xyz/mod/1715

This mod was inspired by my many trips from Houston to Mexico City and the many Spanish YouTube gaming channels that I watch. I'm just a 16 year old kid that was born and raised in Houston that has taken many trips to Mexico City. I have fallen in love with the city and it is because of that I decided to make this mod. I also wanted to do it for the memes XD. I know that nobody asked for it, but each and every one of you will love it. Now compatible with NFS Most Wanted:)

Credit to Yunker Mods for the textures from his: Taxi Nissan Tsuru Rosa Mexicano Mod for GTA San Andreas, as this vinyl wouldn't have been possible without it. The format for San Andreas textures and NFS textures are very different so getting the measurements and converting it from one style to another was no easy task, especially since AJ_Lethal's model of the Sentra B13 fit this vinyl a bit differently than other cars so I had to adjust it in photoshop to fit it perfectly. I still need to make adjustments and modifications so it fits AJ_Lethal's Sentra in other NFS games. If you are reuploading or make a modification to this mod in any way, please just don't be a douche and make sure you give me credit. Leave a comment below! I'll be responding to the comments in both English and Spanish because I'm bilingual and i want to make yall's life a bit easier:)

VER. 2.0 - Fixed spoiler color(now pink), and the rear now has numbers and is now colored pink.










---
Comments
---