Improved Zastava Yugo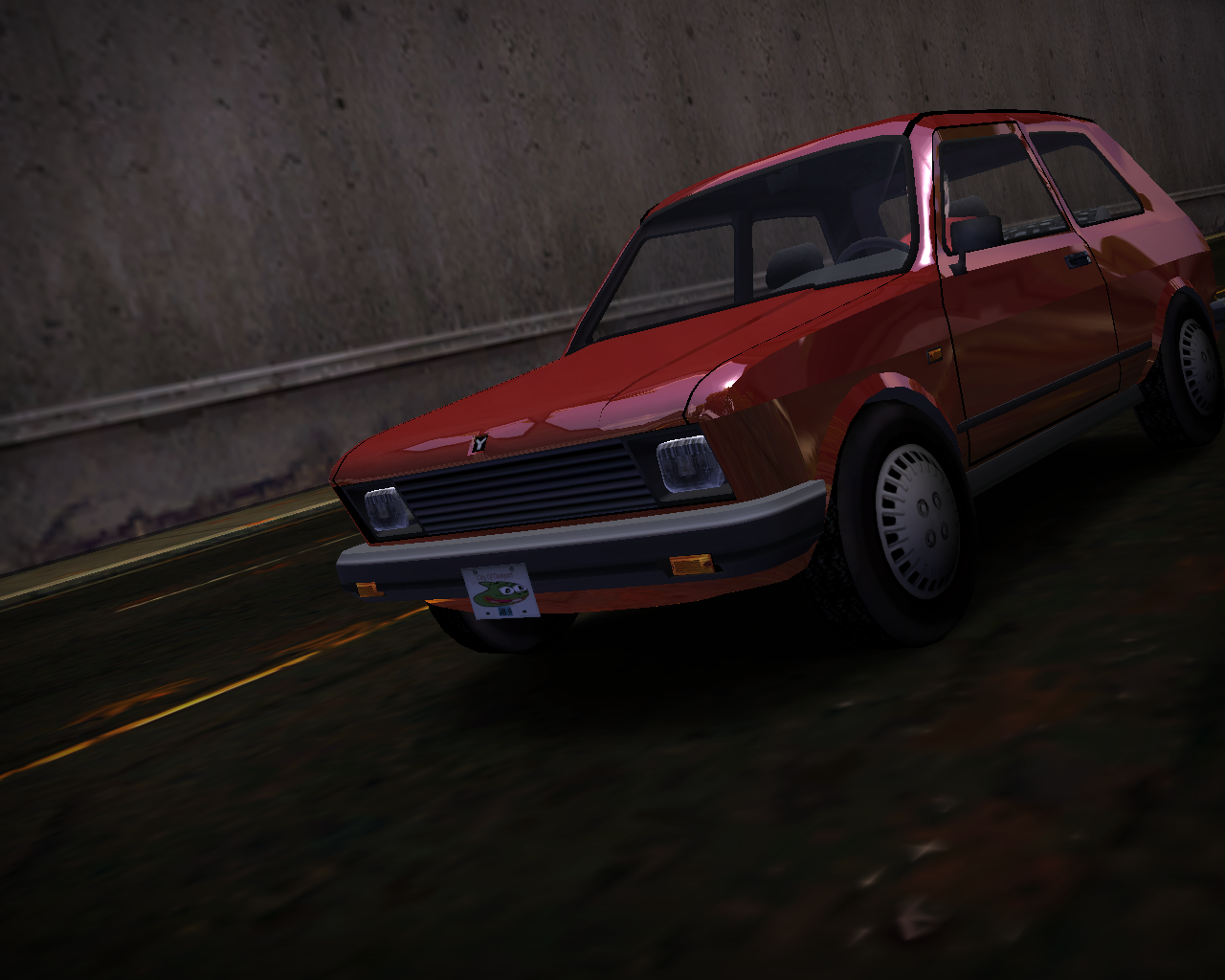 ---
An Improved Zastava Yugo From Pepega Mod To Use It In The OG NFS MW.
Credits:

-Improved Zastava Yugo By Vapordude,
-OG Idea And Mod By Wojach,
-Model By Some Dude On SketchUp,
-Fixed VLT & Binary Installation By KenjaMago,
-Pepega Mod By Pepega Team,
-"Zastava Yugo Stripe", "Keisuke Yugo", "80 Racing Yugo" And "Yugo's Rage" Vinyls By GrumpyI3unny,
-"Martini Zastava" And "Missing Textures Yugo" Vinyls By KenjaMago,
-"The Yugo Is Better" Vinyl By Wojach,

Special Thanks:
-Woha For Helping Me Understand NFS Modding,
-People From Pepega Mod Discord Server For Kind Words And Motivation,
-And You For Downloading This Mod.

Tuning:

-BodyKits,
-Spoilers,
-Roof Scoops,
-Rims,
-Rim Paint,
-Vinyls, (Only Available In 512px, 1024px Version Will Be Added In Future Update)
-Window Tint,
-Decals,
-Custom Gauges.

Features:

-Available From the Beginning,
-Costs 15000,
-Scratches,
-Binary Support,
-Fully Mapped UV Mapping.

Known Issues:

-None ATM.

Things\Programs Needed For Installation:

-NFS-VltEd,
-Binary V2,
-Unlimiter V3,
-Extra Options, (Optional)

Installation Steps:

1.Install NFSMW Unlimiter V3,

2.Launch Binary V2,

3.Choose User Mode,

4.Select 'Binary Data Install.end',

5.Choose The Directory Where You Have Your NFS MW,

6.Save,

7.Do You Wish To Run The Game? Choose [ No ],

8.Open NFS-VltEd,

9.Open The NFS MW Copy You Have By clicking "File --> Open --> [Insert NFS MW Folder Here]",

10.Install The "YugoVLTED" By Clicking "File --> Import --> ModScript", Click [ Install ] When Prompted,

11.Save And Exit,

12.And You Just Got The Car Installed, But You Need To Make A New Save File First In Order For The Car To Appear, Otherwise It Won't Work.

---
Comments
---
No comments, be the first one to leave a comment!
Uploaded at: June 08, 2021 @ 15:58