New Game X & New Game X Passion for NFS Underground 2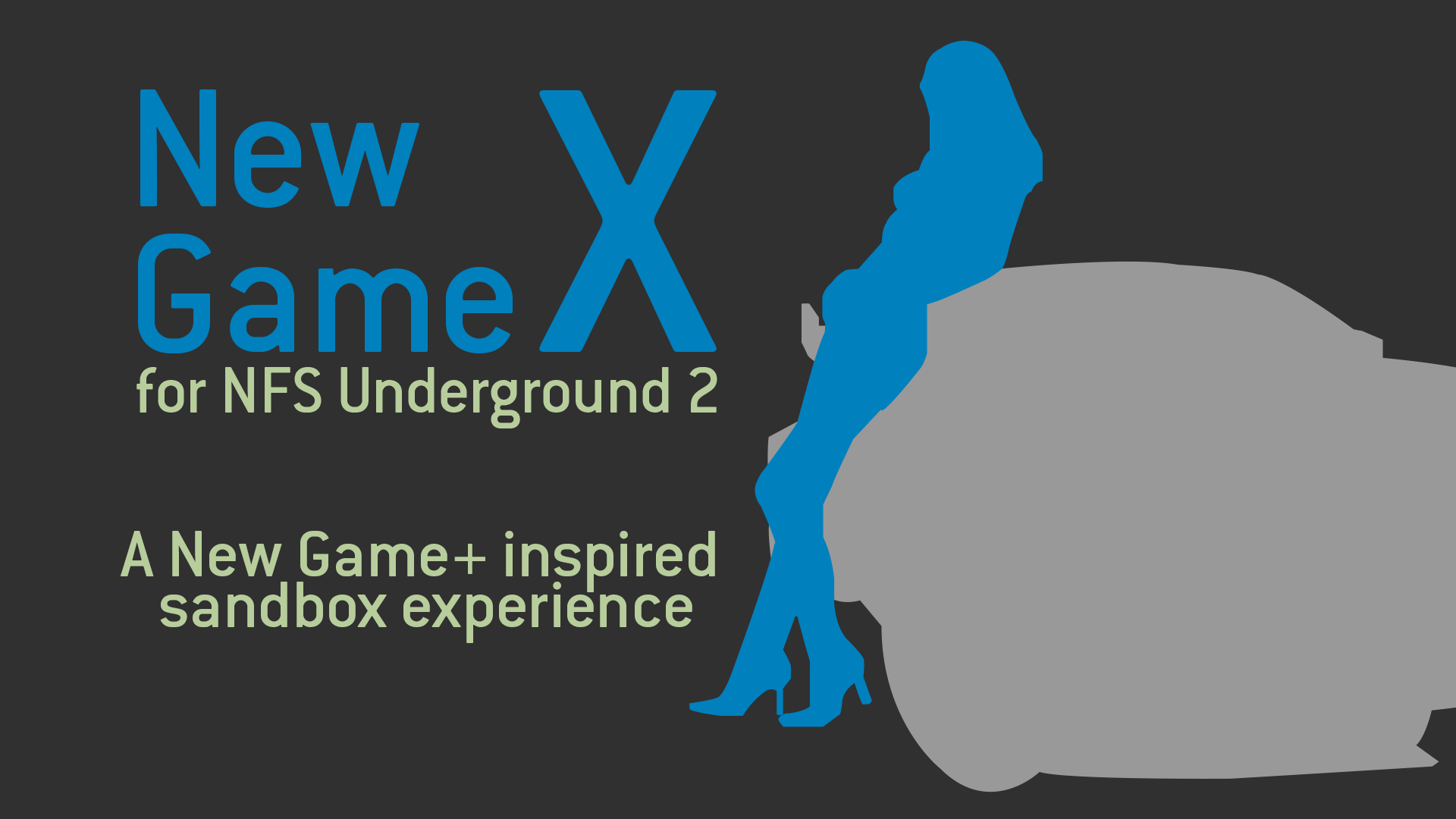 ---
New Game X & New Game X Passion

Teaser Meme
Reveal Trailer
Overview/Explanation Video

New Game X is a brand new New Game+ inspired sandbox experience for Need for Speed Underground 2!

It brings the following features:


Choose Your Own Adventure*: All cars are available from the start! Wanna start the game in a Supra? Go ahead!


Underground Rivals: Events now feature tougher and crazier opponents with increased amounts of traffic!


Endurance Racing: Circuit Races have transformed into intense endurance races as a result of an increased lap count and the previously mentioned tougher opponents and increased traffic.


Full Freedom of Expression: All Visual Customisation parts unlocked for free right from the beginning and the Visual Reputation System has been removed! (Visual Reputation System removal was kindly provided by thelink2012)


Mo money, mo problems: A fully overhauled economy awaits you in NGX as performance upgrades are tougher to earn and Hidden Races are more incorporated into the economy.


A breath of fresh air: NGX features numerous quality of life improvements and also comes bundled with the Widescreen Fix by ThirteenAG and Aero, allowing for a more stable overall experience.


New Game X comes in two unique flavours, NGX Original & NGX Passion.

The only major difference is that NGX Passion preserves the original game's unique car unlock system.

*Only in NGX Original

Installation Instructions
Requirements: NFS Underground 2 updated to Version 1.2
You can update your copy of the game from here if you are running an older version.


Copy and paste the contents of the 'Need for Speed Underground 2' folder into where you have Underground 2 installed  (default-directory: "C:\Program Files (x86)\EA GAMES\Need for Speed Underground 2").
You can quickly get to this by right-clicking on the UG2 shortcut on your desktop and selecting 'Open file location'.

Make sure to override all pre-existing files.

You'll then have to apply the US NFSU2 1.2 no-CD Patch created by HOODLUM. A no-CD patch is required to make the game work on Windows 10 but this specific one by HOODLUM is needed as it allows the Visual Rep fix by thelink2012 to function. 

However, I, unfortunately, don't think I can link this to you, but you should be able to find it by searching for "NFS Underground 2 1.2 NO CD HOODLUM" on any search engine. Make sure to override the original 'speed2.exe'.

If you aren't able to find it then, as a last resort, you can play NGX without the Visual Rep Remover mod by going into your 'scripts' folder and removing the 'novisualrep.asi' file from that folder.

But that's it! Simply run the game as usual and set the difficulty in-game to Hard, to get the intended experience.

Additional Note:

It is recommended that you back up all game files prior to this mod's installation so you can easily go back to the vanilla/unmodified version, should you face any issues.

This mod was not designed to work with any other mods, aside from the following. 

Recommended Additional Mods:
NFSU2 Unlimiter with Extra Customization by nlgzrgn
NFSU2 Extra Options by ExOpts Team

Playing with other mods, aside from the one's listed, is not recommended.

Credits
NFSU/NFSU2 Visual Reputation Remover created and provided by thelink2012
NFSU2 Widescreen Fix created and provided by ThirteenAG & Aero
NGX was developed using Binary, a tool created by MaxHwoy

Troubleshooting
If you have crashing issues, Install 'NFSU2 Unlimiter with Extra Customization by nlgzrgn'.

Disclaimer:
This is an unofficial mod for Need for Speed Underground 2 and is in no way officially affiliated with Electronic Arts or any of its subsidiaries/studios.

All bundled community content that was not created by SeventySev3n was obtained from its original sources with written permission by its creators.

The only approved download sources/platforms for this mod as of writing are Nexus Mods and NFSMods.XYZ. If you have downloaded this mod from a different source/platform, proceed with caution as you have downloaded this mod from an unapproved source/platform. Any damage to your system is at no fault of the mod's creator or any of its community contributors.

~

This mod was created purely out of love for the Need for Speed Underground games, the full NFS series, its loving community and the passionate developers/creators who continue to support the series, both officially at EA and elsewhere.

This mod is dedicated to all the passionate people out there. May this mod inspire you. Keep creating, keep chasing.

Love,
SeventySev3n.

---
Comments
---
Subreon (July 10, 2021 @ 07:50)
Don't bother with adding Olympic imports. It only has one download link and it's broken and the creator of it doesn't seem to be around anymore. The only way to fix it now I guess is for someone who already has that mod to reupload it somewhere else so other people can get it again. and add a compatibility thing for it.
77Vids (July 09, 2021 @ 05:19)
I've definitely considered making an alternative edition of NGX that comes bundled with some of the more popular, and arguably essential, NFSU2 content mods for sure, Olympic Imports definitely being one of them. So to answer your question, potentially! ; )
Neon114 (July 08, 2021 @ 14:31)
Are you planning to support Olympic Imports?
Uploaded at: July 06, 2021 @ 14:03