NFSMW PC - World & Texture Extractor and Repacker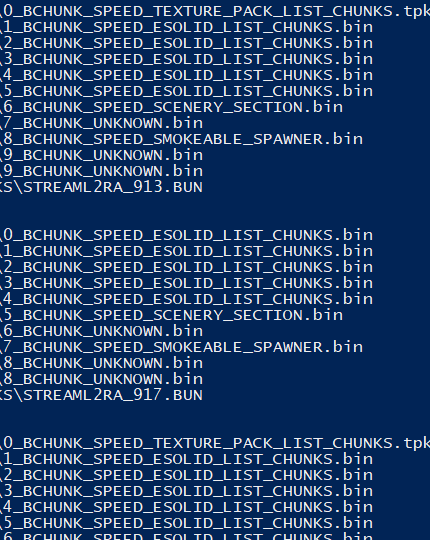 ---
These are 2 scripts which allow the use of 3 commandline utilities (XNFS-SCE, XNFS-Chunky and XNFSTPKTool) to extract all chunks from a track stream and their textures and bring it back together.
This is nothing more than 2 scripts made with my own utilities that I have created in 2018.

This was made with the intent of making texture modding of the map easier and nothing much more beyond that.

*THIS ONLY WORKS WITH NFS MOST WANTED AND NOT ANY OTHER BLACK BOX NFS GAME!*
It's because the formats are simply different between games and XNFS-SCE and XNFS-Chunky need more work to support them.

Also there are 2 known issues:
1. Helicopter paths get broken - Helicopter will fly in the tunnels now!
2. Final file size is slightly larger than normal

Both of these issues are caused by Chunky not being able to align files correctly for a track stream yet.

And finally - this should go without saying - it's only been tested with PC and not any console platform.
All of this could be reworked to support consoles, but the biggest offender currently is Chunky not supporting decompression. (and partly TPKTool not supporting TIM2 textures)

Instructions are included in the README file.
---
Comments
---
FASCINAAAAAAAAAAAAAAAAAAAAAAAATING
dat cool
longaru (July 14, 2021 @ 21:31)
We are Love You Baby ! :)
Uploaded at: July 13, 2021 @ 22:22