NFS Legacy License Plates (NFS HEAT)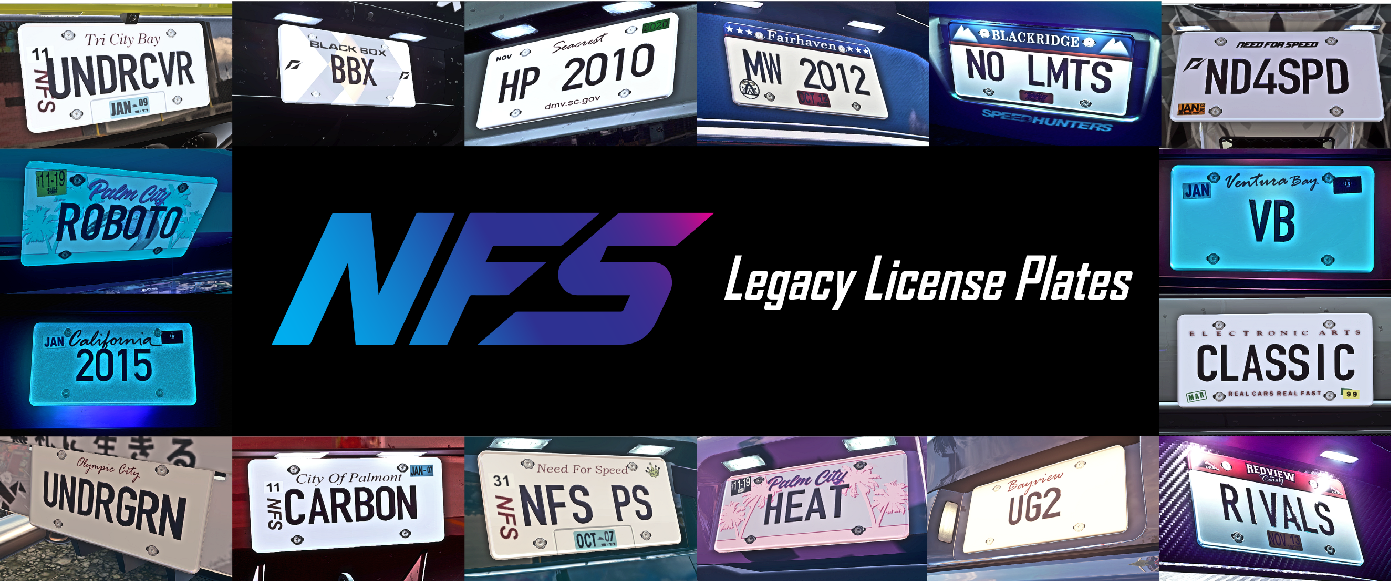 ---
This is a plate mod that replaces the existing plates in the game with retro plates from NFS' history.

This pack Includes:

-EA 1999 (NFS High Stakes Intro)
-Re-imagined Olympic City (NFSUG Remix)
-Re-Imagined Bayview (NFSUG2 Remix)
-City Of Palmont (NFS Carbon)
-StreetKing NFS (NFS Prostreet w/extra detail)
-Tri City Bay (NFSUC)
-Seacrest (NFSHP:R)
-Need For Speed N (NFS World)
-Cross Country (NFS The Run)
-BlackBox Edition (NFS The Run)
-Fairhaven (NFSMW'12)
-Redview (NFS Rivals small revision)
-California (NFS'15)
-Ventura Bay (NFS'15 Remix)
-BlackRidge (NFS No Limits)
-Palm City Flamingo (NFS Heat Beta)
-Palm City Pink (NFS Heat Beta)

Extra Plate:
-Paradise City (Burnout Paradise/Junkyard Heat Cars)

To Access Payback's, remove any plate

Thanks to the following for providing Assets and references:
-NFSLYY
-NEO_NoiseBomb

This mod works with any modpacks available (UNITE f.e.) just make sure it's at the bottom of the mod list

Enjoy!
---
Comments
---
No comments, be the first one to leave a comment!
Uploaded at: September 26, 2021 @ 02:54