Need For Speed Remastered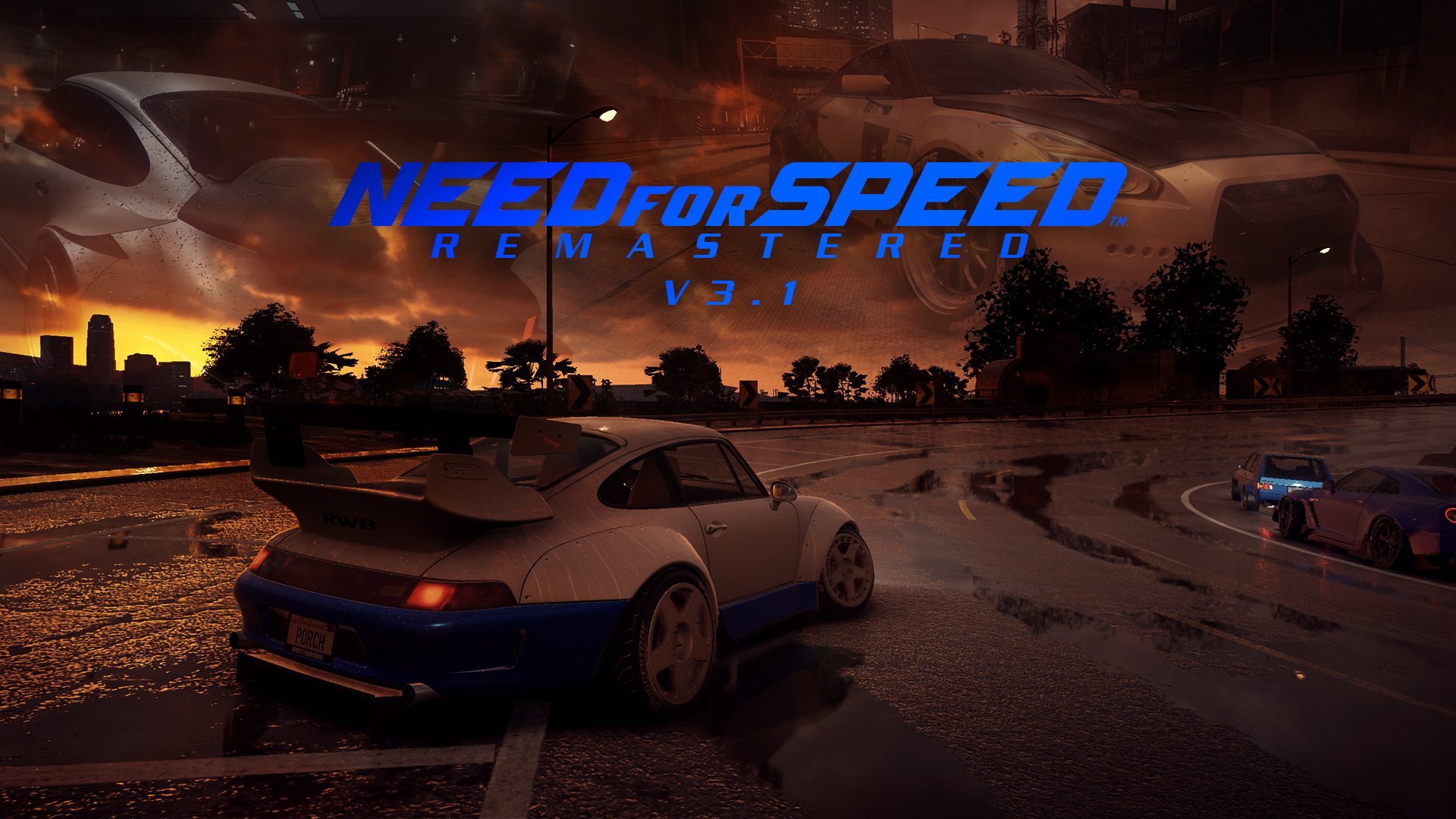 ---
Changelog 3.1
1. New optional "Clear Weather Presets" with appropriate "Atmos Sound" & "Enhanced Particle Effects" with drift smoke.
2. Bugfixes & Tweaks to Handling Module - Reduced occurrence of "Attempt to Save Customization Failed" bug, plus included fix in details, thanks to community. Reconfigured transmission upgrades which are now more suitable. Swapped & reconfigured brake bias sliders.
3. Slight tweak to car crash recovery timing to reduce chance of auto respawn. Optionally includes a Zero crash recovery time which may result in instant recovery, but also more chance of auto respawn on crash.
Changelog 3.0
1. Massively improved handling module. Configured every single car to fit new upgrades & tuning.
2. New weight reduction upgrade.
3. Separated Front & Rear Differential tuning.
4. Optimized upgrades & tuning.
5. Extended paint slider with control over full range of colors.
6. More wrap slots.
7. Significantly improved graphics presets.
8. New Enhanced Particle Effects module.
9. New Improved, harder AI module.
10. New driver, tires, brake discs & tirebomb textures.
11. Optimized the camera module & pursuit module.
12. Plus many more changes & addition (read mod description in frosty).


Need For Speed Remastered - Improves handling, graphics, pursuit & other gameplay/quality of life features
This is the result of merging my previous mods into easier to manage packages + new features.

More (Pre-release) screenshots here

[Version 3.1]
How to install & use:
1. Download Frosty Mod Manager (Download latest version from github)
2. Download the mod
3. Extract the zip files
4. Open Frosty mod manager > Select NFS16 > Click on import Mod(s) & import the .fbmod files from the downloaded mod zip > Select all Mods > Click Apply Mod(s)
5. Make sure all the mods are ticked in the Applied Mods section > Click Launch Game from Frosty Mod Manager

**[Requires latest Frosty 1.0.6.0 or higher: https://github.com/CadeEvs/FrostyToolsuite/releases/]**




Package modules:

1. Remastered Handling & Upgrades Module
Vastly improved arcade handling for each car, extended stance tuning, extended performance & handling tuning options, overhauled performance upgrades & more.

2. Remastered Graphics Preset Packs - Rain Weather & Clear Weather
Each pack includes - Graphic Preset Modules [Night, Dawn, Dusk, Overcast (for rain) + default preset]; Enhanced Particle Effects Module (Clear & Wet); Atmos Sound Module (Clear weather only).
Graphic Presets - Improves lighting, shadow, reflection, colors etc.
Enhanced Particle Effects - Improves exhaust, smoke, kickup & misc particle effects.
Atoms Sound - Appropriate atmospheric sound for clear weather presets.

3. Remastered AI Modules (use only one)
Harder performance-matched AI
Three difficulties: Standard, Hard (Recommended) & Master

4. Remastered Gameplay Module
Better audio, more wrap slots, better paint sliders, instant crash recovery, customizable icon cars, restriction free & tunable spoilers, and many other features/QoL improvements.

5. Remastered Camera Module
Closer, tighter, better aligned chase camera

6. Remastered Pursuit Module
Buffs cop performance, AI, tactics etc.

7. Remastered HQ Driver, Cop + Tire, Brake Disc + Tirebomb Textures
HQ Driver + Cop Character
HQ Tire + Brake Disc
HQ Tirebomb: Includes Bridgestone, Dunlop, Falken, Pirelli, Idlers, Toyo, Yokohama & Goodyear (Only For Becks Kustoms)

PLUS, many optional mods - Read (Optional) Readme for all optional/alternate mods.

Optional Music Mod:

1. Remastered Music Mod -
Replaces music with music from HS, HP2, UG, UG2, MW05, CARBON, PS, HP2010, SHIFT2, THERUN, MW12 & NFS2015. All music are louder as well. Use with the remastered playlist mod.
2. Remastered Music Playlist -
Renames all music to match Remastered Music Mod
All music anywhere




[Bugs]
1. "Attempt to Save Customization Failed" - usually occurs when car has a rated speed above 250mph (400km)
Primary Fix - Retune gear ratio slider all the way to left (short) so that car has speed lower than 250mph. You should be able to customize/tune your car now. Retune gear ratio to your preference afterwards. Always make sure your car has a rated speed below 250mph before customizing.
Other Potential Fixes:
Fix 2 (for all scenario) - Switch cars/leave & re-enter garage (might not always work)
Fix 3 (for Performance Customization) - Reset Peformance Customization and customize again.
Fix 4 (for Visual Customizatoin) - Reset Visual Customization (including wheels) and customize again.
Fix 5 (for Livery Customization) - Save livery into a new slot

2. Liveries applied to the wrong car - due to increased number of livery slots, some liveries might get applied to the wrong car.
Fix - Reapply livery/Reapply & save livery to a new slot.
Fix - Reapply livery/Reapply & save livery to a new slot.


---
Comments
---