Need For Speed Remastered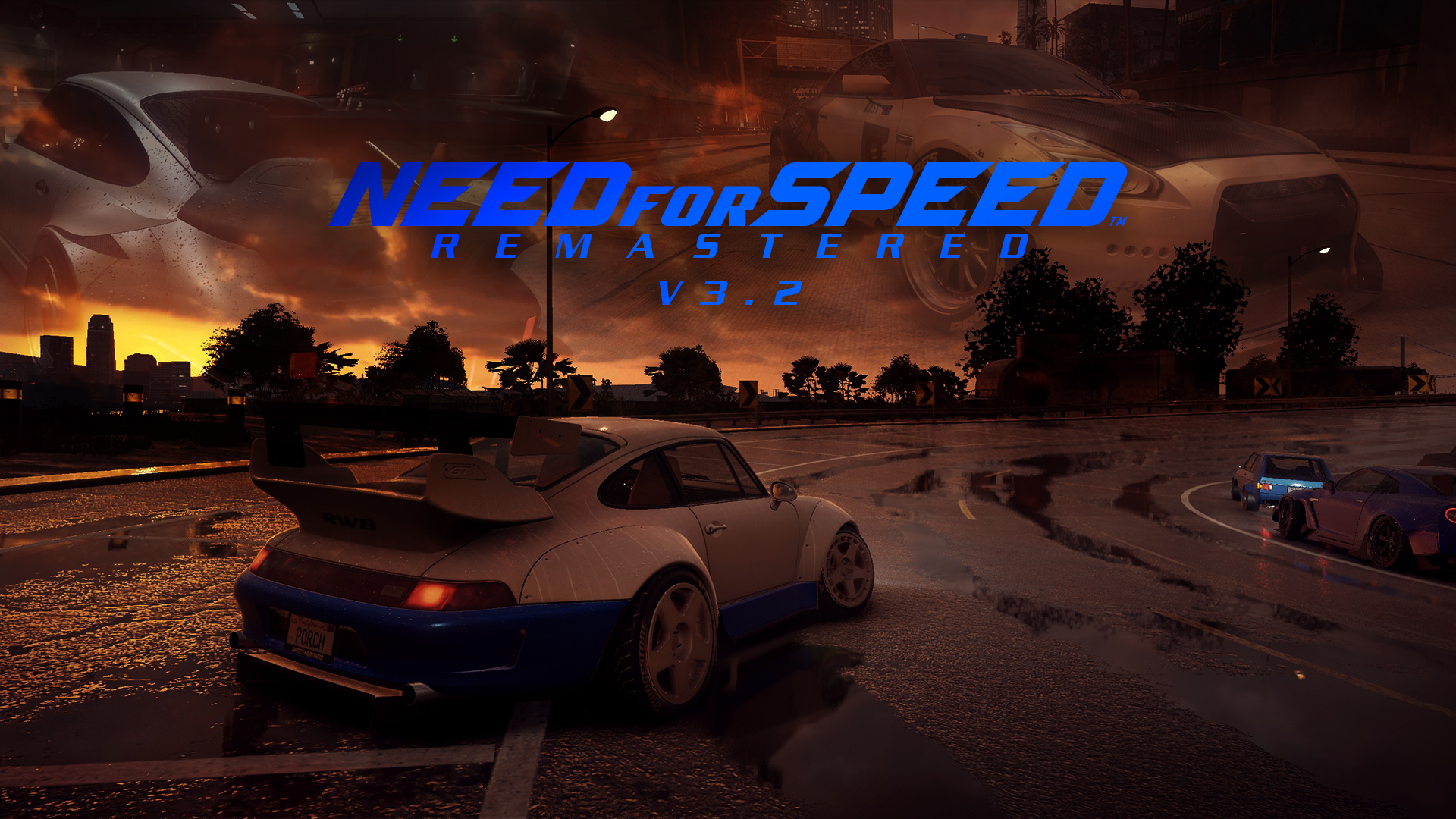 ---
Changelog 3.2.2


Atmos Sound Effect (Clear Weather) - Re-included the atmos sound effect (clear weather) module, which I forgot to include in the last release.
Enhanced Particle Effects - Improved the exhaust effects light emission. They now affect shadow, diffuse & specular better.


Changelog 3.2.1

Graphic Presets & Enhanced Particle Effects - Fixed a bug in Enhanced Particle Effects (Clear) that prevented off-track smoke effects from activating properly. Slightly adjusted exhaust effects. Adjusted Default Preset (Clear & Wet) night sky.

Changelog 3.2

1. Handling & Upgrades Module -
- Buff to RWD swap for AWD cars.
- Fine tuned drift configuration for smoother entry, transition & exit.
- Fine tuned grip tuning potential - cars can be tuned to have more grip than before.
- Fine tuned tire configuration for more balanced drift & grip builds, while maximizing drift/grip characteristics.
- New Final Drive Ratio Slider (Separated from Gear Ratio Slider)
> By default Final Drive Ratio is set to High & Gear Ratio is Set to Long; Set them to middle after buying cars to have factory gear & final drive ratios.
- Performance Upgrades Balance for all cars.
- Mod files optimization.
- Other minor changes.] 
2. Graphic Presets & Enhanced Particle Effects -
- Improved Color Balance & general tweaks to graphic presets.
- Optimized & significantly improved smoke & dust particle effects.
- Added new graphic presets.
3. Gameplay, AI, Camera Modules - Instant Music Track switching with gamepad. Improvements to AI difficulty balancing. Optional/Alternate Camera module with 4k Wraps.
4. Other general improvements.





Need For Speed Remastered - Improves handling, graphics, pursuit & other gameplay/quality of life features
This is the result of merging my previous mods into easier to manage packages + new features.

More (Pre-release) Screenshots here.

[Version 3.2.2]

How to install & use:
1. Download Frosty Mod Manager (Download latest version from GitHub)
2. Download the mod
3. Extract the zip files
4. Open Frosty mod manager > Select NFS16 > Click on import Mod(s) & import the .fbmod files from the downloaded mod zip > Select all Mods > Click Apply Mod(s)
5. Make sure all the mods are ticked in the Applied Mods section > Click Launch Game from Frosty Mod Manager

**[Requires latest Frosty 1.0.6.1 or higher: https://github.com/CadeEvs/FrostyToolsuite/releases/]**




Package modules:

1. Remastered Handling & Upgrades Module
Vastly improved arcade handling for each car, extended stance tuning, extended performance & handling tuning options, overhauled performance upgrades & more. Massive improvements to both grip & drift. Now both style are competitive, smooth & fun.

2. Remastered Graphics Preset Packs - Rain Weather & Clear Weather 
Each pack includes - Graphic Preset Modules [Night, Dawn, Dusk, Overcast (rain), Storm (rain) twilight + default preset (rain & clear)];
Graphic Presets - Improves lighting, shadow, reflection, colors etc.
Enhanced Particle Effects - Improves exhaust, smoke, kickup & misc particle effects.
Atoms Sound - Appropriate atmospheric sound for clear weather presets. (Clear weather only)

3. Remastered AI Module
Harder performance-matched AI
Five difficulties: Standard, Definitive, Hard, Master & Mixed

4. Remastered Gameplay Module
Better audio, more wrap slots, better paint sliders, instant crash recovery, customizable icon cars, restriction free & tunable spoilers, and many other features/QoL improvements.

5. Remastered Camera Module
Closer, tighter, better aligned chase camera
Alternate: Camera Module + 4k Wraps

6. Remastered Pursuit Module
Buffs cop performance, AI, tactics etc.

7. Remastered HQ Driver, Cop + Tire, Brake Disc + Tirebomb + Chassis Textures
HQ Driver + Cop Character
HQ Tire + Brake Disc 
HQ Tirebomb: Includes Bridgestone, Dunlop, Falken, Pirelli, Idlers, Toyo, Yokohama & Goodyear (Only For Becks Kustoms)
HQ Chassis Textures

PLUS, many optional mods - Read (Optional) Readme for all optional/alternate mods.

Optional Music Mod:

1. Remastered Music Mod -
Replaces music with music from HS, HP2, UG, UG2, MW05, CARBON, PS, HP2010, SHIFT2, THERUN, MW12 & NFS2015. All music are louder as well. Use with the remastered playlist mod.

2. Remastered Music Playlist -
Renames all music to match Remastered Music Mod
All music anywhere




[Bugs]

1. "Attempt to Save Customization Failed" - usually occurs when car has a rated speed above 250mph (400km)
Primary Fix - Retune gear ratio slider all the way to left (short) so that car has speed lower than 250mph. You should be able to customize/tune your car now. Retune gear ratio to your preference afterwards. Always make sure your car has a rated speed below 250mph before customizing.
Other Potential Fixes:  
Fix 2 (for all scenario) - Switch cars/leave & re-enter garage (might not always work)
Fix 3 (for Performance Customization) - Reset Peformance Customization and customize again.
Fix 4 (for Visual Customizatoin) - Reset Visual Customization (including wheels) and customize again.
Fix 5 (for Livery Customization) - Save livery into a new slot 

2. Incorrect Speed Rating - The rated top speed and actual top speed may not match, specially when final drive & gear ratio is tuned to be low/long. Only a minor ignorable issue.

3. Liveries applied to the wrong car - due to increased number of livery slots, some liveries might get applied to the wrong car.
Fix - Reapply livery/Reapply & save livery to a new slot.

---
Comments
---