Most Wanted Camera Pack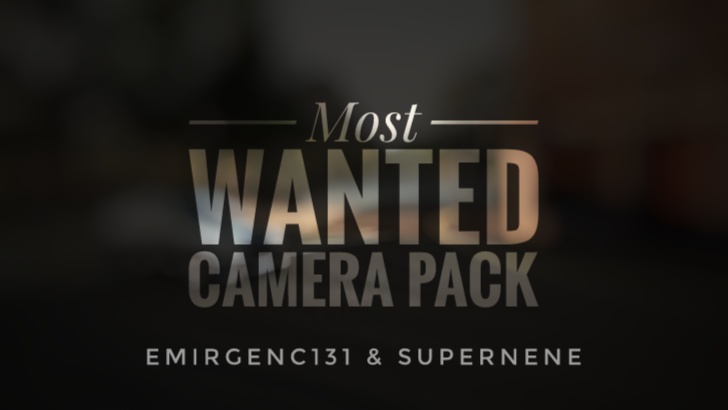 ---
What it does?
---

This mod pack is designed to improve the speed feeling and viewing angle quality in the original cameras. It also adds a drift camera angle. It's a bit U2 style but the camera have little more pov angle and height.

Changelog
---
v1.0:
First release

v1.1:
+Minor value changes for a better experience in all camera angles.

v1.2:
+Added GT camera for all vanilla racer cars
+Fixed typos in installer.nfsms

v1.2.1:
+Fixed minor bug in vanillahood.nfsms

v1.2.2:
+Fixed MAJOR bug in vanillahood.nfsms(I apologize to everyone for this mistake)

v1.2.3:
+A more detailed setup page.

Installation Guide
---
Download and extract the .zip file on this page.

Open VLT-Edit (by nfsu360).

Click on "File -> Open" and navigate to your game's root folder. The game's database will load onto the screen.

Click on "File -> Import -> ModScript" and navigate to the extracted mod folder.

Select install for the angles you want, If you don't like it, there is an option to return to the original values ​​for all camera angles.

Import the ModScript (.nfsms file).

After choosing the angles you want to use, click "File -> Save".

Run the game and enjoy!

Screenshoots by Me
---

Close Angle


Drift Angle


Far Angle

Special thanks to
---
SuperNeNe for video and fixed camera idea

Kasumi for GT camera name

nfsu360 for VLT-ED

Most Wanted: Rework mod is using my mod, you can download join the server from here: https://discord.gg/9MxbhGpV4y

MWM discord server for help and testing, here is the link if you want join us: https://discord.gg/Y4uEmNuhvZ


https://youtu.be/ctYCEXCY02M v1 preview video is here!





---
Comments
---
Kasumi (December 30, 2021 @ 02:30)
Is the Supra cam like Gran Turismo because Toyotas are exclusive to them now? XD
EmirGenc131 (November 30, 2021 @ 12:55)
https://youtu.be/ctYCEXCY02M