Legend Cars Mod Pack for NFS Payback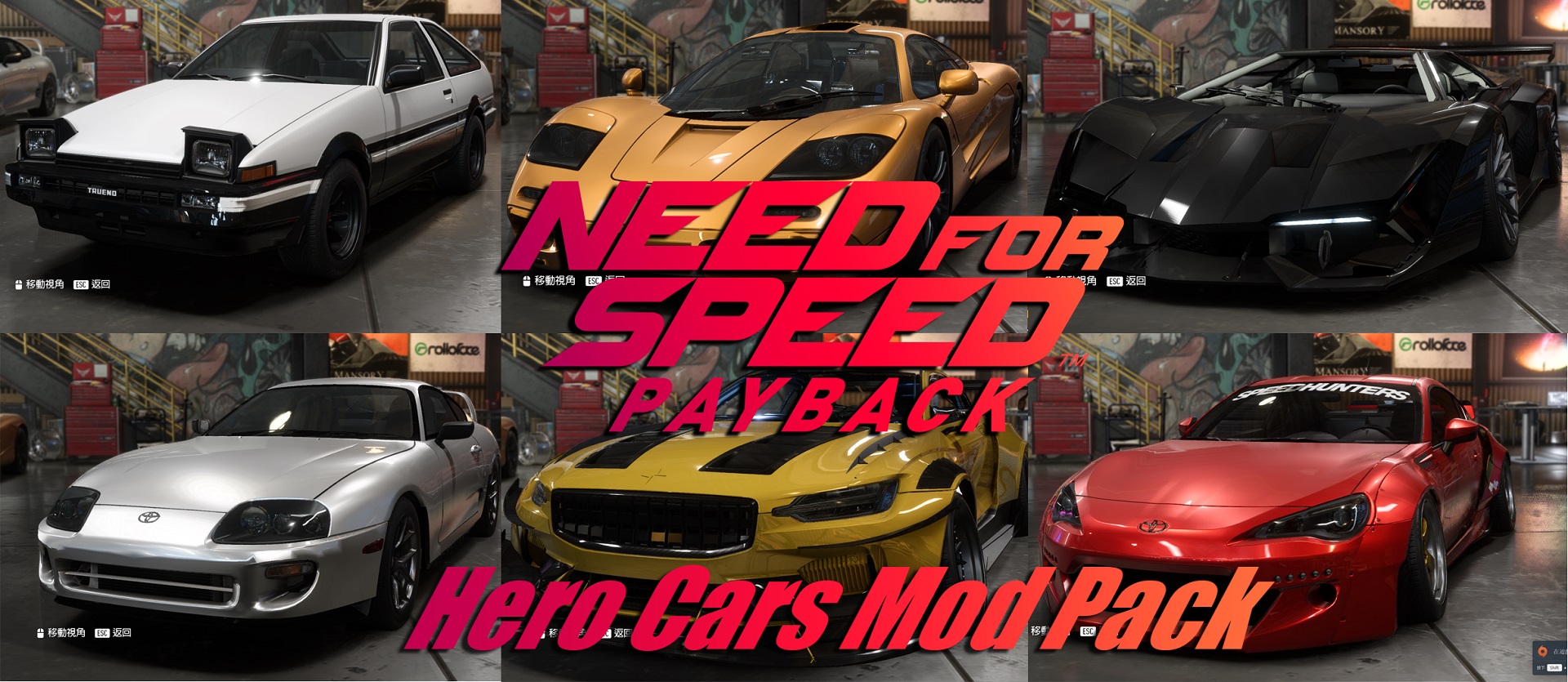 ---
Description
---

Thanks to BrawItendo and GalaxyMan2015 for Mesh Importing Plugin
Especially thanks BrawItendo's help
Do NOT use the cracked version of the game or your game will get CRASHED!!!!!
What's NEW?
※※Fixed Vertex Meshes are added.Now it's okay to drive a MOD car during the storyline※※
Toyota GT86 Logo Replaced Subaru BRZ Logo
Toyota AE86 Replaced Mazda RX7
Toyota Supra A80 Replaced Nissan Fairlady 240ZG
Polestar 1 K.S Replaced Mercedes-Benz AMG GT
Mclaren F1 Replaced Mclaren 570s
Lamborghini Countach K.S Replaces Lamborghini Huracan
BMW M3 GTR's Wheel Replaced BMW M3 Stock Wheel
Unlocked all cars in dealership
Unlocked Drift Nissan Skyline GT-R R32

Bugs:
1.Characters are too high to sit in the Countach so it will be better to add Hide Players.fbmod
2.Lights of cars from NFS Heat are unable to light correctly
3.Polestar 1's wind glass cannot work correctly

Btw,it will improve your gaming experience if you load Engine sound mod by ARealToyotaAE86
link:https://nfsmods.xyz/mod/2539



Installation
---

Instructions on how to install my mod

Download Mods

Download and Install Frosty Mod Manager

Open Frosty Mod Manager and Import Mods

Apply Mods and Launch Game1

TIP:DO NOT FIT CRACKED VERISIONS OR YOUR GAME WILL GET CRASHED!!!!

---
Comments
---
I always thought that I wouldn't be allowed to install your mod even if I bought a game on Steam or EA Origin.
Danyoo (January 28, 2022 @ 02:03)
Ayo Takumi remember me?
I'm the one who commented in one of ur videos
JLoks (January 27, 2022 @ 01:16)
Great!!! My brother, please, please. You are the man! Brings the Heat's Evo X and also the 370Z for NFS2015. General will love you for making mods for this game!
Uploaded at: January 26, 2022 @ 08:34