Black HUD Mod (Most Wanted 2012)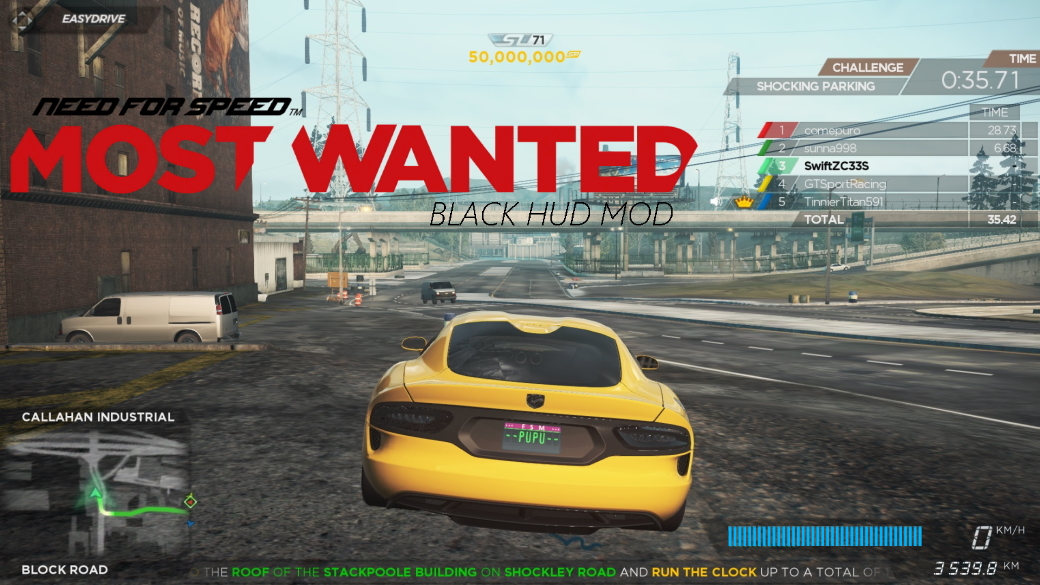 ---
Need for Speed Most Wanted 2012 Black HUD Mod

I originally made this mod some time in 2019 and that older half-baked version has been shared around randomly so thought I'd tidy it up a bit and make it worth releasing "officially".

CHANGES:
- Edited all main HUD textures including Easydrive, Speedwalls, message popups, Players list, Event summary
- Backgrounds changed to black & increased transparency
- Removed some elements for a cleaner look including:
-- Animated textures such as "flashes" in multiplayer and nitro bar usage/filling
-- Glow on nitro bar, odometer and speedo text
-- "Noise" effect on minimap when entering tunnels

VIDEO DEMO: https://www.youtube.com/watch?v=DFqgrPNBV0w

HOW TO INSTALL:
1. Make a backup somewhere else of all BNDL files in game folders: UI\SCREENS2 and EN_US\FEEDBACKGROUPS
2. Copy contents of this FEEDBACKGROUPS and SCREENS2 to the game folders and overwrite.
3. Start game.

This zip file only has specific BNDL files that contain modded textures. It is not a complete copy of every BNDL within FEEDBACKGROUPS & SCREENS2 - So you do need to place these in the existing folders and overwrite.

LANGUAGE COMPATIBILITY:
English - OK
Polish - OK
Spanish - OK
French - NOW AVAILABLE - use the Google drive download link in Readme file
There is a small possibility this mod might cause crash or anomalies with other languages, I have not been able to test them all. Some language versions use a different number of BNDLs.



---
Comments
---
Spyker (September 30, 2022 @ 00:20)
Hi. Can you please make the file available for the bles PS3 version?
HARRYGO204 (May 06, 2022 @ 23:22)
en la version en español sirve perfectamente.gracias
Weny47 (March 14, 2022 @ 15:42)
Hey if you don't mind, can I ask your discord name? because i need some help with minimap hud textures i've been working on.
Uploaded at: March 07, 2022 @ 07:42