Restored unused car colours in multiplayer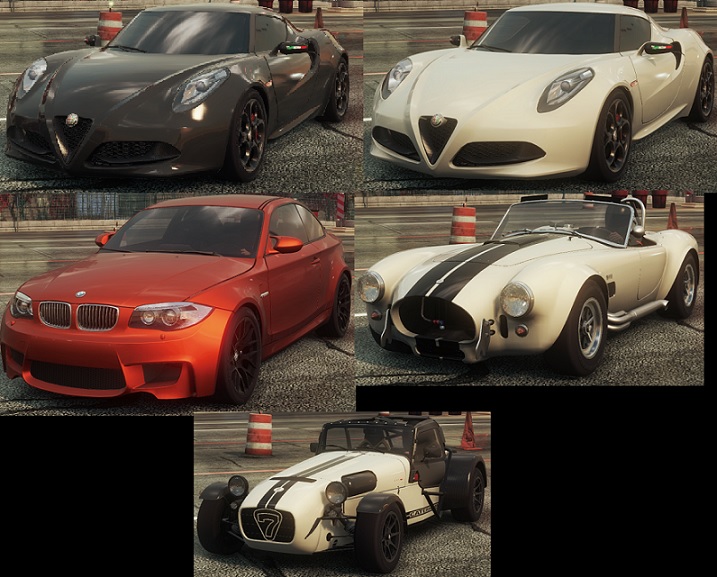 ---
Restored unused car colours in multiplayer by FDPanther

Multiplayer users will notice that the selection of colours for certain cars is more limited vs singleplayer.
This mod brings back some of those colours. The most interesting thing is that other players CAN see when you use them!

However to achieve this, some colours had to be replaced. (It is theoretically possible to include all colours however not practical to implement)

The following cars are changed:

Alfa Romeo 4C Concept restored with White and Black instead of gray and red
Bugatti Veyron Super Sport restored with White with a Darker Black
BMW 1 Series M Coupe (DLC) restored with Orange instead of blue
Caterham Superlight R500 restored with White with Black stripes instead of white with orange
Shelby COBRA 427 restored with White with Black stripes instead of white with blue

HOW TO INSTALL:
1. Go to your game folder and open GAMELOGIC folder
2. Make a backup copy of GAMEPLAY.BNDL
3. Copy this modded BNDL and overwrite
4. Start game
5. Check Easydrive in multiplayer and select the colour as listed above

This mod was built and tested on the retail Origin version of the game. Compatibility with older versions is not guaranteed.

Mod uploaded on behalf of, and with permission from, FDPanther.

---
Comments
---
No comments, be the first one to leave a comment!
Uploaded at: March 14, 2022 @ 09:22