Zolika1351's NFS ProStreet Trainer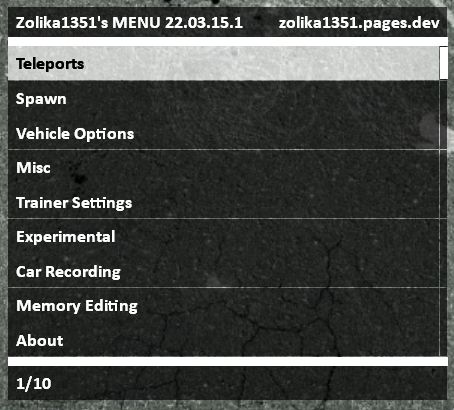 ---
A powerful in-game trainer for NFS ProStreet, similar to mod menus/trainers for GTA V and IV.




Keybinds:
Middle Mouse Button - hold for fly mode controllable by WASDQE
F7 - toggle menu
Num8 - move up / airbreak forward
Num2 - move down / airbreak backward
Num4 - subtract selected value / airbreak rotate left
Num6 - increase selected value / airbreak rotate right
Num5 - select
Num0 - back
] - Car Speedup
F6 - Airbreak
W - airbreak up
S - airbreak down
RCTRL Num2 - Flip Car

Teleport (.ini save/load and the debug start location)
Spawn cars (can be static or have racer AI, includes a list of all cars including addons, customized and preset cars, as well as manual input)
Change player car model in-game
Force the career to start a freeroam game on a specific map
Total the car or sabotage its engine at any time
Modify car mass
Change car gravity
Airbreak
Disable auto-reset when out of bounds
Show current player coordinates, camera coordinates and framerate
Lock camera position
Lock world streaming position to drive out of bounds without the background disappearing
Unlock everything
Change camera properties such as distance behind car and add an FOV override or multiplier
Display tons of useful info about every car in the world, such as health, AI type, model name, mass, pointer in memory, etc.
Display various useful bits of info about the game such as pointers to the player's vehicle classes, timestep, etc.
Modify game timescale (including menus)
Debug Camera
Suspend the game without a pause menu
Change cars' shadow scale
Make other cars spin
Teleport to camera position
Destroy all cops or other cars
Forcefield, gravity field and earthquake
Apply damage to player
Disable world streaming
In-menu localization reader, enter the key and get a localized string from it
Generate multiple types of hash keys for any string (stringhash32, bStringHash, bStringHashUpper)
Full controller support (LB+B, disabled by default)
Record car movement and play it back at any time, with up to 20 cars simultaneously (with .ini save/load support)
Modify car lists - unlock/lock cars, add car presets to career, put any car into the stock car list, and more
Change all cars to a chosen LOD
Disable world culling
Disable camera and HUD shake

Changelogs:
22.03.20.1
Code optimizations
Improved stability
22.03.17.1
Vastly improved stability
Added Camera FOV Multiplier
Fixed No Auto Reset crashing the game
Added Car Records menu to Car Spawning
Added Debug Start Location teleport
Added Player Model menu
Added Force Career Freeroam Track option
Added Lock Streaming Position option
Added Player RBVehicle Pointer, Player Profile Pointer, Player IInputPlayer Pointer and Track Name info displays
Added Save trainer settings to .ini option
Added .ini defaults to all options
Added gas, brake and steering sync to Car Recording
Added In Freeroam info display
Added blueprints support to Set As Frontend Car option
Car Recording optimizations
---
Comments
---
amiata (March 29, 2022 @ 00:57)
@EpsiloN you can go to zolika´s page and download both the link of the page is at the top right of the thumbnail
EpsiloN (March 22, 2022 @ 15:32)
Hey Zolika, can you please reupload the trainers for Most Wanted and Carbon? (because I didn't get to download the latest versions) Thanks!
Uploaded at: March 20, 2022 @ 01:54