2002 Ferrari Enzo (Extended Customization)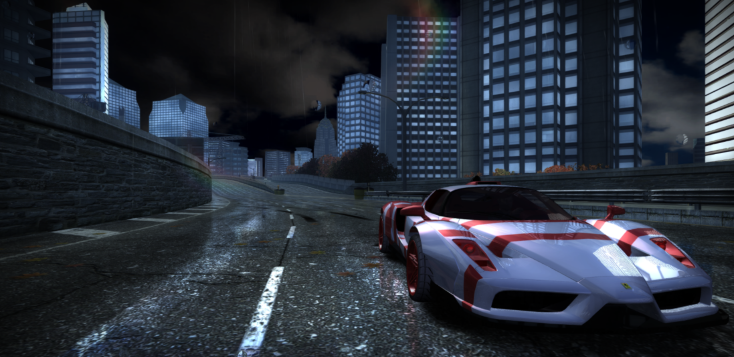 ---
Ferrari Enzo (Extended Customization) in Blu Pozzi stock paint.

Base model from NFS World FreeRoam SparkServer, with some parts from NFS Heat, 2015, and CSR2.

Customization:

- Body kits (1) - One custom SparkServer Widebody

- Spoilers (18 unique + vanilla)

- Roof (1) - open side window variant

- Roof scoops

- Rims

- Interior (20) - Colors

- Headlights (15) - Color tints

- Taillights (15) - Color tints

- Brakes (16) - Caliper colors

- Attachments (4 slots)

Slot 1: Headlight Glass (color tints + option to remove glass)

Slot 2: Adds rear scoop (paint and carbon options)

Slot 3: Exhaust material (chrome stock exhaust with carbon fibre and paint options)

Slot 4: Headlight layering (color options, chrome option, and match car paint option)

- Performance

- Paint

- Vinyls

- Window Tint

- Custom Gauges

Recommended mods to use in conjunction with this mod:

EllisRacing's spoiler pack (https://nfsmods.xyz/mod/61) - this mod can be fitted with base game spoilers. However, the vast majority of those spoilers are ugly as sin, so better looking spoilers should be used as replacements)

Bugs:

None that I know so far.

Installation instructions are on the ReadMe file.


Permissions Granted:

1. To convert this mod into other games.

2. To impove this mod by adding more customization into the mod or improving performance.

3. To add this car into repacks such as Redux, Remasters, Pepega Mod, etc.


Credits:

Blender - Software used to work with the model and create the mod.

.CSB - CSR2 models where I got their spoilers from

GM25 - NFS Heat and NFS 2015 models

nfsu360 - NFS CarToolKit software used to export the model and textures into .bin files.

FreeRoam SparkServer - The server with this car model


Note: This is only the download link since like my 488 Pista, Sesto Elemento, and Lexus LFA mods, it's very likely too big to reach the admins.

Download link is here below:

https://www.mediafire.com/file/n9zytqutbe6lq2l/Ferrari_Enzo_Extended_Customization.zip/file

Changelog:

May 29, 2022:
- Remove unused kits in DBModelParts to prevent ghosted AI cars.


---
Comments
---
11yearold (July 06, 2022 @ 10:18)
can you teach me how to make addon mods plz
Uploaded at: April 26, 2022 @ 19:37