Addon Spoiler Pack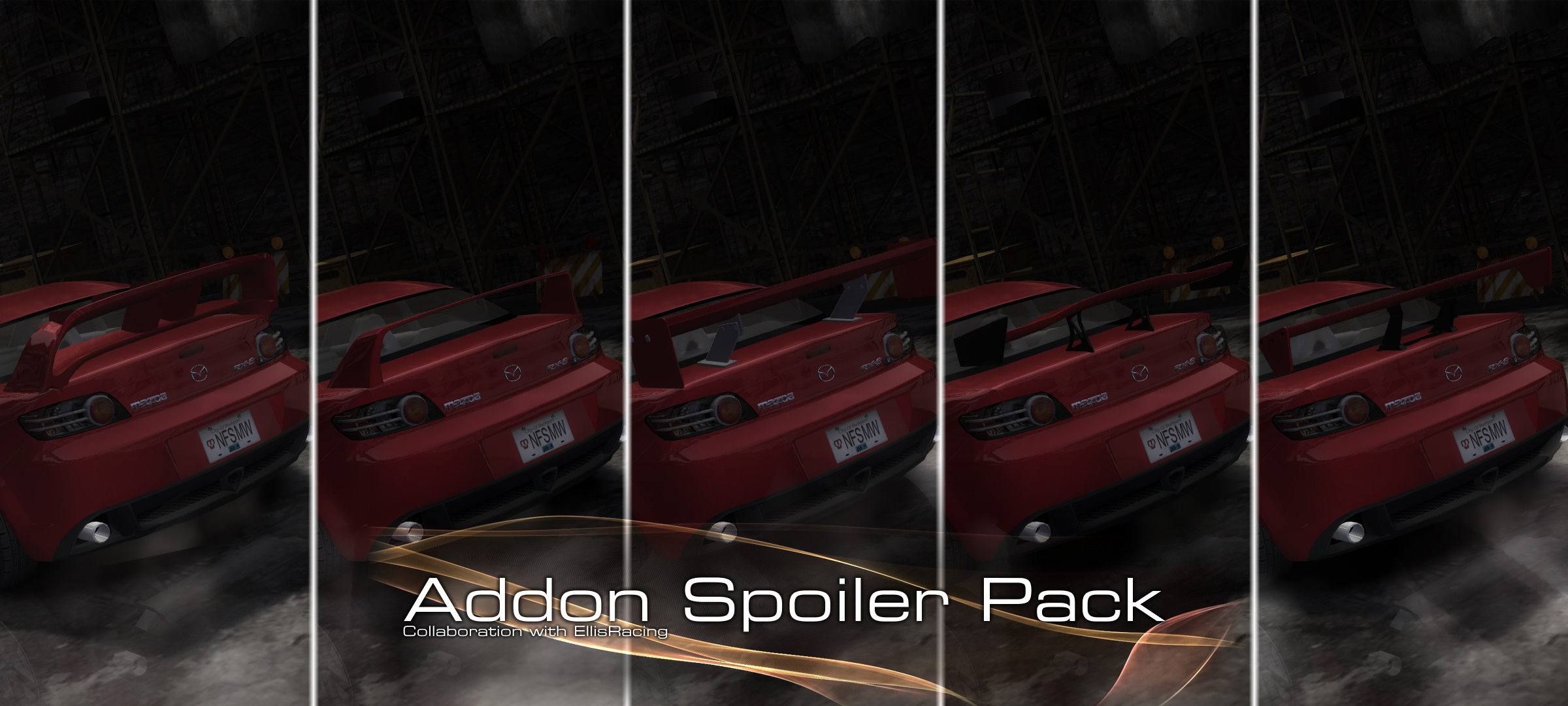 ---
Info
---

Addon Spoiler Pack
By WF4123 (Collaboration with EllisRacing)
Version 2.1.4


Features
---

This mod add various spoiler from your game to overhaul your customization by this experience. Special thanks to EllisRacing for some
spoiler mods from 2017-2019 and collaborate them.

49 Spoilers

12 Carrera Spoilers

1 Hatch Spoiler

7 Porsche Spoiler
(will might be updated for coming more)

Instructions
---
1. Run Binary as Admin.

2. Click User Mode Button.

3. Double-click the Binary Install.

4. Choose the option which you might be decide to.

5. Save the files and done.

Changelog
---


-2.1.4
* Improved UpgradeGroupID from normal spoilers and Carrera spoilers
- Removed the restoration of string "CUSTOMIZATION_PARTS_SPOILERS_6", so it's not implemented

-2.1.3
* Improved string "CUSTOMIZATION_PARTS_SPOILERS_6" where these spoilers can be unlocked when beating Ming

-2.1.2
* Fixed the install endscript that Carrera spoilers not disappearing

-2.1.1
* 7 new spoiler LODs are now improved thanks to Opex Rah

-2.1.0
+ Added 7 spoilers from Forza Horizon (count as 1) and ElisRacing's spoiler mod (count as 6)

-2.0.2
* Improved some materials that are incorrectly used from Carbon and Carrera spoilers based on Normal spoilers.
+ Added 6 Porsche spoilers from existing one thanks to Opex Rah

-2.0.1
* Fixed some spoilers are not visible (especially Carrera)
* Fixed the correct string for No Spoiler

-2.0.0
* Improve the model LODS for reducing file size thanks to Opex Rah
+ Added 8 spoilers and 12 Carrera spoilers from existing one thanks to Opex Rah
* Fixed and improved the unlock contition order for Normal and Hatch spoilers thanks to Opex Rah

-1.1.3
* Improved the Binary script files thanks to P A I N's friend. (Selly)

-1.1.2
* Fixed correct position for Parion, Radicate, Delusion and Equinox. Tiny correct for Leopard.

-1.1.1
* Fixed correct position for Flare, Garibaldi, C-Sky, Leopard and Gesundheit.

-1.1.0
+ Added 3 new spoilers
* Parion spoiler model was fixed to the correct size

-1.0.0
= Initial Release


Q&A
---


Q. Carbon or U2 version when?
A. Not sure. :p

Q. Can I upload to other sites?
A. Needs permission to upload.

Q. Will it be compatible to Repacks?
A. No.

Q. Is it compatible with Addon cars?
A. Yes, right there. There should be duplicated as No/Remove Spoiler.

Q. Can I put this on my projects/modpack
A. Need permission to acquire. I can also approve this permission any day. ;)


Tool Used
---

Blender
ZModeler2
Forza Studio
Binary


Credits
---

MaxHwoy - Binary
Turn 10 Studios, Playground Games, Codemaster, THQ, EA and others from Gamemodels.ru - various spoiler models
Opex Rah, Socksthecat, borzr, the 86 guy, poxzer, Oppenheimer - with big help for contribute



















---
Comments
---
Uploaded at: May 15, 2022 @ 08:48