Scout's NFSU2 UI Remaster [WIP]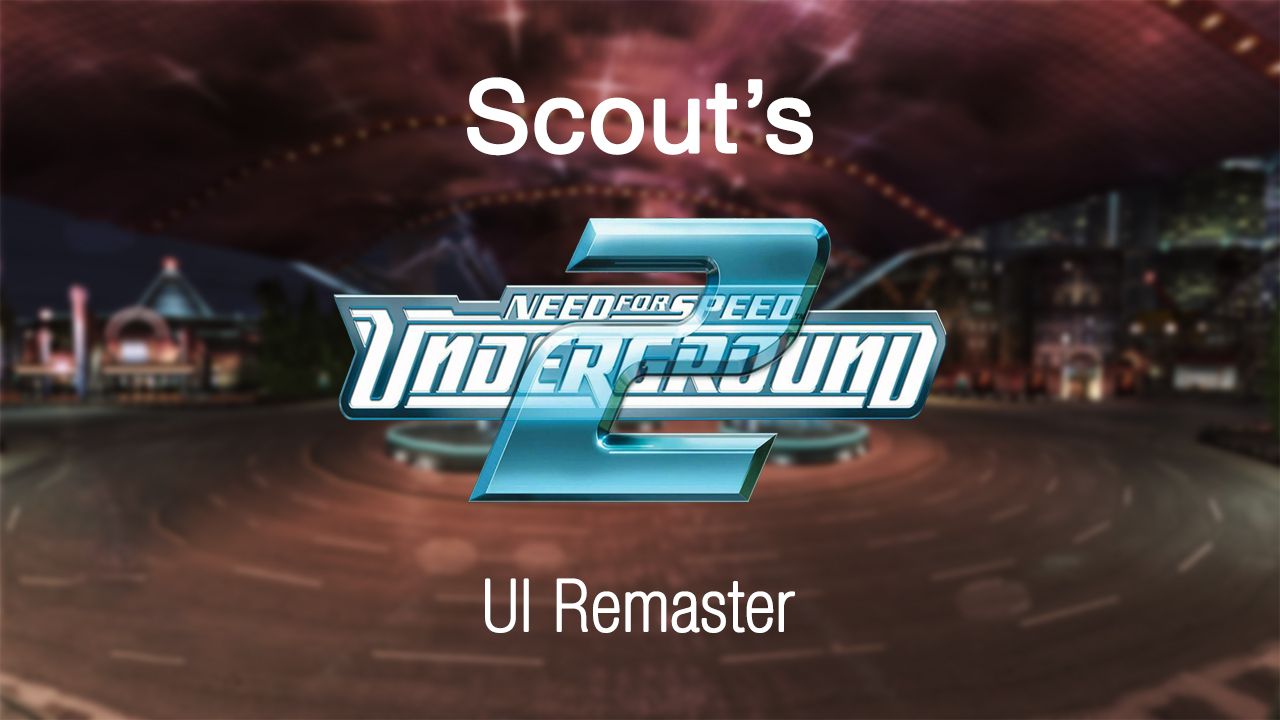 ---
UPDATE ON MOD STATUS
---


Due to personal reasons (mostly mental health) but also a lack of a decent tool (as far as I am concerned texmod is the only option for higher res. textures), I quite lost the motivation to continue working on this mod. However, a friend bring my attention that there is a video showing my mod. That made me think: "Damn, they're supposed to be having a complete experience or at least something better than what I've got there."

So I do have plans to further update this mod, this year. I can't guarantee it but I'll try.

Further down the road I may make a video comparing the differences in greater detail, but this one won't probably happen that soon.
EDIT June 8, 2019:
I am finishing the speed dials. Hopefully I'll make an update very soon :D
Description
---

!! PLEASE CLICK READ MORE FOR THE ENTIRE TEXT!!

Need for Speed Underground 2 has aged, and so did its User Interface textures. Thanks to the Widescreen Fix made by ThirteenAG, the UI elements manage to fit perfectly in any screen format.
However, the HUD, Fonts and other Interface textures look really ugly due to their low resolution.

With that said, in 2018, I decided to start working on a UI Remaster for Need for Speed Underground 2.

The mod focuses on trying to replicate the original textures as closely as possible. However, due to limitations (which include the original resolution of the texture and lack of source bitmaps), some liberty has to be taken while I make the textures.


COMING SOON
---
Improved Speedometers/Speed Dials

Updates to the freeroam/career map



Stay tuned.


Changes and Improvements
---
NOS Gauge

Radar Textures

Fonts

Interface elements

Map (Freeroam Career, Partial) [WIP 50% complete]

And much more...

Comparison Screenshots
---

Here are some comparison gifs. (I suggest opening them in another tab)

The difference is by far more noticeable in-game.


Texture Comparisons
---
Installation
---

Instructions on how to install Scout's NFSU2 UI Remaster

Use the provided Texmod with the latest patch SPEED2.EXE (4.57 MB (4,800,512 bytes)).

Open Texmod.exe. With the Package Mode tab selected, click on the square above and find your SPEED2.EXE.

Afterwards, click on the folder icon and find the .tpf included in this folder. Press Run.

Observations
---

The fact that this mod relies on Texmod really demotivated me from continuing its development... I still have no knowledge of whether there are tools that can actually modify game files properly or not.
The radar map may be a bit tricky because there are dozens of textures, I will try to do more of the map with every update.

Feel free to send me suggestions and complaints regarding the quality of the mod. There are a still a few adjustments to be made and lots of textures remaining.

The comparisons have tags on them because I don't want people to steal the textures ;)

Explore it, there are a couple extras inside!!














---
Comments
---
Uploaded at: February 10, 2018 @ 16:28