License Plates Pack for NFS MW 2012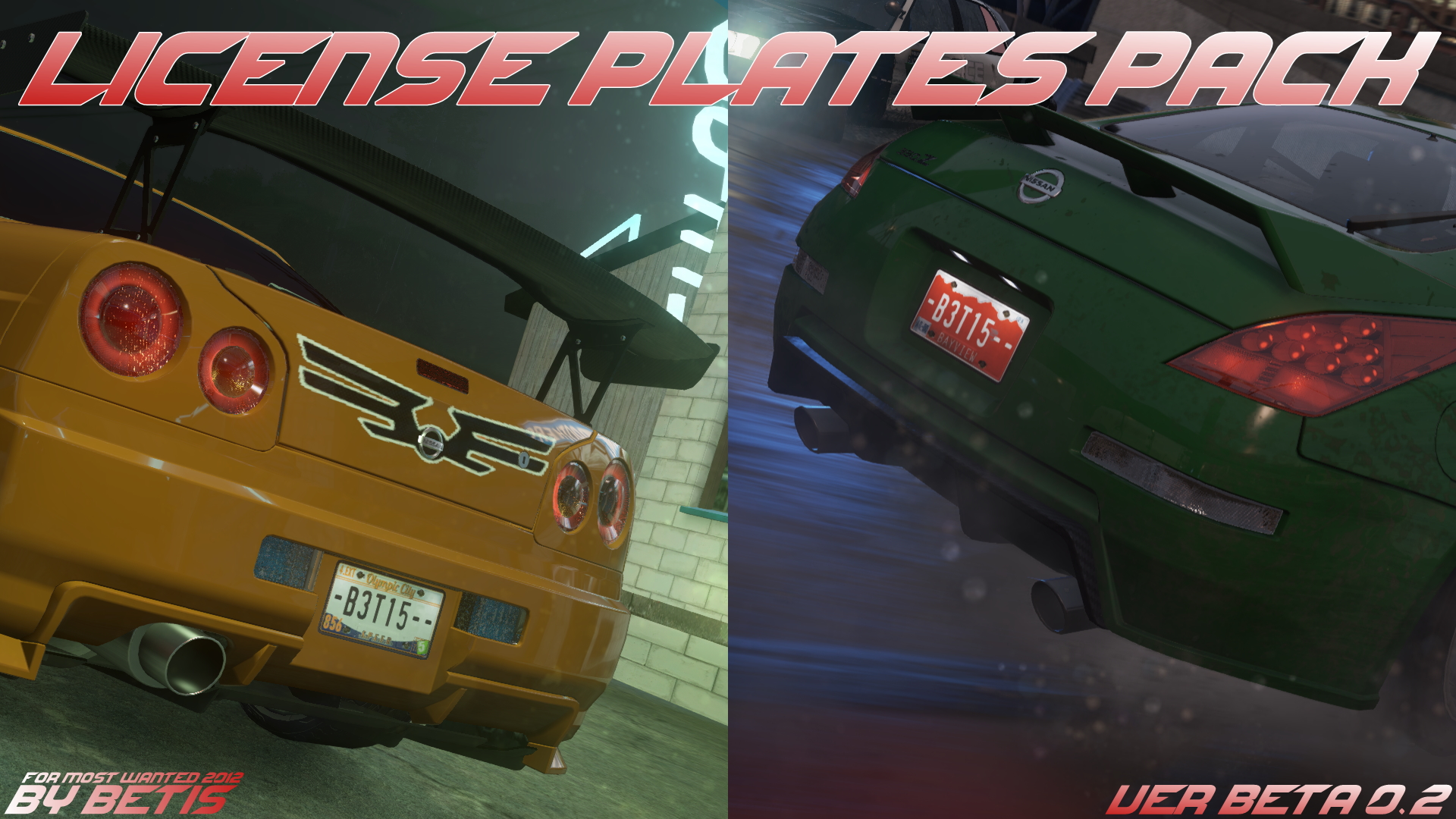 ---
GOOGLE DRIVE DOWNLOAD LINK IN "READ_ME_DOWNLOAD_beta_v0.2.txt" FILE
MOD TAKES UP TO 107MB AFTER EXTRACTING

This mod changes license plates texture (in every car) to selected one!
It features at this moment 11 unique license plates from diffrent NFS games.


Few examples below:
Olympic City (NFS Underground 1)
Bayview (NFS Underground 2)
Rockport (NFS Most Wanted 2005)
Palmont City - Canyon State (NFS Carbon)
Tri-City Bay (NFS Undercover)
Fairhaven (NFS Most Wanted 2012)
California (NFS 2015)
AND MUCH MORE...
Instalation:
1. Extract downloaded files to a new folder
2. Open game installation folder (default is: "C:\Program Files (x86)\Origin Games\Need for Speed(TM) Most Wanted")
3. Next open folder called VEHICLES in game directory
4. From this folder you need to copy original file called "VEHICLETEX.BNDL" and save it in safe place (backup is needed in case you want to go back to vanilla textures later)
5. Now drag and drop file (from selected folder with plates) named "VEHICLETEX.BNDL" into VEHICLES folder and agree to swap files
6. Run the game and enjoy!


Changelog:
beta v0.2:
-fixed bad look of letters and backgrounds on UG1 and UG2 license plates (points with "*" are detailed descripitons on what has been done to certain plates to fix them)
-fixed letters overlaping backgrounds on UG1 and UG2 license plates (points with "*" are detailed descripitons on what has been done to certain plates to fix them)
-changed background color of letters texture (also color of letters to black) and plate to matching one, made some elements smaller and fixed plate border on Underground 1 license plate*
-changed background color of letters texture and plate to matching one, made some elements smaller and fixed plate border and crop on Underground 2 license plate*
-bringed back "-" symbol on selected license plates where it was invisible
-saved some .dds files in better quality than before
-repacked all files so mod takes less space than before without losing quality
-changed names of few folders so they can be easier to distinguish from each other


beta v0.1:
-initial beta release


These license plates will be added in future updates:

-ProStreet (NFS ProStreet)
-Ventura Bay (NFS 2015)
-Black Ridge (NFS No Limits)
-Fortune Valley (NFS Payback)
-Palm City (NFS Heat)
-??? (NFS 2022?)

sources: nfs in-game files; https://nfs.fandom.com/wiki/Need_for_Speed_Wiki
(tested on the latest origin game version: 1.4.0.0)
---
Comments
---
Uploaded at: June 16, 2022 @ 20:47