Jackspots 4K Logos Pack for NFS MW 2012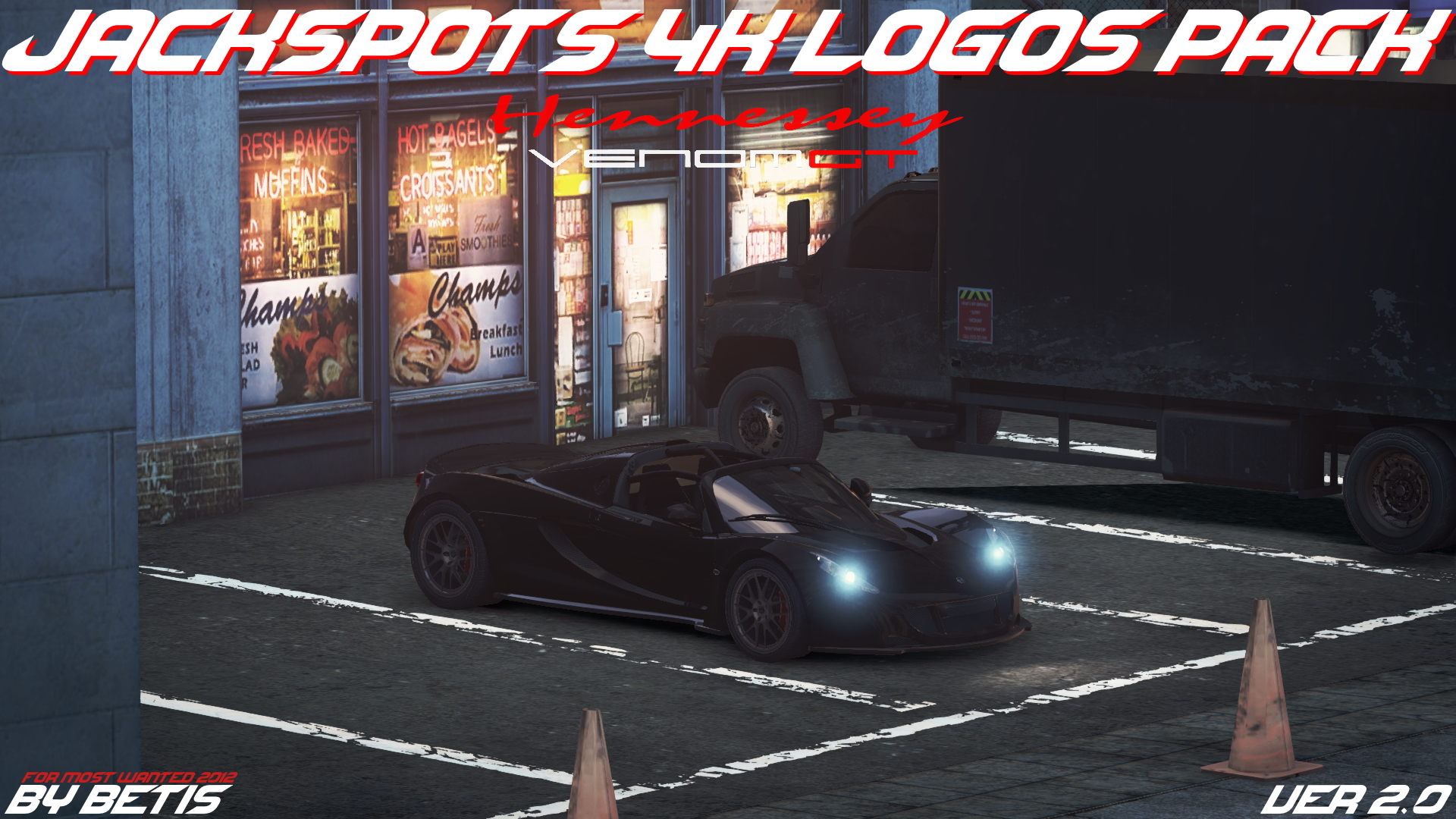 ---
ALTERNATIVE GOOGLE DRIVE DOWNLOAD LINK

This texture mod changes all 39 car manufactures logos (that are displayed above cars) to new and refreshed 4K versions in all jackspots locations (even the cut ones!)
[15 new logos | 24 refreshed logos]


You can see a few examples below:
BMW
SHELBY GT500
NISSAN
AUDI
MCLAREN
TESLA
HUMMER
AND MUCH MORE...
Instalation:
1. Extract downloaded files to a new folder
2. Open game installation folder (default is: "C:\Program Files (x86)\Origin Games\Need for Speed(TM) Most Wanted")
3. Next open folder called \UI\IMAGES\STREAMED in game directory
4. From this folder you need to copy all original files and save them in safe place (backup is needed in case you want to go back to vanilla textures later)
5. Now drag and drop all provided files into \UI\IMAGES\STREAMED folder and agree to swap files
6. Run the game and enjoy!


Changelog:
v2.0: 4K Update!
-new mod name "Jackspots 4K Logos Pack"
-remade every single one of logos in 4K resolution (now they are in 4096x2048 and 4096x4096) [Thanks to Weny47 for help]

-made new logo from scratch for Hennessey
-made new logo from scratch for Shelby GT500 featuring original colors (from vanilla logo)
-added and refreshed Carbon Motors, Gumper, Mazda and Toyota logos found in game files (in case someone will make jackspots swap mod in the future)
-fixed stretched Jeep, Hummer, Pontiac, Shelby GT500 and Dodge logos
-fixed BMW logo crop
-changed Alfa Romeo emblem to one with golden accents
-changed Pontiac emblem back to previous one
-changed Ford emblem to more shiny one
-changed Lancia emblem to more shiny one
-changed Marussia logo text to white color
-made Pagani emblem bigger
-made Ariel emblem and text bigger
-made Aston Martin emblem bigger
-made Tesla emblem and text bigger


v1.1:
-changed these black logos (and fonts) to white ones: Audi, BAC, McLaren, Mitshubishi, Nissan, Jaguar, Koenigsegg and Pontiac, because they weren't visable in some situations (ex. night time):

-changed position of text in Tesla logo from bottom to top (like in vanilla version) and made emblem bigger
-slightly changed position of Koenigsegg embelm and text
-improved text readability in McLaren logo
-changed and made Pontiac emblem bigger, changed position of text and improved readability


v1.0:
-initial release

(tested on the latest origin game version: 1.4.0.0)


---
Comments
---
Uploaded at: June 30, 2022 @ 18:40