Cyan Track Barriers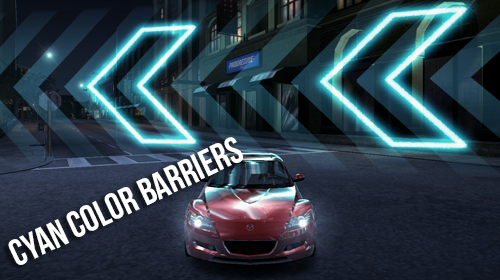 ---
This mod changes the textures of the purple track barriers to completely new, made from scratch textures, in cyan color.

Instructions:
1.-Unzip the file.
2.-Open TexMod [Download it at: https://www.fileplanet.com/205418/download/Texmod-v0.9b]
3.-Click on the big folder icon, then click "browse".
4.-Find the path to your NFS Carbon .exe (NFSC.exe)
5.-Click on the small folder icon, and find the pat to this mod "CyanTrackBarriers.tpf"
6.-Click on the "run" button.


Optional: Note, you must do this every time you want to play with the new textures, make sure to run the program as an administrator.
Tools used: Photoshop CS6, Nvidia DDS Plugin, Texmod
Thanks to Black Box for an amazing game.

---
Comments
---
No comments, be the first one to leave a comment!
Uploaded at: February 17, 2018 @ 21:46