NFSU2 BETA-colored TRAFFIC skins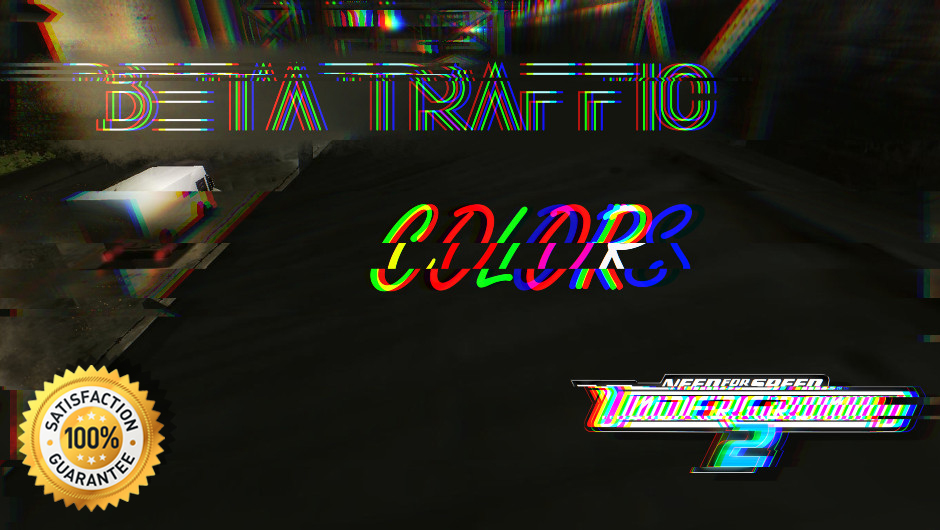 ---


Do ya remember that red van from the NFSU pre-release screenshots?
These in the archive are the beta-colored traffic skins. No bullshit. Enjoy!



C

o

n

t

e

n

t

s



========

Just another crap... Booooring.

========



I

n

s

t

a

l

l

a

t

i

o

n



============

Easy auto install:
Just replace the TEXTURES.BIN file inside of your NFSU2/cars folder with the one provided inside the archive's Files/EASY INSTALL folder. Done!

Manual install:
Add the skin (.dds) from the Files/MANUAL INSTALL folder by the use of NFS_TexEd. Replace any unique (custom) vinyl you want or use prompted numbers.

======



A

U

T

H

O

R

'

S

N

O

T

E

:



If you appreciate my time spending, you can buy me a coffee making a PayPal transfer.
PLEASE NOTE, however, that "charity donations" button does not work in my country, so feel free to simply follow this link:

p

a

y

p

a

l

.

m

e

/

M

a

n

y

A

K

7

7

7



IF YOU DONATE, YOU ENCOURAGE ME TO ALSO RELEASE:
1. Savegame with alpha, beta and promo presets used. (100% progress)
2. NFSU2 Sha_Do PS2 Demo exclusive vinyl for EVO08. (70% progress)
3. NFSU2 Sha_Do retail whole pack of vinyls for 240SX and CELICA.
4. NFSU2 all intro vinyls.
5. NFSU2 all prototype vinyls drawn by the "Al_Kang" U2 artist.
6. 2k set of in-game movies and beta intro movie upscaled. (100% progress)
7. Some miscellaneous beta or custom ingame textures. (100% progress)
8. Some signature vinyls.
9. HRT pack for all ingame cars and maybe some modified headlights, taillights. (10% progress)
10. The collection of all original and hacked demos' and prototypes' of NFSU and NFSU2 that I have, some are very rare and at least 1 is absolutely unique. (100% progress)
11. NFSU2 Promo vinyl pack consisting of 3 promo hero cars. (100% progress)
12. Pack of sport tires with white lettering of different manufacturers and models with custom rubber textures. (20% progress)
13. 2 savegames with signature pre-tuned cars of every car brand and model presented in the game. (70% progress)
14. Career mod with signature pre-tuned cars included as your daily rivals as you progress through the game, based on the long-forgotten mod that is currently unavailable for download.
15. NFSU1 Beta vinyl pack.
16. Paul Walker's Underground Drag Racing android vinyls and NFSU2 android vinyls.
17. Bonus: signature manual on making jaggy vinyls matte and (or) anti-aliased. (100% progress)
18. Bonus: custom in-game soundtrack mod. (90% progress)
19. NFSU2 Promo logos pack consisting of all demo and release NFSU2 logo vinyls.
20. NFSU1 J-Tune vinyl pack.
======



L

E

G

A

L



======

THIS DOWNLOAD IS PROVIDED "AS IS" WITHOUT ANY WARRANTIES OF ANY

KIND, EITHER EXPRESSED OR IMPLIED. UNDER NO CIRCUMSTANCE MAY THE

CREATOR(S) OF THIS SOFTWARE BE HELD LIABLE FOR ANY DIRECT,

INDIRECT, INCIDENTAL, SPECIAL OR CONSEQUENTIAL DAMAGES ARISING

OUT OF THE USE OF OR INABLITY TO USE THESE VINYLS. USE THE

FILES AT YOUR OWN RISK!

---
Comments
---
No comments, be the first one to leave a comment!
Uploaded at: September 18, 2022 @ 21:54