NFSUC - Beta Visuals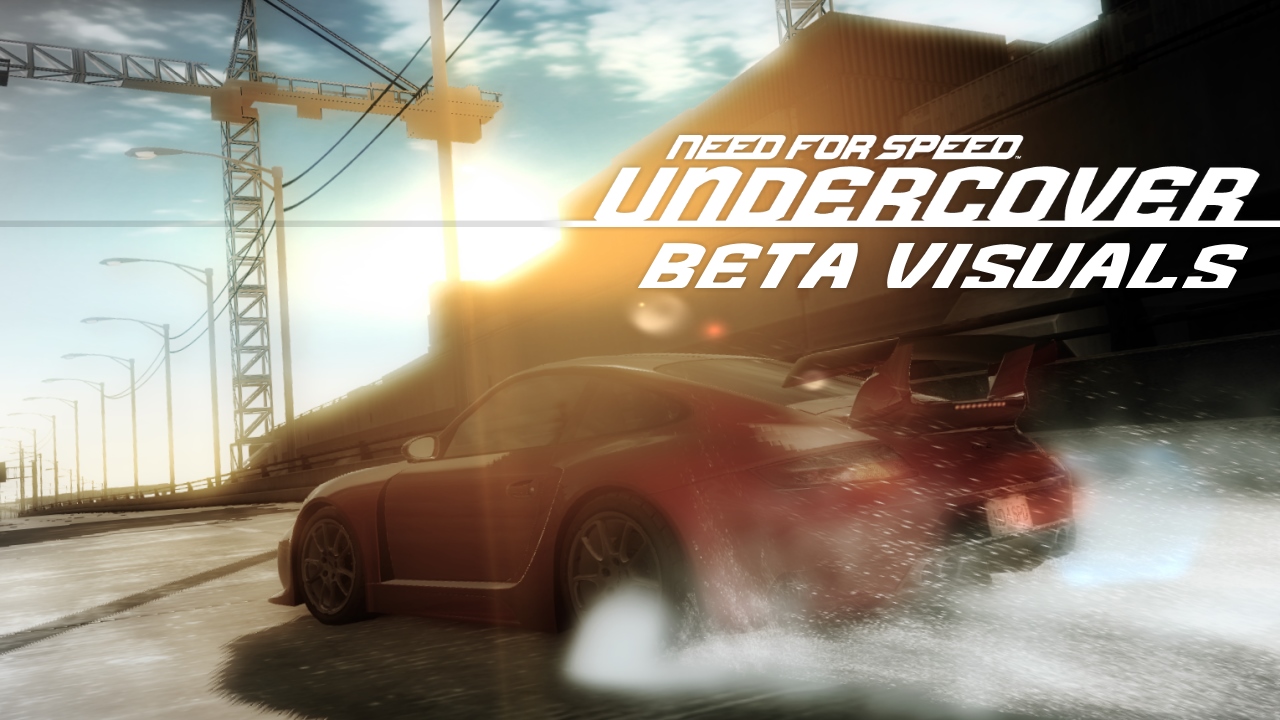 ---
NFS UNDERCOVER - BETA VISUALS
version 1.0
by elaymm4 & LegSolo

This mod will try to make your game look more like Xbox 360 Alpha 161 build.
Gameplay video

ATTENTION: This mod is intended to be installed on 1.0.0.1 version of the game. There are no guarantees given that it will work on later patches. You've been warned.
NOTE: It's recommended, that the path to your game folder does not contain any cyrillic letters, or any symbols like dot, and your game is not on a system drive.

This mod is compatible with (and is recommended to be used with):
- Generic Fix
- Beta HUD Ported

Visit discord server to keep up with community!


======== BUGS/ISSUES ========
Final game doesn't have enough memory for rendering several emitter effects like finishline smoke or nitrous flames due to tire water splashes. Currently only finishline smoke issue was fixed by using 2d sprites instead of volumetric smoke

Sometimes traffic can start leaving tire water splashes, which shouldn't happen

Some car paints are too reflective

Finally, the visuals are still nuked, but did you really expect a "true to canon" restoration mod to fix that?





======== CHANGELOG ========

==== VERSION 1.0 ====

Lighting, post effects, car materials, shader parameters, flares, emitter effects, ported from beta & modified to look more correct

Two options for lighting available: Brown contrasty (aka how beta looks in Xenia emulator) & Native vibrant (aka how beta looks on Xbox 360). For Easy Installation, "Brown contrasty" look is chosen.

An option available to set city lighting in Port Crescent, since that's how it was in actual beta, despite proper lighting being there in the files. Easy Installation uses proper lighting.

Visual damage made to look a lot closer to how it was in beta

Cut tire water splashes are restored

Beta world textures ported, which include higher quality roads and beta garage environment

Beta sky textures ported and cleaned up using AI techniques

Different & Better quality textures for body damage and static car shadow





======== CREDITS ========
Credits:

elaymm4 (Most of the mod)

LegSolo (Inspiration & Help)



Thanks:

nfsu360 (NFS-VltEd, NFS-Disculator, NFS-Hasher)

MaxHwoy (Binary)

Dark Byte (Cheat Engine)

unknown (likely GrandTheftAero) (NFS Undercover Alpha 161 build)

Intel Corporation (Intel® Graphics Performance Analyzers)

---
Comments
---
Uploaded at: October 14, 2022 @ 19:20