[NFS: MW] Honda Civic Si (EG6)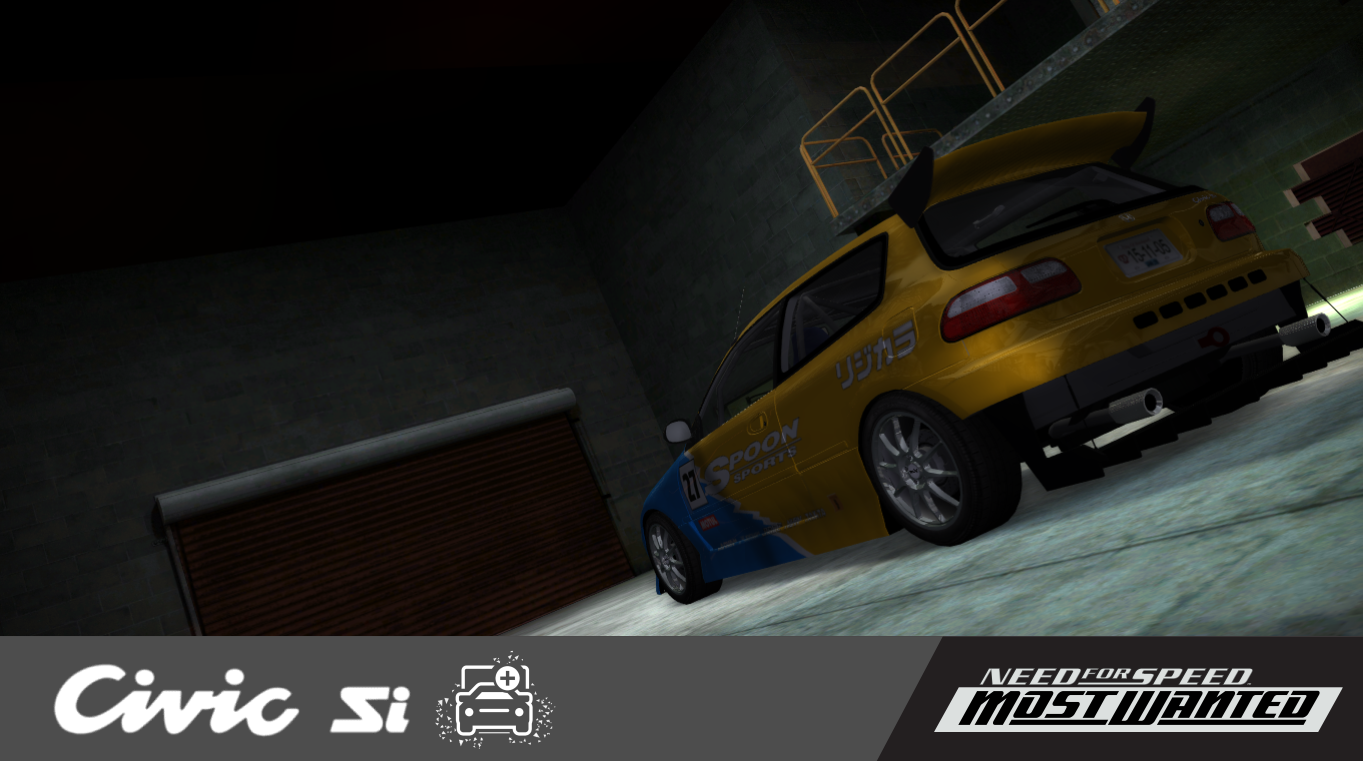 ---

Car Name: Honda Civic Si (EG6)
Base Model: Forza Motorsports 4
Cost: 13.000
Unlock Condition: Available from the start

Change Log

03-12-22: Re-released with updated parts

04-12-22: Floatiing steering wheel fixed

Bodykits: Stock + 10 Kits

Spoilers: Vanilla + 7 Custom Spoiler

Hoods: Vanilla + New Custom Hoods

Rims: All Vanilla Rims

Roofs: 1 New Roof Style

Brakelights: Stock + 1 Alternate Brakelights

Headlights: Stock + 4 Custom Headlight

Roof Scoops: No

Attachment Slots
Slot 1: Driver Seat

Slot 2: Passenger Seat

Slot 3: Interior Accesories

Slot 4: Window Net

Slot 5: Rear Side Window

Slot 6: Roof Rack

Slot 7: Hood Pin

Stock Color Option

512x & 1024x vinyls

Custom liveries in Unique vinyl category

Working decals

Working brakelights

Working headlights

New performance data


Make sure you already have Binary, VLT-Ed, & NFS: MW Unlimiter installed. The installation is very easy.

1. Open your Binary & select "User Mode"
2. Choose "Binary Data Install.end"
3. Select your MW folder
4. Choose the optional option
5. Save, but don't run your game yet
6. Open your Vlt-Ed and then import the "VLT Data Install.nfsms"
7. Scroll down to the bottom of the page & select which MW you're using
8. Close the window & then save it
9. Open your MW
10. Create a new save & have fun


Q: How to fix "X Language.bin doesn't exist" error?
A: It shouldn't be happened again with my new updated Binary script. But just in case if it's happened: Download, extract & put all this Language.bin ffile in your MW "LANGUAGE" folder

Q: Modloader version when?
A: Never

Q: Can I use Ed & Binary car addon together?
A: You better install the Ed car mod manually using Binary

Q: Can I include this car to my modpack?
A: Depends, ask me on Discord first, Vee#0875


RisaDriftR (Bodykit)

Crimson Cat (Bodykit)

UndercoverBoy833 (Dinka Kanjo SJ part)

KenjaMago (Custom performance)

arushan (mwgc)

MaxHwoy (Binary)

nlgzrgn (Unlimiter, ExOpts, modified mwgc & parts)

nfsu360 (VltEd)

Someone else that I forgot lmao

---
Comments
---
EldITheSaint (January 21, 2023 @ 11:02)
could you convert it to carbon?
carmon096 (December 13, 2022 @ 22:11)
Hello good afternoon
A question?
When are they going to release the mod for the Honda Integra Type R (DC2) or the Honda Civic Type R (EP3) since I'm looking forward to trying it out and giving my opinion on the result and what mistakes need to be corrected.
It's okay for me to send you this message, it's not to criticize, it's just a question and nothing more.
Uploaded at: December 02, 2022 @ 18:43